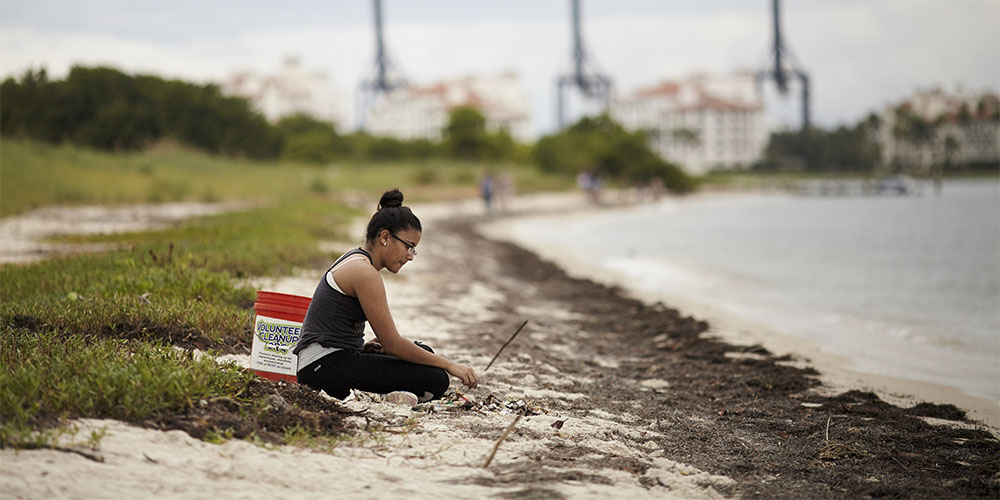 Virginia Key, a 1,200-acre barrier island situated two miles east of downtown Miami and just southwest of Miami Beach, is located within a highly productive marine corridor consisting of extensive tracts of seagrass beds and coral reefs. Virginia Key is home to a wide range of coastal habitats including beaches, dunes, hardwood hammocks and mangrove wetlands. It is also an active loggerhead sea turtle nesting site.
The island has historically been a site for the deposition of dredging material from the Port of Miami since the 1970s. Invasive plants are a consistent threat to the island's ecology. Despite these altered conditions, Virginia Key remains an urban getaway where the Miami community can escape the bustle of the metro area and enjoy swimming, mountain biking, kayaking, fishing, bird watching, and other outdoor pursuits. It is also an educational hub, home to the University of Miami's Rosenstiel School of Marine and Atmospheric Science, the headquarters of NOAA's Southeast Fisheries Center and Atlantic Oceanographic and Meteorological Laboratory.
In 2014, MUVE and the Miami-Dade County Department of Natural Resources began to clear invasive vegetation from the dune at Virginia Key North Point. Following the removal of Australian pine (Casuarina) and beach naupaka (Scaevola sericea), teams removed excess fill and graded the dune. MUVE volunteers then planted nearly 35,000 plants on the beach, including dune-stabilizing sea oats. In early 2015, we removed invasive vegetation from the adjacent hardwood hammock and planted over 3,000 native trees in the area.
Through its eco-art initiative, MUVE has also planted 11,000 mangrove seedlings representing over eight acres of restored habitat. Volunteers are continuing to expand the restoration area at Virginia Key as well as monitoring the restoration sites using citizen science. All year long, volunteers survey biodiversity and observe changes in the landscape.
Register for an Upcoming Event