Frost Science is committed to creating a welcoming and enriching learning environment for all. The plan of the building, as well as the details of the exhibitions, programs and website, were designed to be inclusive of everyone's needs.
Wherever possible, we use a multi-sensory approach to content delivery, appealing to different learning styles and abilities and providing all our guests with resources and options for exploring content and enjoying their experience.
For more information, contact accessibility@frostscience.org. To download our accessibility map, click here.

Accessible Parking
Paid self-parking is available in the museum garage during regular museum hours (space limited). Parking spaces are available in the museum garage for vehicles bearing valid DMV handicapped parking stickers or license plates on a first come, first served basis for vehicles under 8'2". An elevator and a ramp are available to take visitors up to the Ticket Center at plaza level. For information on accessible spaces for vans greater than eight feet tall, please email info@frostscience.org. A limited number of spaces are also available for vehicles with valid baby stroller permits.

Guest Drop-off
Guests may be dropped off near the main entrance of the museum by following the signs for the parking garage on Museum Drive. The curbside drop-off is immediately before the garage entrance and roundabout, in front of the elevator that takes visitors up to the Ticket Center at plaza level.

Elevators
An elevator is available at the visitor drop-off on Museum Drive, and an elevator and a ramp are available inside the museum garage, all providing access to the main entrance on Knight Plaza. Elevators are available in the central atrium of the museum providing access to all levels, including the programmed rooftop. An elevator connects all three levels of the Aquarium and the MeLaβ exhibit. There is also a ramp from the mezzanine level of the Aquarium leading down to the MeLaβ. An elevator in the West Wing provides access to the exhibition galleries on floors 2 and 3.

Restrooms
Wheelchair-accessible restrooms are available on Levels 1 through 5 just across from the main elevators in the central atrium, as well as near the entrance to the Special Exhibitions gallery and in the café. Wheelchair-accessible family restrooms equipped with showers and changing stations for babies and adults are also located next to the main restrooms on each floor.

Courtesy Wheelchairs
The museum has a limited number of manual wheelchairs that guests may borrow free of charge, guests should request this at the ticket center or entry kiosk on arrival located on Level 1. Leaving a driver's license or ID is required. Wheelchairs are available on a first come, first served basis.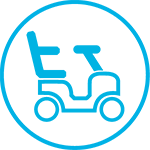 Other Power-Driven Mobility Devices
The museum welcomes manual and electric wheelchairs, electric mobility scooters, and other power-driven mobility devices (OPDMDs) such as Segways if associated with a disability. Use of OPDMDs is subject to reasonable restrictions in certain parts of the facility. Devices must be operated at speeds not to exceed walking pace, and users must obey reasonable safety instructions given by staff. Recreational use of OPDMDs within the building is not permitted at any time.

Seating
Seating is available in every permanent exhibit gallery and on the outdoor terraces of the museum. Wheelchair-accessible seating is available in the Frost Planetarium. A limited number of seats in the Frost Planetarium have removable arms. Indoor and outdoor wheelchair-accessible seating is also available in the Food@Science café. Both the Frost Planetarium and Food@Science are located on Level 1.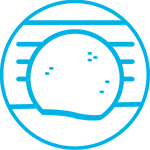 Frost Planetarium
Assistive listening is available for all Frost Planetarium shows. Receivers and headsets are available at the Frost Planetarium entrance. Wheelchair-accessible seating is available. A limited number of seats have removable armrests. The Frost Planetarium entrance is located on Level 1.

Touch Experiences
All major exhibitions, including the Florida Bay stingray touch exhibit and the Dive Bar in the Aquarium, have tactile experiences.

Service Animals
Any guide dog, signal dog or other animal individually trained to provide assistance to an individual with a disability as defined by the American with Disabilities Act is welcome in the museum galleries during regular operating hours. To ensure the safety of our own animal collection, pets, companion animals and emotional support animals are not permitted.
Museum Map