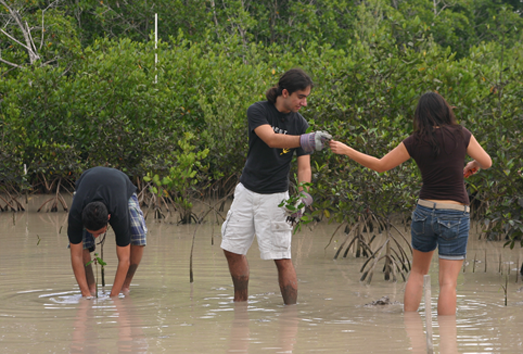 R. Hardy Matheson Preserve is an 813-acre public land in Southeast Miami-Dade County just south of Matheson Hammock Park on Biscayne Bay. The preserve is home to Snapper Creek, an iconic waterway along which archeological remains of settlements by the Tequesta Indians can be found. The preserve hosts a high diversity of rare ecosystems including pine rockland, mangrove, hardwood hammock and estuaries.
Miami-Dade County has restored large areas of the preserve and cleared invasive plants from the northern bank of Snapper Creek, which since the 1910s was covered in mounds of fill from the dredging of the creek for navigation.
In 2012-2013, Wells Fargo Green Team volunteers and MUVE collected red mangrove propagules by kayak from Oleta River State Park, grew them in nurseries at their homes and at Wells Fargo branches, and replanted them on the banks of Snapper Creek at R. Hardy Matheson Preserve. These volunteers participated in the restoration effort from start to finish, giving juvenile fish and crustaceans a habitat in which to grow.