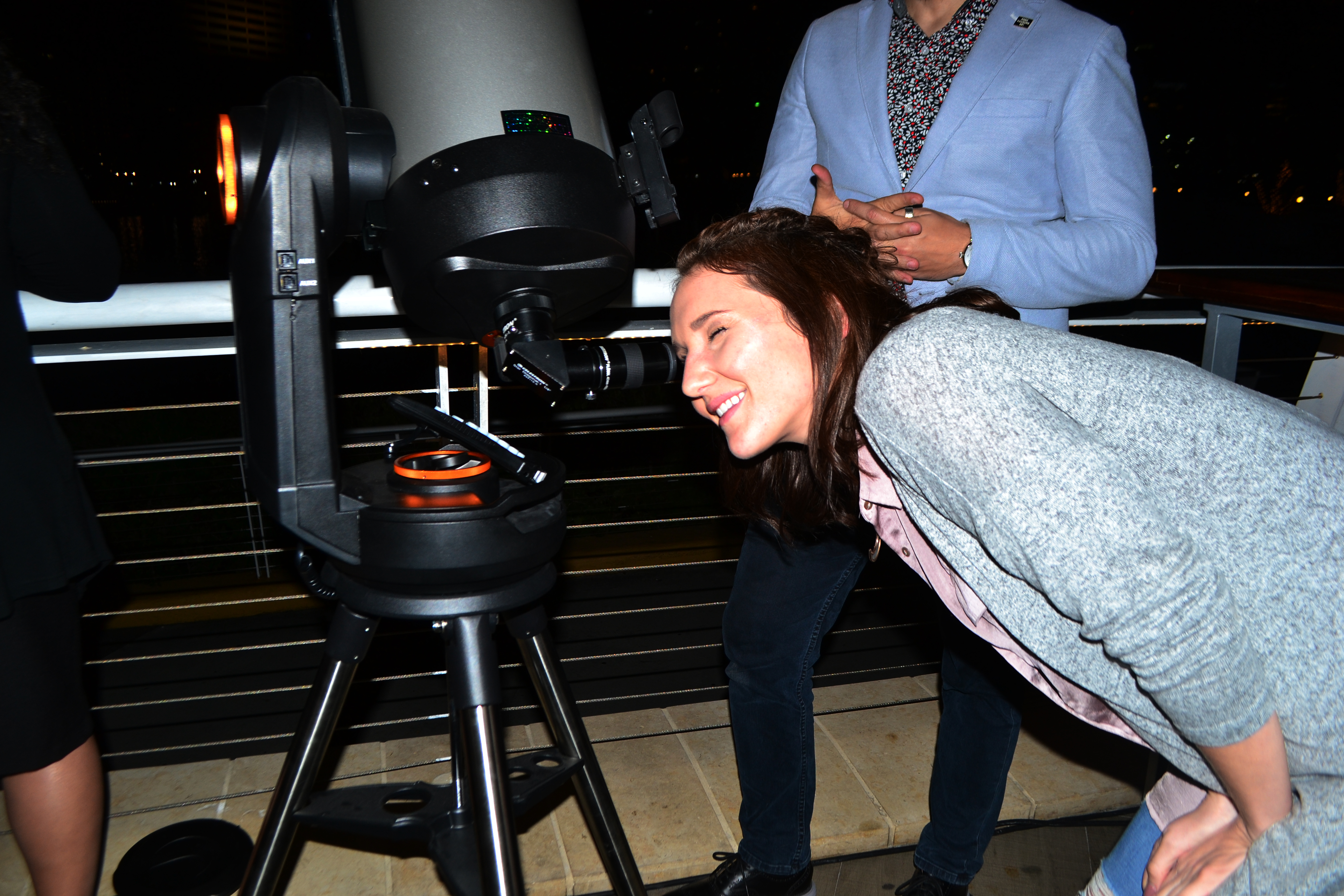 Spring is the season of new beginnings, and Frost Science was no exception to the forces of Mother Nature. Last month, we welcomed a new exhibition and experience to our campus, along with a special brain-focused member day and a stargazing session with our Young Patrons. Here's the scoop:
The Debut of Design Lab: Engineering and Inventors in Residence Lab
In March, Design Lab: Engineering took over The Mechanicals space on the fourth floor of the West Wing for a year-long residency at Frost Science. The space has been a hit with visitors of all ages, as they step into the mind of engineer through various puzzles and challenges. The exhibition also features vintage iterations of everyday objects and explores how they've helped solve design challenges in the past. Towards the back, our dynamic Design Lab workshop has been putting our guests' newfound knowledge to the test with challenging design dilemmas.
Over at the Knight Learning Center, the Inventors in Residence Lab has been keeping our resident scientists busy! Not only are they working on coral restoration and carcinogen detecting projects, but they've been fielding questions from our curious guests about their work and its future impact.
Spring Camp: Brainiacs
During their time off from school, we invited budding local scientists from kindergarten through fifth grade for a week-long exploration of one the human body's most important organ: the brain! Campers not only explored the museum and Frost Planetarium, but they had the opportunity to build their own neuron, see neuroplasticity in action and even dissect a sheep's brain. Summer Camp is around the corner, click here to learn more and register!
Member Morning: Train your Brain
Keeping with the gray matter theme, we invited members to put mind over matter during a special edition of Member Morning. From 8:30 a.m. to 9:30 a.m., they explored the museum without the crowds and enjoyed special brain challenges and games. After firing up their neurons, members mellowed out with a family-friendly meditation session courtesy of Innergy Meditation. They were also treated to early bird shopping hours at the Science Store featuring 20% off their entire purchase and a complimentary cup of drip coffee that helped rev them up for the rest of the day. Click here to learn more about upcoming Member Hours events.
Young Patrons Stargazing Happy Hour at the Mandarin Oriental, Miami
The stars shone bright as over 100 Young Patrons gathered at Yaku by La Mar for a Stargazing Happy Hour on Thursday, March 8. YPs sipped under the twinkling night sky and learned more about our solar system with Dr. Jorge Perez-Gallego, the Curator of Astronomy at Frost Science. Yaku served up their infamous namesake punch and guests ate a sampling of La Mar's scrumptious bites.
Royal Caribbean Cruises LTD and NASDAQ Gift Announcement
On March 5, we announced two major gifts from Royal Caribbean Cruises LTD and NASDAQ. The $1.2 million gift from Royal Caribbean Cruises LTD will enable us to continue our ongoing programs while working together with Royal Caribbean on several initiatives that will extend beyond our walls, including community access support and habitat restoration. As part of this generous gift, our Aquarium's Vista level was given a new name: Royal Caribbean Vista. NASDAQ's $500,000 donation will support our daily operations and programs, including a number of the onsite interdisciplinary learning experiences.
There's plenty more happening at Frost Science next month, too. Be sure to visit our calendar of events for more details on our schedule.