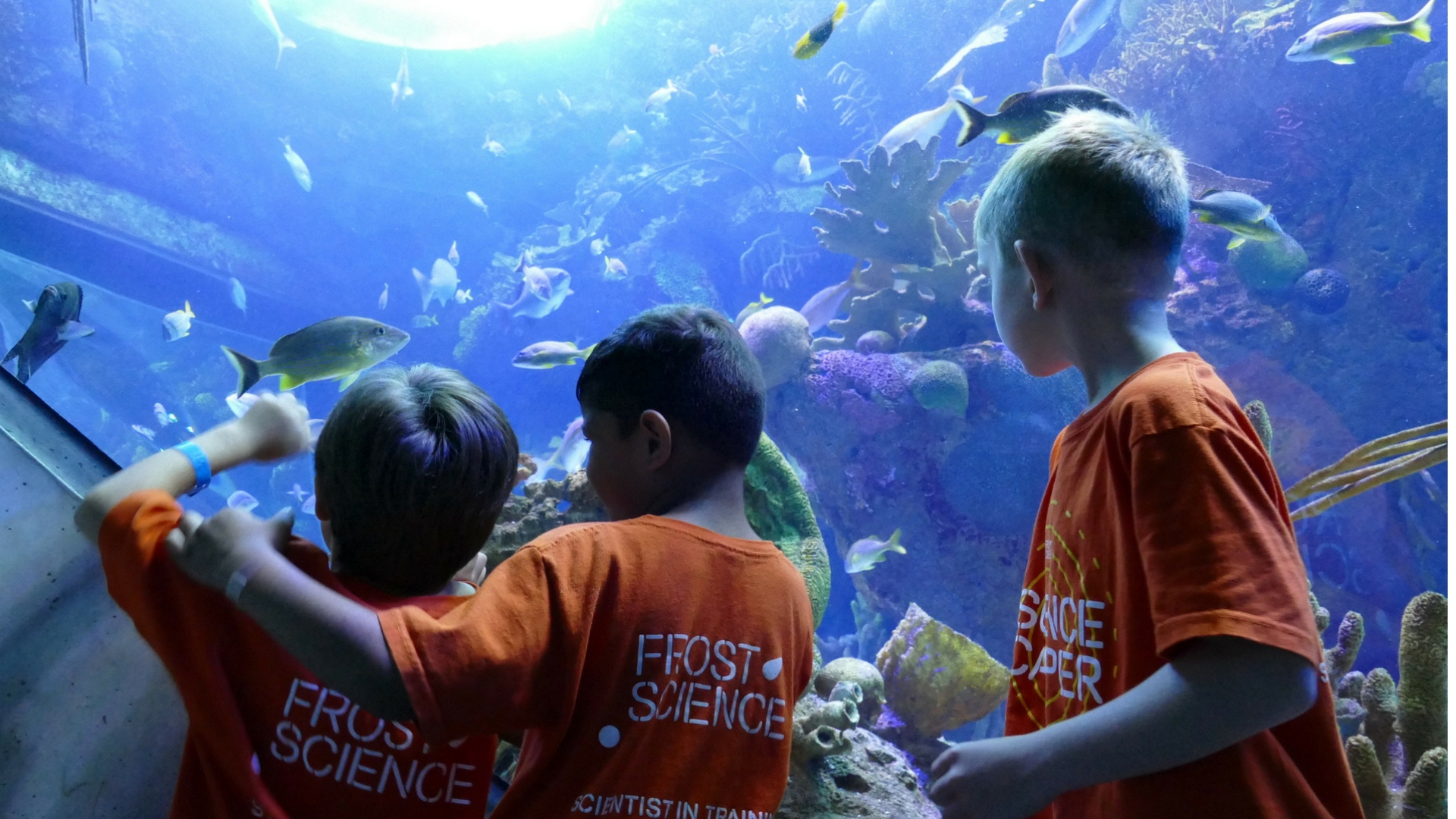 Explore the wonders of science through ten different week-long camps themed around the amazing science showcased at Frost Science, including Chemistry, Engineering, Marine Biology and Technology. Fly a drone over South Florida's unique ecosystems, dissect a squid, create your very own comet and learn how to make a human lie detector test during this unforgettable summer of science.
Each week of camp will include a Frost Planetarium show and free exploration time around the museum.
Space is limited, so reserve your spot today!
Weekly Cost (K-5th Graders): $350.00 for Non-Members / $295.00 for Members

Weekly Cost (6-8th Graders): $400.00 for Non-Members / $340.00 for Members

Time: 9:00 a.m. to 3:00 p.m.

Before Care: 7:30 a.m. – 8:30 a.m. (Additional $30.00 weekly) and 

After Care: 3:30 p.m. – 6:00 p.m. (Additional $40.00 weekly). 

A combination of Before Care and After Care is available for an additional $65.00 weekly.

One (1) t-shirt included with camp tuition. 

All Campers are required to wear the camp t-shirt to camp every day. 

Additional T-shirts may be purchased for $10.00 each.


Two (2) snacks are included each day.

Lunch may be purchased at registration and only in advance, but you can also have your child bring a lunch from home. 

Campers must bring a non-perishable lunch each day that does not require refrigeration or a microwave.

15% sibling discount available for two or more registrations from the same household! Discount cannot be combined.
Summer Camp Offerings for 2019
Grades K-5
Week 1: June 17 – June 21 (Camp details and registration coming soon)
Week 2: June 24 – June 28 (Camp details and registration coming soon)
Week 3: July 1 – July 3 (Camp details and registration coming soon)
Week 4: July 8 – July 12 (Camp details and registration coming soon)
Week 5: July 15 – July 18 (Camp details and registration coming soon)
Week 6: July 22 – July 26 (Camp details and registration coming soon)
Week 7: July 29 – August 2 (Camp details and registration coming soon)
Week 8: August 5 – August 9 (Camp details and registration coming soon)
Grades 6-8
Week 1: June 24 – June 28 (Camp details and registration coming soon)
Week 2: July 22 – July 26 (Camp details and registration coming soon)