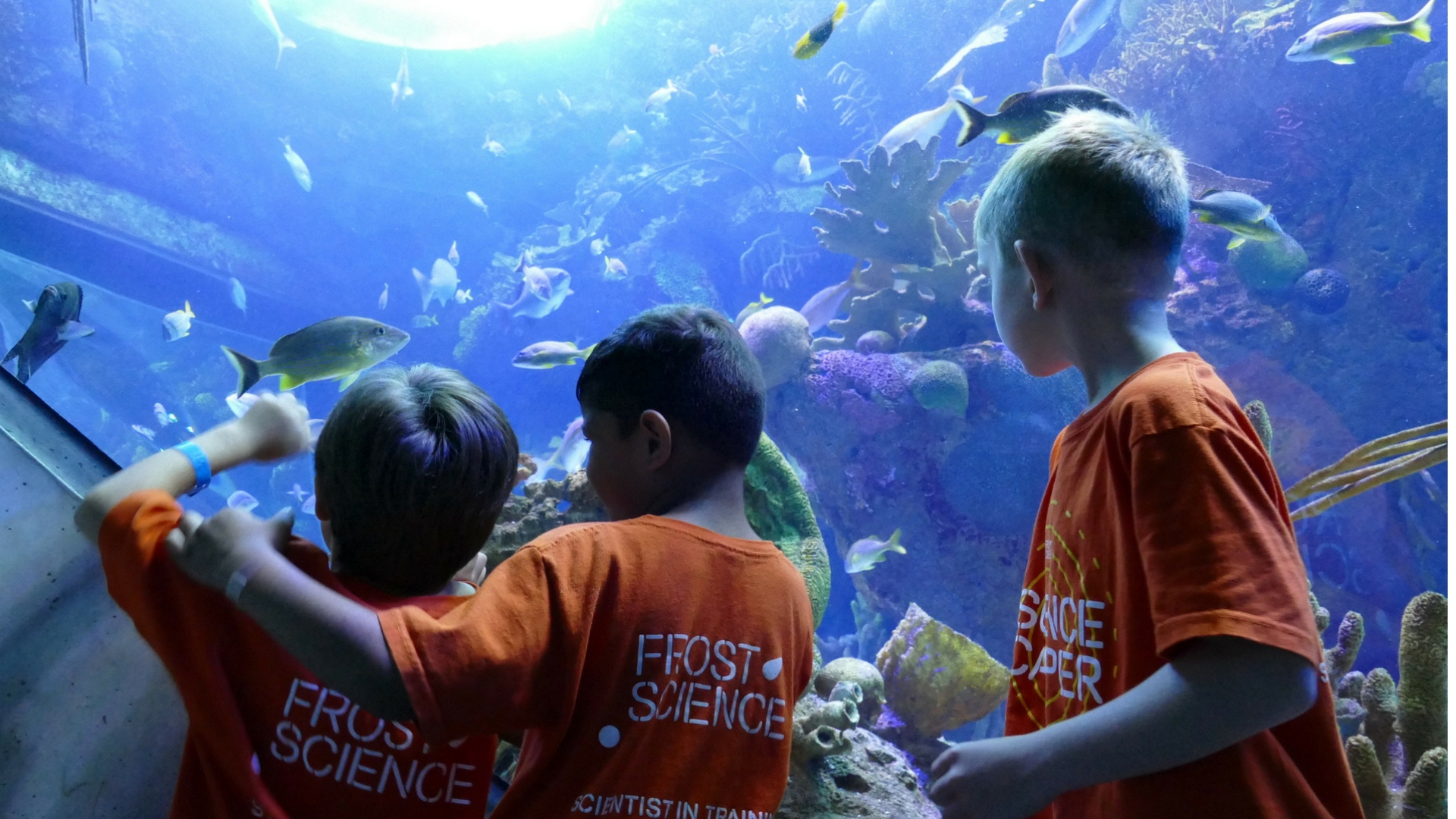 Explore the wonders of science through eleven different week-long camps themed around the amazing science showcased at Frost Science, including chemistry, engineering, marine biology and technology. Dive into ocean exploration, tackle engineering challenges, investigate the world of the microscopic, explore the cosmos, and even simulate your own volcanic eruption during this unforgettable summer of science.
Each week of camp will include a Frost Planetarium show and free exploration time around the museum.
Space is limited, so reserve your spot today!
Frost Science members receive a 15% discount on Summer Camp registration. Become a Member today to receive discount!
One (1) t-shirt included with camp tuition. 

All Campers are required to wear the camp t-shirt to camp every day. 

Additional T-shirts may be purchased for $10.00 each.

Two (2) snacks are included each day.

Lunch may be purchased at registration and only in advance, but you can also have your child bring a lunch from home. 

Campers must bring a non-perishable lunch each day that does not require refrigeration or a microwave.

All children must be potty trained and able to handle all aspects of going to the bathroom by themselves. Children must be at least 4 years of age to attend Summer Camp.
For Pre-K – 5th grade:
June 08th – August 14th
9:00am – 3:30pm Monday – Friday.
Pricing: $350 – nonmembers / $298 – members
$70 before and after care

$30 before care only (7:30am – 9:00am)

$50 after care only (4:00pm – 6:00pm)

$43.20 lunch for the week
All participants must be the ages of 4 – 11. Child must be 4 by the 1st day of camp and cannot have turned 11 by the 1st day of camp. Campers will be divided into groups by age. Age groups will be determined by the number of campers registered for a week. Registration for summer camps closes 48 business hours before the camp date. Pre-registration is highly encouraged to ensure enrollment. Walk up registrations will be charged a $25 late registration fee per child and cannot place a lunch order.
Camp Sessions and Dates:
Session 1 – June 8th – June 12th: Aqua Agents

Session 2 – June 15th – June 19th: Inventors Lab

Session 3 – June 22nd – June 26th: It's Not Easy Being Green

Session 4 – June 29th – July 03rd: Kitchen Chemistry

Session 5 – July 06th – July 10th: Mysteries of the Universe

Session 6 – July 13th – July 17th: Dino Diggers

Session 7 – July 20th – July 24th: Bionic Bodies

Session 8: July 27th – July 31st: Mighty Marine Creatures

Session 9: August 03rd – August 07th: Creative Constructors

Session 10: August 10th – August 14th: Wild Weather
For 6th – 8th graders:
July 13th – July 31st ONLY
9:00am – 3:30pm Monday – Friday.
Pricing: $400 – nonmembers / $350 – members
No lunch option available
$70 before and after care

$30 before care only (7:30am – 9:00am)

$50 after care only (4:00pm – 6:00pm)
Camp Sessions and Dates:
Session 1 – July 13th – July 17th: ESI: Environmental Science Investigators

Session 2 – July 20th – July 24th: Aerospace Tech

Session 3: July 27th – July 31st: BME: Bio Meets Engineering
For 6th – 8th graders:
July 13th – July 31st ONLY
9:00am – 3:30pm Monday – Friday
No lunch option available
(at East Greynolds Park – All pricing is per session; sessions are 2 weeks long):
Pricing: $800 – nonmembers / $700 – members per session
$130 before and after care

$50 before care only (8:00 a.m. – 8:30 a.m.)

$100 after care only (4:00 p.m. – 6:00 p.m.)
Camp Sessions and Dates:
Session 1 – June 8th – June 19th: Ocean Engineers

Session 3 – June 22nd – July 03rd: Environmental Tech

Session 5 – July 06th – July 17th: Pollution Problem Solvers

Session 7 – July 20th – July 31st: Science to the Rescue