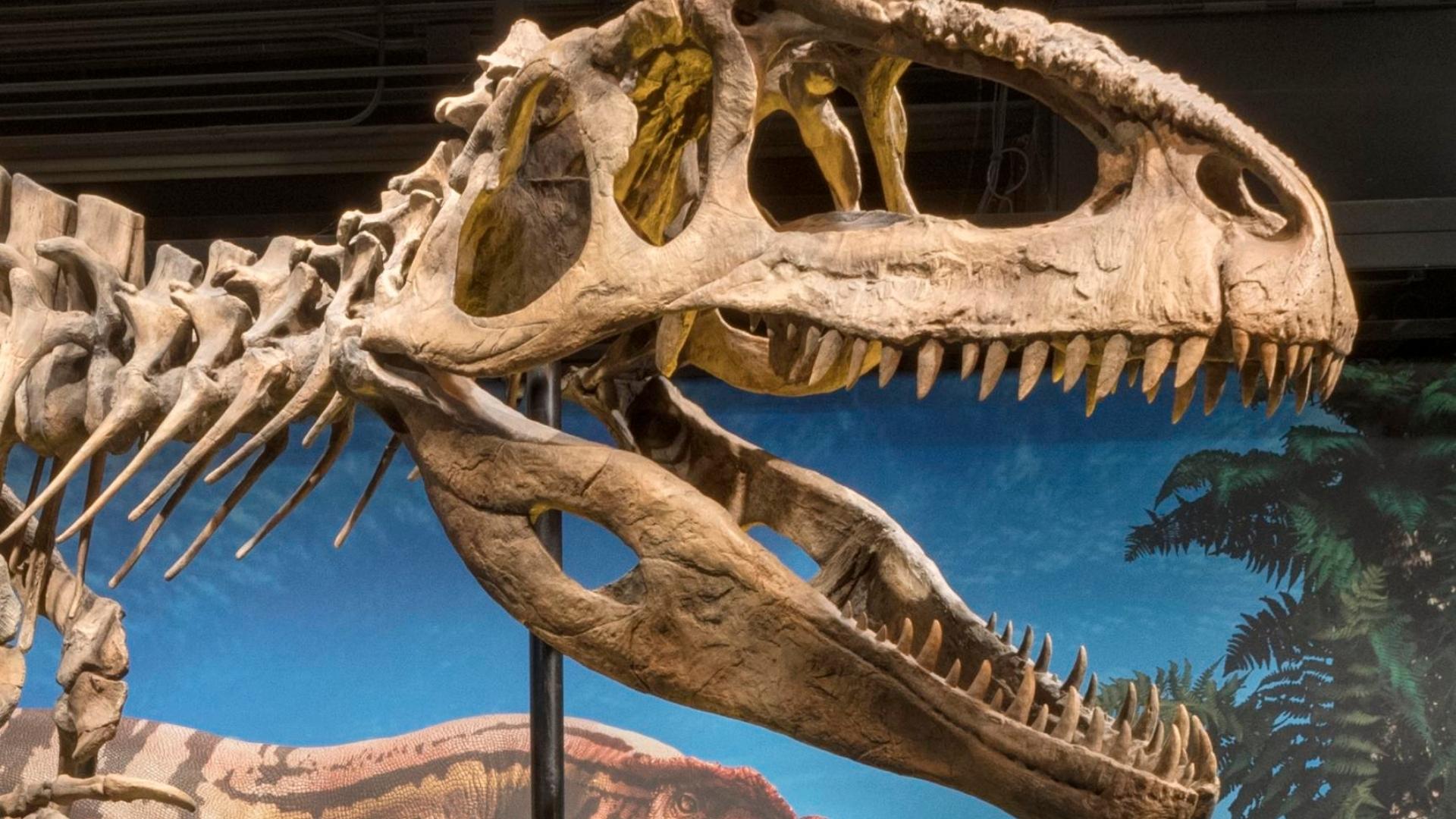 Start your day with a roar and meet the Giganotosaurus, T. rex's bigger, badder cousin.
Frost Science members are invited to be among the first to experience our newest special exhibition, Ultimate Dinosaurs: Meet a New Breed of Beast, during an exclusive members-only morning and preview on Saturday, October 8, from 9:00 a.m. to 12:00 p.m. Discover new and exotic dinosaurs from the other side of the world. The exhibition combines rarely seen specimens with augmented reality technology that transforms full-scale dinosaurs into flesh covered animated beasts right before your eyes.
In addition, members will enjoy:
A light continental breakfast, including coffee and mimosas*, courtesy of Constellation Culinary Group. (*Must be 21 and over and show a valid photo ID to enjoy the mimosas.)
Hands-on programming and curated dinosaur activities with the museum's education team.
A members-only show in the Frost Planetarium, curated by Dr. Doug Roberts, Vice President of Science Education. Experience the Frost Planetarium in a new way in this interactive show which explores how asteroids impacted our planet's surface and affected the evolution of dinosaurs. (Seating is first-come, first-served.)
A special meet-and-greet with paleontologist Dr. Cary Woodruff, the museum's inaugural curator of vertebrate paleontology.
Tours of the museum's Marine Conservation WetLab and an inside look at active coral restoration research.
A personal encounter with one of our bird ambassadors and Donald "Skip" Uricchio, senior director of animal and museum exhibitions. Learn how birds are more closely related to dinosaurs than snakes.
A chance to strike a 'dino-pose' in our photobooth, special giveaways (while supplies last) and more.
Double discount at the Science Store (that's 20% off!) all day long. (The museum will close at 6:00 p.m. on Saturday, October 8.)
Not a member? Join now.
Reservation is required to the Member Morning and Exhibition Preview as space is limited. Admission to the Ultimate Dinosaurs special exhibition is included with all membership levels. The event is only open to members and their guests (accounts with guest privileges will be allowed the appropriate number of guests to accompany the member). All members must have a valid membership card and show a photo ID upon entrance. Only those listed on the membership account will be permitted into the event.
Museum regular operating hours are 10:00 am to 6:00 pm..
Ultimate Dinosaurs: Meet a New Breed of Beast is presented by the Science Museum of Minnesota. The exhibition was created and produced by The Royal Ontario Museum, Toronto.