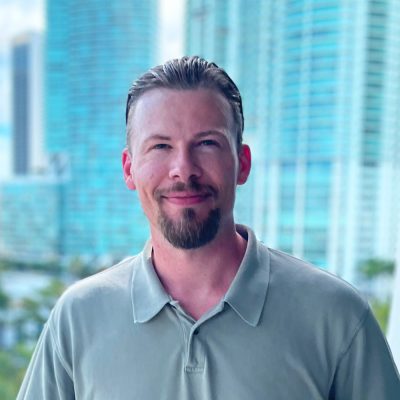 Cary Woodruff, Ph. D. is the inaugural Curator of Vertebrate Paleontology at Frost Science. Prior to his role at Frost Science, he was the director of paleontology at the Great Plains Dinosaur Museum & Field Station in Malta, Montana.
Dr. Woodruff grew up in the farm country of central Virginia, and received his bachelor's and master's degrees in earth sciences at Montana State University and the Museum of the Rockies under Dr. Jack Horner, the former advisor to the "Jurassic Park" films and partial inspiration for the character of Allan Grant. For his doctorate, Dr. Woodruff studied under famed Canadian paleontologist Dr. David Evans at the University of Toronto and the Royal Ontario Museum.
Dr. Woodruff has published numerous scientific papers and children's books, and his research interests range from the very first burrowing dinosaur ever discovered, stegosaurs, taphonomy (what happens from death to discovery), pachycephalosaurs, fossil diseases and illnesses, cow anatomy, dinosaur movement and vision, soft-tissue preservation in the fossil-record, to even ancient human cultural interactions with fossils. Yet the majority, and Dr. Woodruff's area of specialization, are dedicated to the sauropod ("long-necked") dinosaurs. From understanding their growth, to the anatomy and physics of the largest land animals to ever walk the Earth, to even naming new species, his work is helping to better understand their life histories and evolutionary strategies.