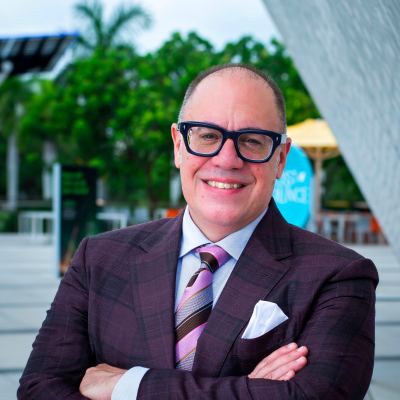 As the President and CEO of the Phillip and Patricia Frost Museum of Science, Douglas A. Roberts, Ph.D., brings together scientific and technical expertise with contemporary learning methods that create engaging educational experiences for the museum.
Dr. Roberts has been in the museum field for more than two decades, leading strategic connections between informal science education and research. He has been involved in astrophysics research at the University of Illinois and Northwestern University, as well as scientific outreach through the Adler Planetarium in Chicago and the Fort Worth Museum of Science and History.
Dr. Roberts grew up in Kansas and was always interested in astronomy and science. His passion for technology and learning new things led him to doing research at the University of Oklahoma using new a new facility, the National Radio Astronomy Observatory in Socorro, New Mexico. Although science education and public engagement takes up most of his time, Dr. Roberts is also engaged in active research, using telescopes like the Very Large Array radio telescope and the Hubble Space Telescope to better understand the supermassive black hole at the center of the Milky Way galaxy. Looking up at the stars still gives Dr. Roberts a thrill and is the next best thing to going to space.