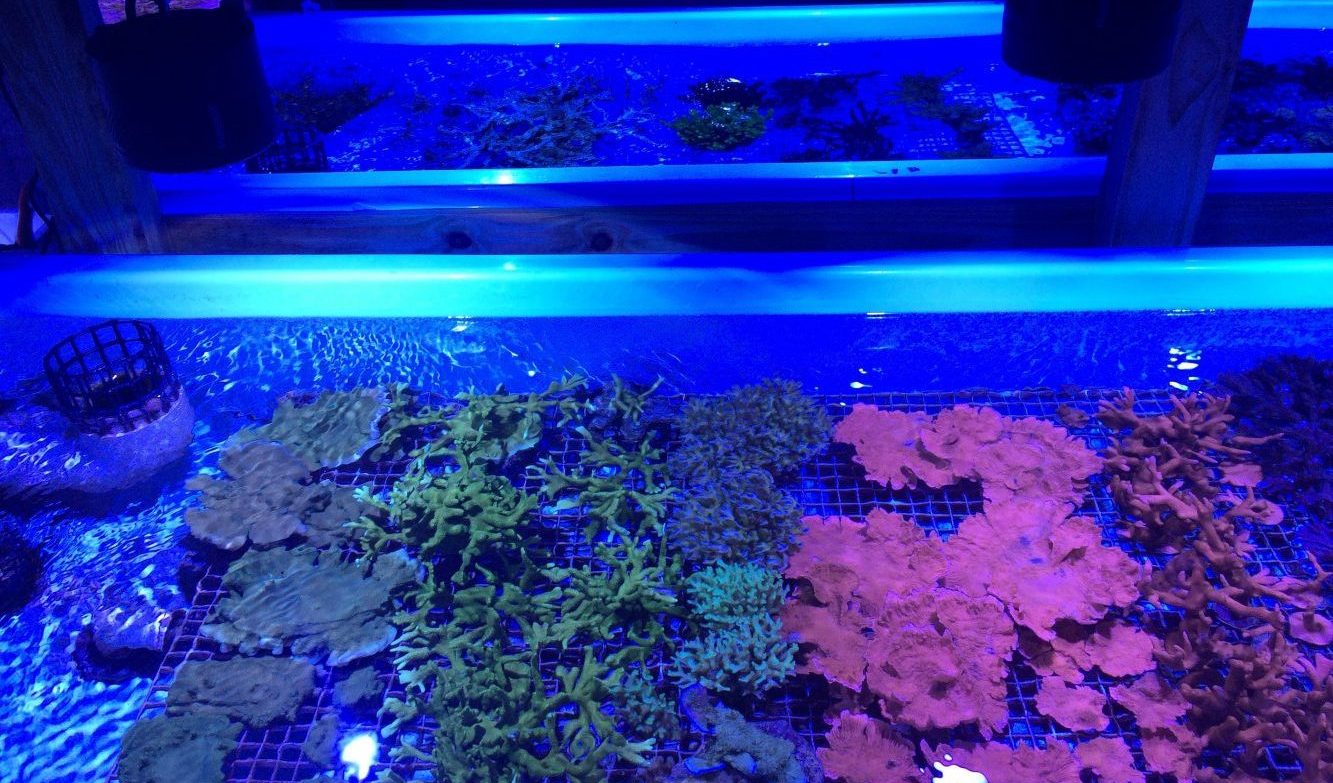 When Frost Science opens in downtown Miami, one of the most visually enchanting exhibits will be the Indo-Pacific live coral aquarium. In it you'll see a whirlwind of shapes and colors as hundreds of beautiful fish glide effortlessly around a pristine coral reef environment. To achieve this living seascape, our aquarium team had to propagate and grow each individual coral (there will be hundreds in the exhibit) for a period of months or even years! Growing coral is a complex process that requires expertise, special equipment and most importantly, patience. By utilizing coral's ability to reproduce asexually, we are able to turn a single piece of coral into several. Here's how we do it.
The first step is to create an ideal underwater environment. Our propagation system, which consists of a series of eight-foot long shallow troughs with deeper square tubs (currently at our old site in Coconut Grove), was purpose-built to ensure that corals receive conditions optimal to fast growth and overall health. The corals feed both via photosynthesis, and by filtering plankton and phytoplankton, so we built a system where we have precise control over lighting, water flow, feeding strategies and water chemistry. Once a coral colony reaches a certain size, we can then break off, or fragment, one or more pieces to be grown separately as a new piece of coral. The broken edges soon heal, and before long the fragmented coral colonies are large enough to be placed on exhibit.  The same asexual reproductive strategies that have made corals so successful in their natural environment also allows us propagate them for display. When we fill the new exhibit, which will be 15 feet deep, we'll precisely arrange the corals according to the light level where they thrive best—we'll even have a diver go in with a light meter to help us figure out the perfect home for each one.
The fragmentation process is more important now than ever, as it decreases demand for wild collected corals. Coral reefs around the world are under stress from water temperature increases, ocean acidification, runoff pollution and overall disease. We here at Frost Science are dedicated to doing our part to educate future generations about the wonder of corals in the most responsible way possible. The result is a stunning exhibit that we hope inspires guests to protect the world we live in.