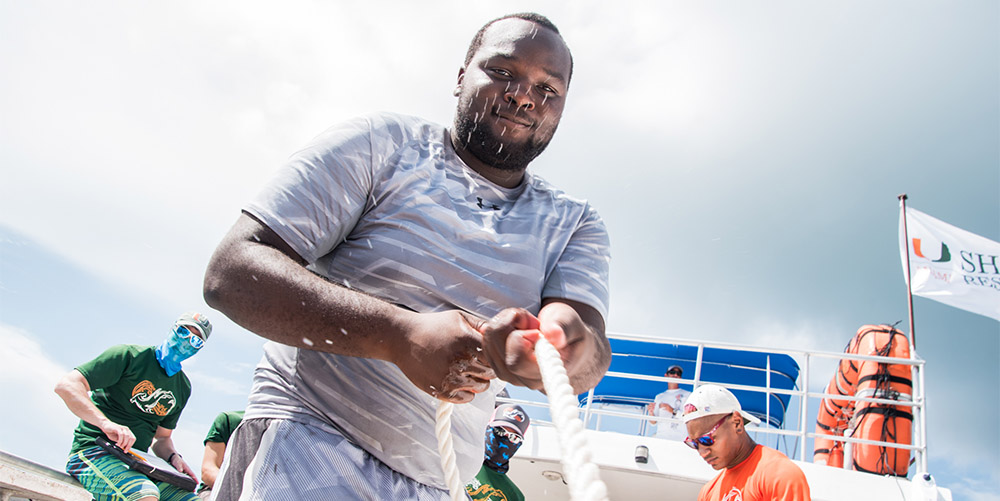 Science can be a powerful pathway to prosperity, yet under-resourced students often miss out on both a focused curriculum in school, and science role models in their lives. The Frost Science Upward Bound Math and Science program (UBMS), funded by the U.S. Department of Education, tackles this issue by recruiting top-notch students from Title 1 schools in the Miami area, and enrolling them in a four-year, after-school, weekend and summer program focused on science, technology and a culture of intellectual curiosity.
In addition to science learning, UBMS exposes these teens to the world of post-secondary study, inspiring and preparing them to complete high school, be the first generation of their family to enroll in college, and engage in pathways toward science, technology, engineering and mathematics careers.
The program gives students access to mentors and technology, interaction with scientists as well as a special Summer program, IMPACT (Integrated Marine Program and College Training), in which they delve into marine science through activities such as shark tagging with the University of Miami's Rosenstiel School of Marine and Atmospheric Science.
Since its inception at the museum in 1999, UBMS has made a clear and lasting impact on over 1,000 students, with 98 percent graduating from high school, and approximately 95 percent continuing on to university. The majority of Upward Bounders pursue science fields in college. This is a remarkable accomplishment and speaks to the exceptional potential of youth in at-risk communities.
National awards to Frost Science's Upward Bound participants include 23 Dell Scholars (2007-2016), one Questbridge Scholar (2011), six Gates Millennium Scholars (2009-2016), and seven Posse finalists (2010-2014). Five Upward Bound students received prestigious Silver Knight Awards and six honorable mentions. A total of 31 participants were nominated for Silver Knight Awards (1999-2016). Additionally, the program has won the Presidential Award for Excellence in Science, Mathematics and Engineering Mentoring, and the National Award for Museum Service.