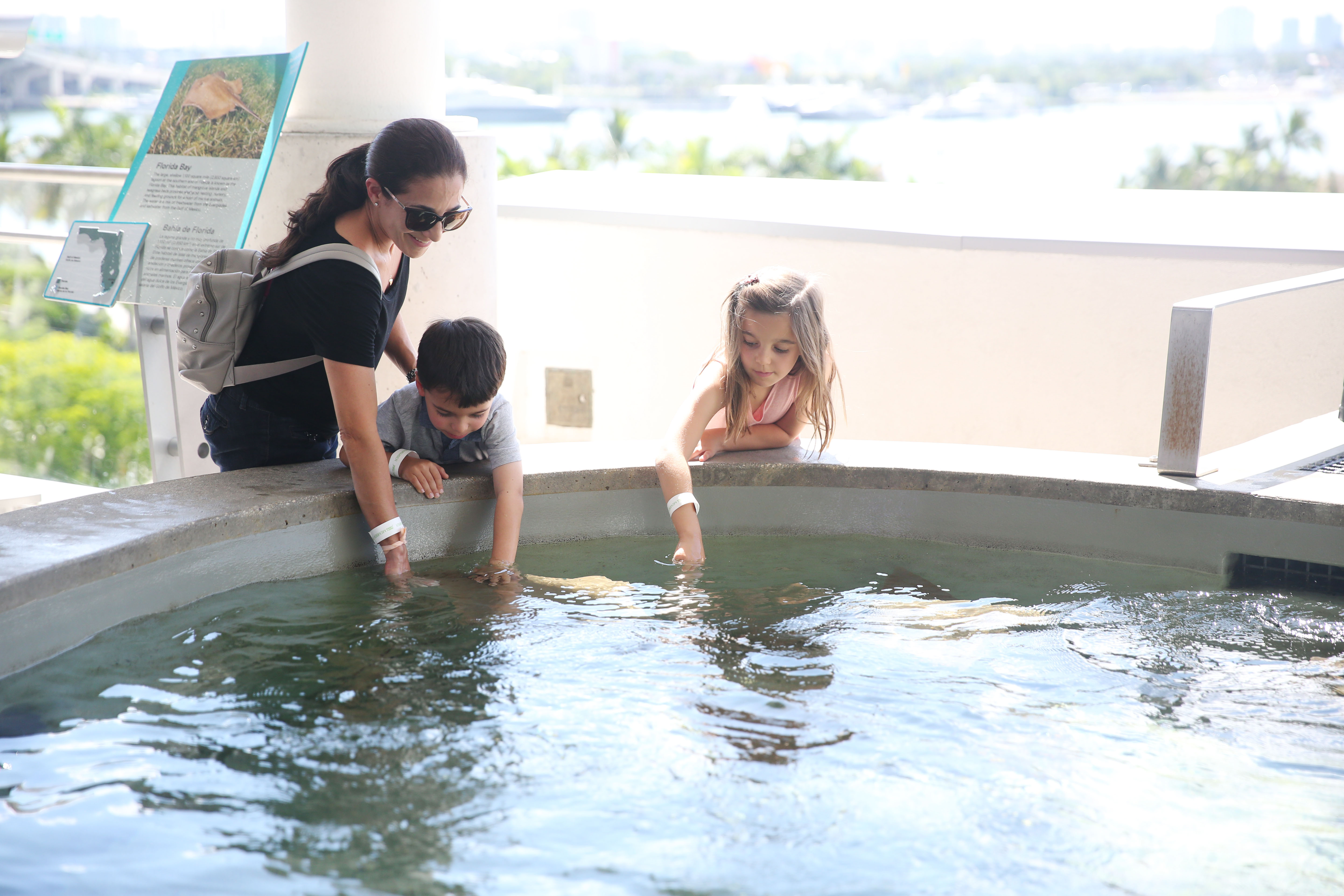 May 2019 marks our second annual Member Appreciation Month at Frost Science, and there are so many reasons why our Members Matter! Thanks to you, we're able to offer some of the most groundbreaking exhibitions, science learning programs and events in Miami, and we want to show our appreciation all month long.
Members aren't the only thing we're celebrating in May. The United Nations General Assembly and UNESCO have officially declared 2019 the International Year of the Periodic Table of Elements!
Because we love to geek out, we're combining our enthusiasm for our members and our elements for some extra fun this month. During the month of May, in addition to a sneak peeks of our new special summer exhibition and members-only demos, discussions, discounts and treats, you'll receive some extra-cool perks. And of course, members always receive free admission to the museum and a 10% discount at Food@Science and the Science Store.
Ready to learn more about those member benefits? Read below to check them out!
The Member Element
Our members are the most important element at Frost Science! In honor of the International Year of the Periodic Table of Elements, we've designed a commemorative 'Members Matter' element button. Frost Science members can pick up an exclusive 'Members Matter' element button (while supplies last) during their visit to the museum this summer – wear it, pin it and post it with scientific pride – and share your favorite photos and moments with us at @frostscience using our hashtags #ItsScienceMiami and #FrostScience.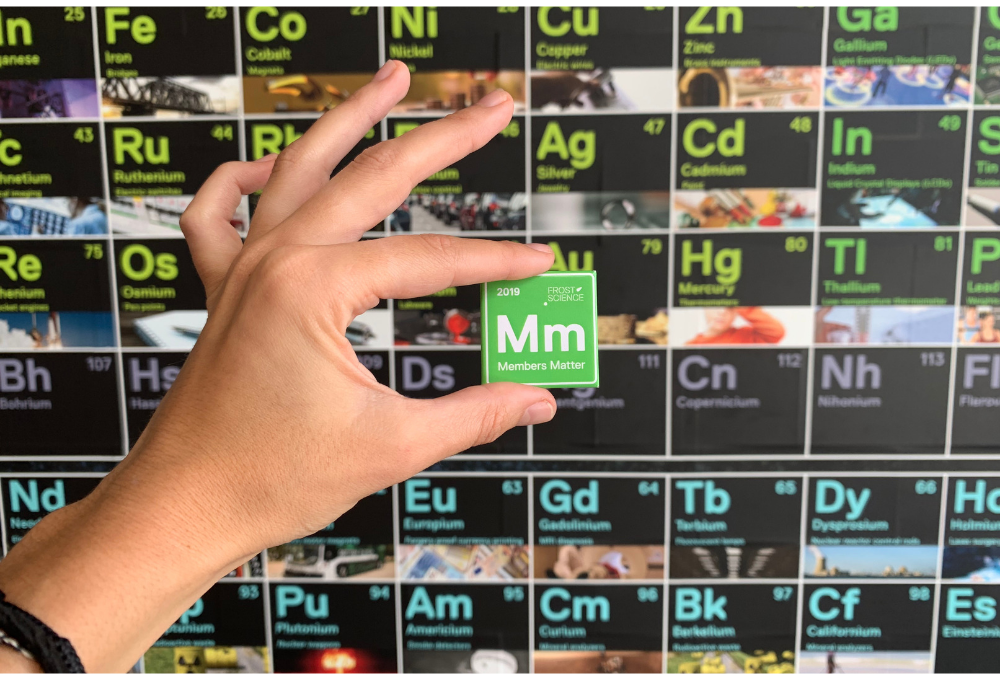 Matter of Tote
Because you matter to us, all renewals from May 1 through June 30, 2019 will be eligible to receive a free chemistry-inspired tote (while supplies last)! Renew your membership today and stop by the membership office to pick up your reusable cotton tote, limit one per membership household.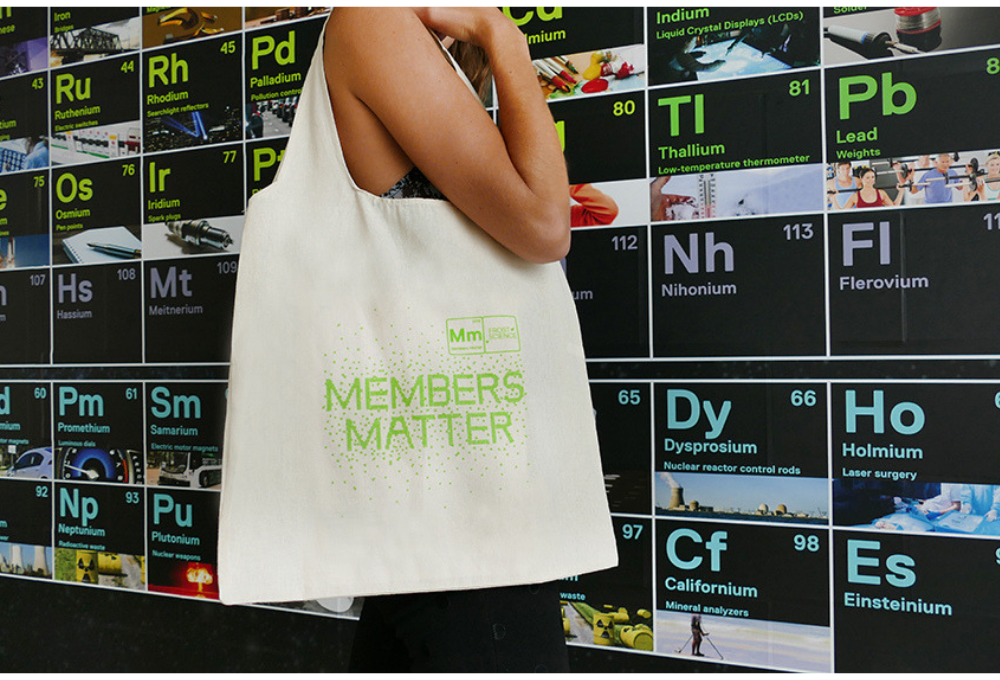 Café Cookies
Stop by Food@Science, our onsite café, in May and receive a complimentary cookie with a meal entrée purchase (bowl or sandwich), courtesy of our friends at Constellation Culinary Group. Make sure to show your membership card! (cookie offer not valid on purchases at Coffee@Science)
Save the Date
Frost Science members are invited to be the first to experience our newest special exhibition, The Secret World Inside You on Friday, May 24 from 6:30 p.m. to 9 p.m. Presented locally by Nicklaus Children's Hospital, The Secret World Inside You uses larger-than-life models, computer interactives, videos, art installations and a live presentation to explore the rapidly evolving science revolutionizing how we view human health and understand the inner workings of our bodies. Afterwards, dance the night away in the MeLaβ, check out our brand new "Microbes and You" live presentation, and commemorate the evening with a pic in our specially-themed microbiome photo booth. Click here to register now.
Coming Soon
It's been a wonderful two years serving our community, and we're just getting started! Wait until you see what we have in store for you later this year: Our new fall exhibition, Numbers in Nature: A Mirror Maze, opens October 2019, and you won't want to miss the science (and math!) behind nature's patterns.