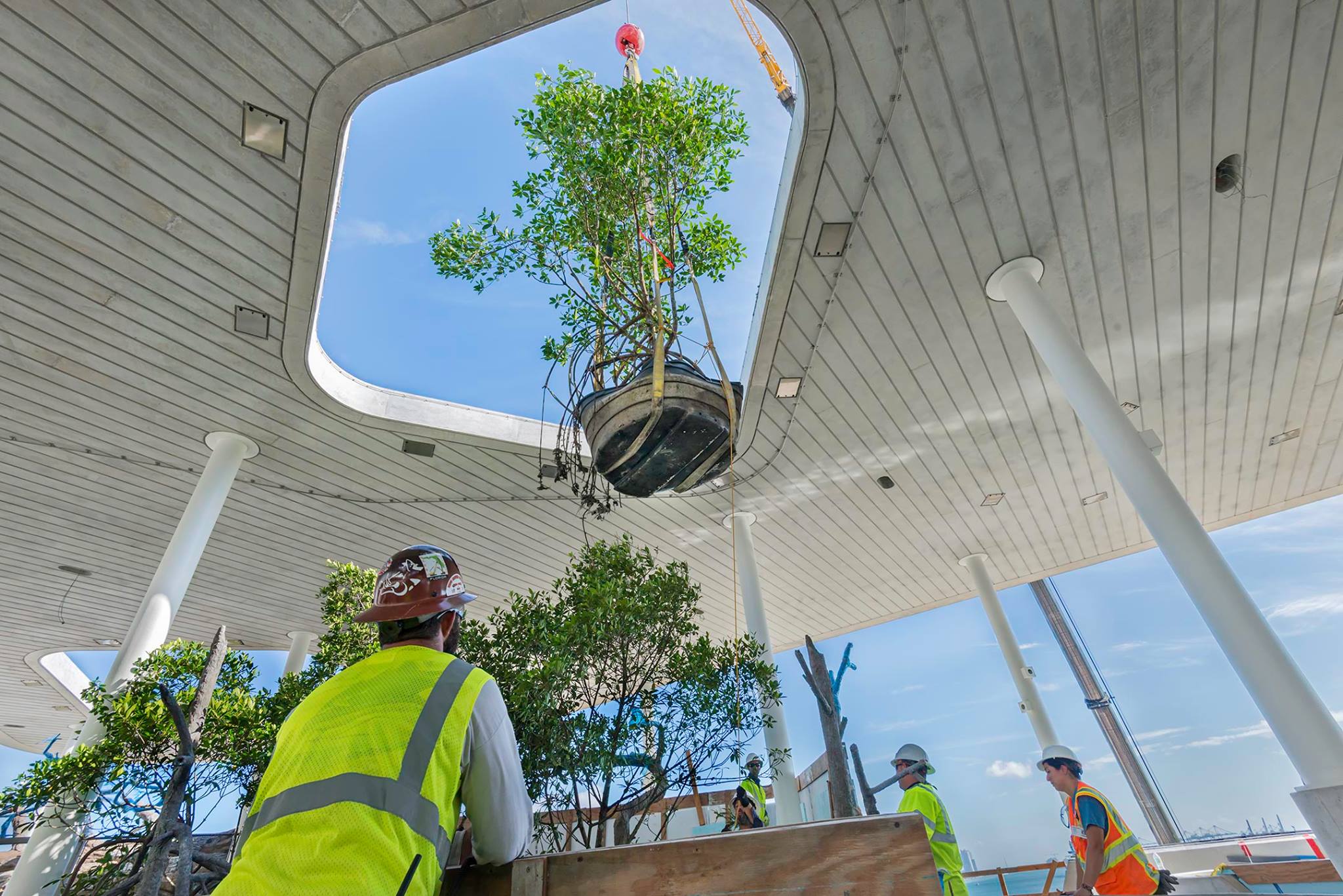 If you happened to see a cluster of mangrove trees suspended in midair last month, no need to worry—your eyes haven't gotten the best of you yet.
On December 6th, the first living organisms were ready to make their new home in our museum. Five red mangroves (Rhizophora mangle, as they like to be formally introduced), ranging from 14 to 19 feet and weighing an average of 2,500 pounds, were installed by a hundred-foot crane in our Mangrove Habitat. After much preparation with Skanska USA, Maxim Crane Company, and Tenusa, our biggest trees were ready to fly up to our Vista level.
Spoiler alert: wrangling a group of massive mangroves in midair is no simple feat. In fact, windy conditions that day made balancing the trees a particularly tough challenge. Along with this hurdle, the installation team had to contend with craning precision and a tight race against the clock. They had to install the mangroves before the company working on the aviary mesh finished their work and sealed the only opening in which the mangroves would be able to fly through. But thanks to our experienced rigger, we had the mangroves up in the air and flying through the opening in the roof and into their planters, right in the nick of time.
Next, it was time to install the biggest tree to the Vista level: a 22-foot gumbo limbo (Bursera simaruba) with a 19-foot canopy spread. Because of its size, this tree was the toughest to maneuver. Once we had it appropriately strapped in, our gumbo limbo made the successful journey into its planter in the hammock area. We wrapped up our tree craning journey with the installation of a paradise tree (Simarouba glauca) and Krug's holly (Ilex krugiana) into the same hammock.
Soon, you'll be able to visit our newest residents in our Mangrove Forest habitat. The exhibit is actually two worlds: above the surface on the Vista level, you'll see birds such as green herons and cormorants perched amidst the mangrove trees—there'll even be an American crocodile waiting to meet your acquaintance. Downstairs at the Dive level, you'll explore the science of the mangrove system while watching snapper, grouper and snook make their way through the finger-like roots of the trees. And if the birds upstairs are feeling peckish, you just might catch them swooping down to snap up the food being released at the base of the mangroves. Instagram, anyone?
Photo Credit: Barry Fellman, Center for Visual Communication