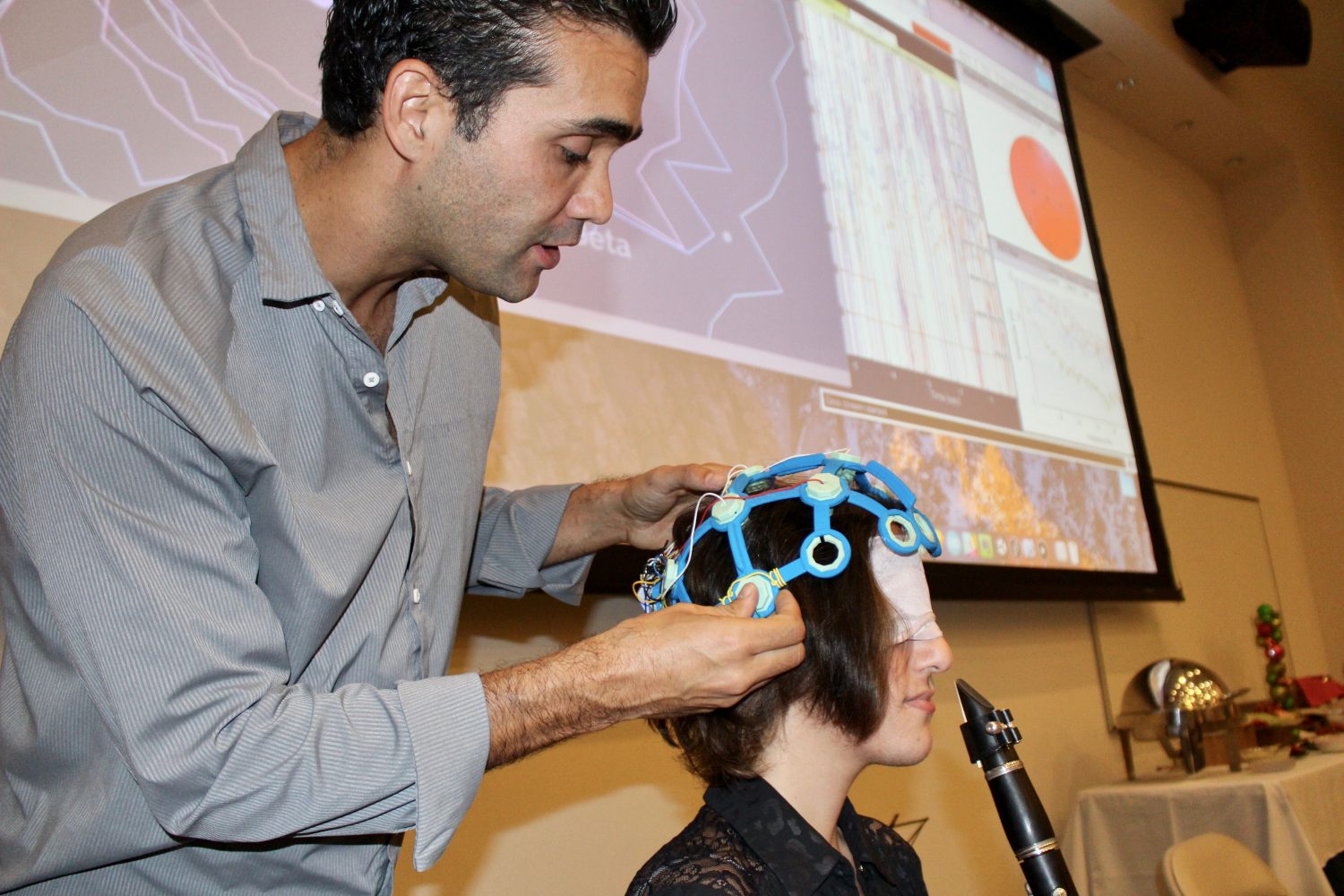 William Butler Yeats, an Irish poet and a pillar of the 20th-century Irish and British literary establishments, once said: "The world is full of magic things, patiently waiting for our senses to grow sharper."
Enter: Corpus Callosum, a program that merges art and science to explore how humans perceive the world through various senses. The effort is a collaboration between Alexandra Kuechenberg, Jonathan David Kane and myself.
Our first endeavor, "On a High Note," is a collaboration between New World Symphony and Frost Science. The project combines classical music performances with advancements in neuroscience for a one-of-a-kind audience experience. The goal: to produce an entertaining and educational experience that would present a deeper understanding of how our brains work. In addition to that, our hope is to expose new audiences to the significance of complex music through an alternative concert viewing format (in this case, the full dome environment of Frost Planetarium).
Corpus Callosum received a Knight Arts Challenge grant in 2015 to develop "On a High Note" and, given the innovative nature of our effort, we've been working on the research and development aspect of it ever since. For that, we partnered with Kim Grinfeder, Director for the Interactive Media Program at the University of Miami's School of Communication. The partnership materialized as a course Alexandra and I have been teaching. It's based on an existing format in which a team of multitalented graduate students with different and valuable backgrounds undertake real-world projects with a partnering organization. In Grinfeder's words, "we were very excited to collaborate with Alexandra and Jorge from Frost Science in this semester's CoLab course; this is exactly the type of creative partnership we were looking for that allows our students to grow alongside their community."
On December 9, after five months of intense work, the student team introduced their prototype concept for a new type of user experience that merges symphonic performances, art and innovations in neuroscience to a fascinated audience, including New World Symphony's President Howard Herring, who got to take part in a live demo after the presentation.
The team broke out the experience into three acts to include a pre- and post-experience that provide the necessary context to both enjoy and understand the ins and outs of "On a High Note." One key element of their presentation was to prove that electroencephalography technology (i.e., EEG headset) can actually be used to translate neurological data based on our perception of classical music into fascinating visuals. Their work is carefully documented here.
While our students have done an outstanding job, and the course was arguably a success after they delivered a promising proof of concept, our journey to make it a reality is only beginning. In Herring's words, "This is coming."