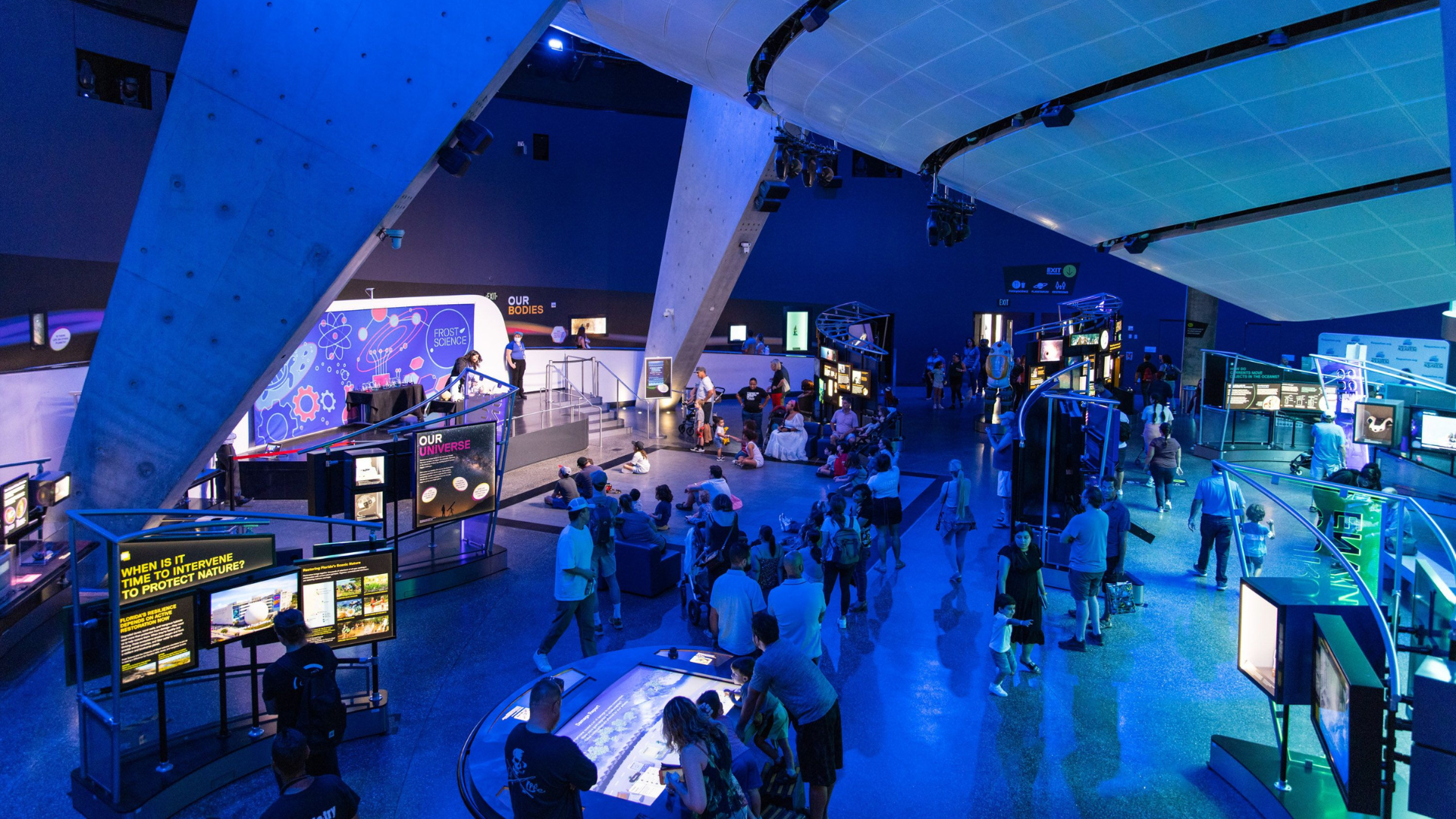 On Sunday, June 4, Frost Science held our annual World Ocean Day event, hosting more than 20 partners from across the state to bring awareness to the state of the planet's oceans and Florida's unique marine biodiversity. Each partner had a table displaying their work with hands-on displays to engage the more than 3,400 guests in attendance. This year's World Ocean Day was generously presented by the Miami Downtown Development Authority (DDA) with additional support by Florida Prepaid.
While the challenges facing our oceans are serious—overfishing, ocean acidification and warming, and plastic pollution, among others—the event was designed to inspire hope and initiate action from the community. "It's a small way to make a big difference," Frost Science VP of Biological Programs, Steve Bailey, says. Guests enjoyed learning about the ocean, trying their hands at ocean trivia, "shopping" for sustainable seafood, interacting with 3D-printed coral models, making waves to measure how mangroves protect us and even discovering how to stay safe on the water (plus many more great activities!). 
Along with our partners, Frost Science had our own special programs running throughout the day, including the "Undersea Chemistry" ocean acidification-themed stage show and a taste-test of lionfish ceviche made from lionfish harvested right here in Florida. At the Member Morning event, Frost Science members even had the opportunity to make jewelry and keychains from lionfish fins. Lionfish are invasive, and they harm Florida's coral reef ecosystems by decimating the prey species of native fish. So, harvesting and eating these fish is not only delicious, but also a sustainable action you can take to help the ocean.
We wrapped up this year's World Ocean Day celebration with a LIVE@Frost Science talk on Thursday, June 8, by University of Miami marine biologist Dr. Catherine Macdonald, who shared her research on the baby sharks of Biscayne Bay. Guests were inspired to learn about the amazing marine life right here in Frost Science's backyard. World Ocean Day is an annual event, both here at the Museum and globally and you can visit the World Ocean Day website to learn more about how you can help the ocean. We look forward to seeing you at our next World Ocean Day event in June 2024!
Special thanks to our 2023 World Ocean Day partners:   
Blue Scholars Initiative

 

Debris Free Oceans

 

Florida Atlantic University Marine Lab

 

Florida Department of Environmental Protection

 

Florida Fish and Wildlife Conservation Commission

 

Marine Environmental Education Center – Nova Southeastern University

 

Miami-Dade County Sea Turtle Conservation Program

 

Miami-Dade Public Library System

 

Miami-Dade Reef Guard Association

 

Miami Waterkeeper

 

Ocean Rescue Alliance International

 

The Florida Aquarium

 

The International SeaKeepers Society

 

UF/IFAS Extension & Florida Sea Grant Miami-Dade County

 

United States Coast Guard Auxilary

 

University of Miami Rescue a Reef Program

 

University of Miami X-REEFS

 

Virginia Key Beach Park Trust