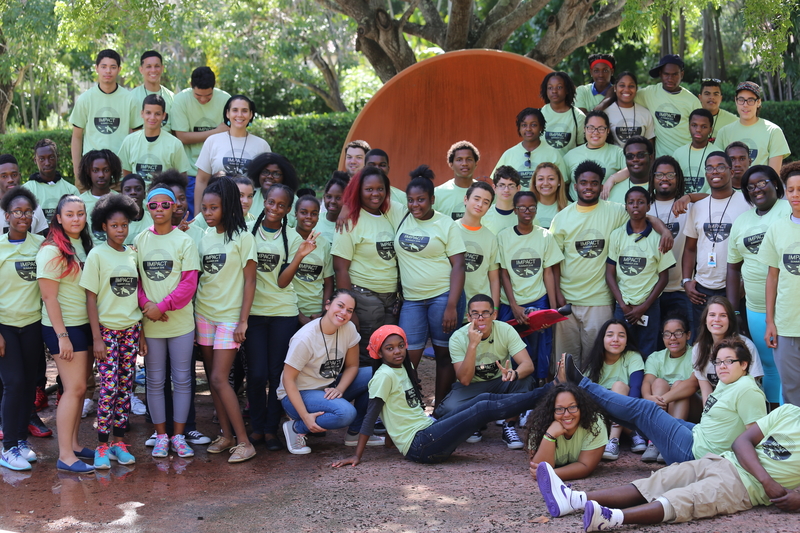 By Mauricia Vasquez, College Advisor, Upward Bound Math and Science
Summer is finally here!  For the Upward Bound Math and Science program, which exposes low-income students to the power of science and paths to STEM careers, that means the start of IMPACT, a six-week intensive marine science summer program in which students get up close and personal with South Florida's unique marine ecology and biodiversity.
During their time in the program, students get out of the classroom and into the field to cover a spectrum of marine science topics including marine ecology, oceanography, meteorology, resource management and more. The idea is to groom future conservationists and to inspire interest in STEM careers. Although living in South Florida offers many opportunities to experience and learn from nature, many teens growing up in urban areas rarely get a chance to get out and explore.
On the first week of IMPACT 2016 we welcomed a brand new cohort of rising 9th grade students. To gain admission, more than 50 eights-grade students underwent a grueling application process based on a combination of academic grades, teacher recommendations, and an interview with Upward Bound staff. Of the applicants 25 were selected to participate in the program.
One of the most exciting experiences for the kids is to get out in the ocean and under the surface to witness the ecosystems at play there. During this week we spent some time in the water reviewing water safety and swimming techniques and ensuring that first-time snorkelers are acclimated to the water. Then they enter the underwater world. According to Brianna, an incoming freshman, "I was scared at first because I had never seen any fish in person before. The first fish I saw was a baby puffer fish, and then I saw a stingray near one of the jetties in Virginia Key. I realized they weren't very interested in me so I wasn't scared anymore." As the summer progresses, students will be able to observe the diverse wildlife that lives just under the surface, and use the information they collect to inform the research they conduct throughout the summer. Some of the projects include surveys of biodiversity in various beaches throughout the Key Biscayne area, and the tracking of the effects of ocean acidification on local coral and limestone.