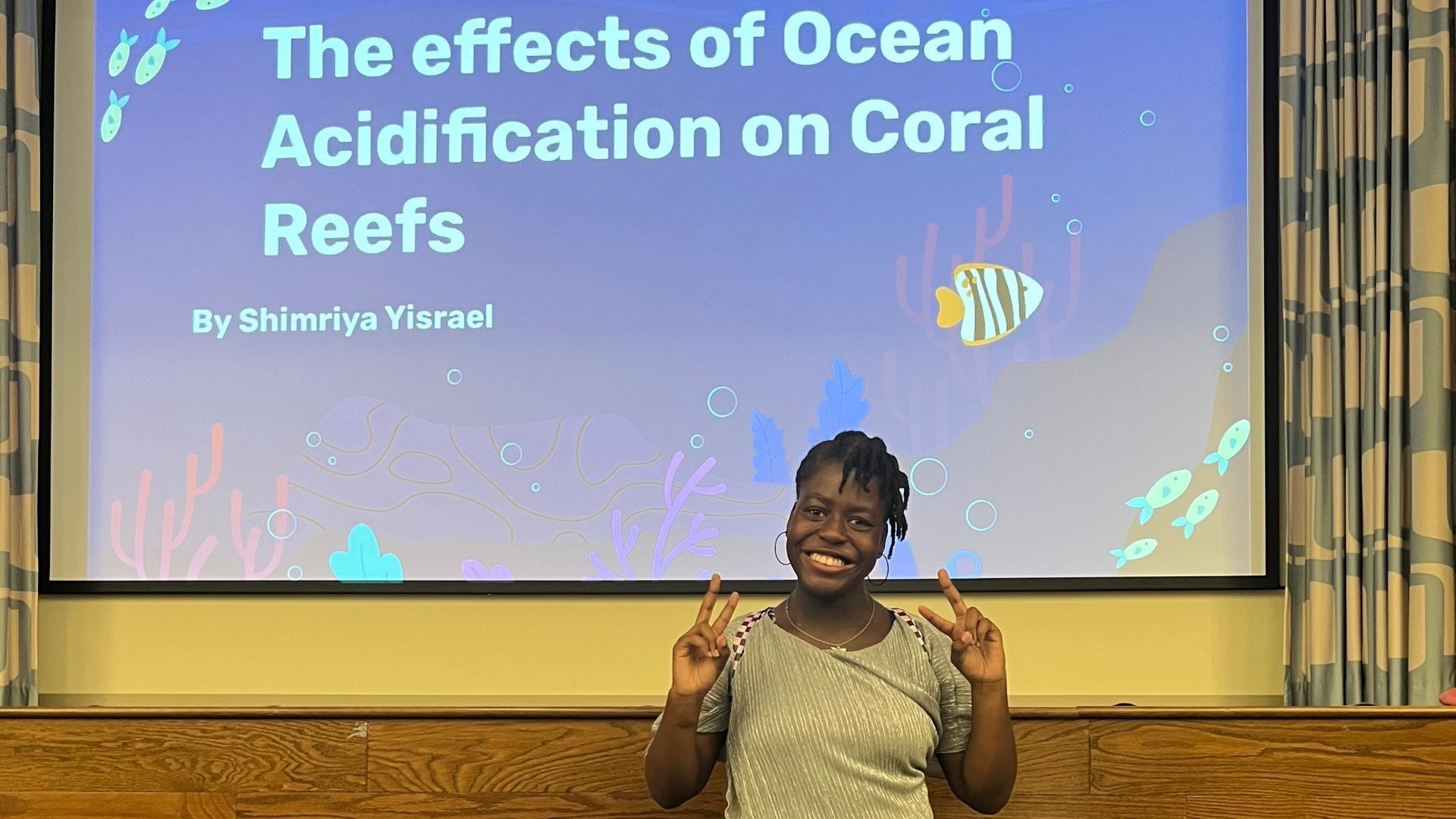 Upward Bound Math and Science (UBMS) at Frost Science is an award-winning program preparing under-resourced teens for STEM higher education and careers.
My name is Shimriya Yisrael and I am a senior at Miami Edison Senior High School and four-year participant of the Upward Bound Math and Science (UBMS) and the Integrated Marine Program and College Training (IMPACT) program at the Philip and Patricia Frost Museum of Science. This past summer was my last summer with the program. It was a bittersweet moment, but I will always cherish the memories made during this final summer. Let's look back on a few.
To begin with, I've grown a lot when it comes to being confident. I used to be very shy and afraid to speak up for myself and in general. For example, at the end of each summer, there is a symposium that is hosted, and we present what we learned over the summer through a presentation. In the first year, I was struck with a lot of fear and stage fright, but I mustered the strength to present and did great. The next two years were primarily on Zoom, (which was different because it felt like just yesterday when I first started the program) due to COVID-19, so our presentations were virtual. Thankfully, this past summer and the upcoming academic year have been fully in-person. We recently presented our projects; I was the most confident I have ever been in over a decade. Not only were the new mentors, project director, project coordinator, fellow students, and guests surprised and proud, but I was also in shock and overly proud of myself.
The staff members at UBMS are very sweet, caring, and loving. Each of them meets our needs to the best of their ability and always reminds us that they are here for us. For example, I am a person who loves hugs, and this is something they know of. Each day I see one of the mentors, I am greeted with a big hug by them. This makes me feel joyful to know each of them. Also, their patience with us is incredible. When we went snorkeling, I felt no fear with the mentors at all and unfortunately, fear is something I feel a lot. When it comes to swimming in the depths of the ocean, it frightens me. With the mentors around, I feel safe and comforted by them at times when I am in the deep areas of the ocean.
The various places that we went to were wonderful. One of the ones that I really liked was an overnight stay visiting Kennedy Space Center and Busch Gardens. The sights at the space center were phenomenal and educational and there were a lot of wonderful animals at Busch Gardens. There were many animals I have never seen or heard of before like the Echidna which is also called the spiny anteater.
I did things that I never thought I would do. I am a person who loves science but never pictured myself working in a lab with a professor but that's exactly what I did. I was also selected to work with Dr. Christian Agatemor, a professor in the Chemistry department at University of Miami. One of the things we learned was how to do Western Blotting with Chinese Hamster Ovaries (CHO) cells through cell culture. It was fun to be in a lab and learn about molecular biology in a hands-on way.
Lastly, I faced my fears and got out of my comfort zone. I am afraid of the depths of the water and never really swam far by myself or in general. In my first year, I tried to jump off the boat and snorkel with the rest of the group but that did not end well, to say the least. Now three years and a lot of practice later, I swam half a mile (2640 ft) in the ocean by myself with the supervision of the adults.  I was in shock and very proud of myself and so was the staff.
Moving along, I made a lot of great bonds with those in the program. I am a person who is always willing to talk with new people and make them feel comfortable in unusual circumstances. As one of the co-founders of SCBI (Small Changes Big Impact, a Smithsonian grant funded non-profit) I bonded well with the members within and supporting this organization within UBMS; building our friendship more and more each day so much so that I am as close to some peers as family. Each year I create a great and strong connection with the mentors of the program. I still communicate with former mentors from my first year of the program. This program is a great way to build long-lasting relationships.
In conclusion, this summer of IMPACT was phenomenal for me. There were great bonds that were created, went to amazing sights in South Florida, and became more confident in myself.