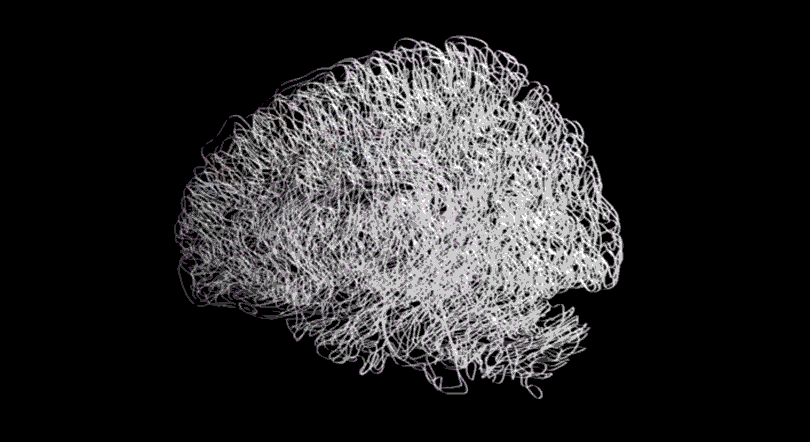 For centuries the disciplines of science and art have occasionally intersected in the larger search for a life of meaning and the meaning of life. The team here at the Phillip and Patricia Frost Museum of Science continues that discussion with the third installment of our Curious Vault Collaboration series.
The project, inspired by the collection at Frost Science, puts a local artist together with a scientist with the intention of creating a tabletop display using at least one item from the museum's permanent collection. These main elements—a table, a collection object, an artist, and a scientist—are a framework with which we hope to guide future projects.
The program's third installment, called "Neural Networks," is the result of teamwork between cognitive neuroscientist and medical physicist from Florida International University, Dr. Angela Laird, and multimedia artist Felice Grodin. The piece is a 3D-printed brain recreated from magnetic resonance imaging (MRI) slices accompanied by documents from the archive of scientist, explorer and occultist J. Manson Valentine. Valentine was an honorary curator at the museum up until the mid 1990s, and the archival documents include aged expedition maps and beautifully hand-made medical drawings, among others.
Dr. Laird, who's research lab provided the MRI images, focuses on the field of cognitive neuroscience and using MRI to map the human brain, including both its structure and function, while Grodin has a background in architecture, a discipline which brings a strong sense of mapping a space. They met several times to exchange ideas, then Grodin set about connect the discourse together in physical form. "I was interested in how to fuse the actual material used in Angela's research (brain MRI's for example) and use it towards something new," says Grodin. "In turn, by introducing two other key participants, BYO-Lab [the designers and fabricators of the brain pieces] and the Curious Vault items belonging to Dr. J Manson Valentine, the result is seamless in its construction, but straddles both new and old technologies of representational mapping and space."
Grodin notes that the title "Neural Networks" addresses the work's "inherent dance between the biological and the technical," adding that, "as technology develops we are able to map regions, both micro and macro, that we could not otherwise." So, we can map a brain "not just statically but dynamically – not unlike cities or cosmic arrangements." Another layer of the piece is that "the brain seems to be compelled to map, to order, to also structure."
The piece took over a year from start to finish, given the manufacturing processes by BYO-Lab, which specializes in 3D fabrication utilizing digital technology. Their job was to convert the 2D MRI images from Laird's lab to 3D cuts of Plexiglas sheets which were then laser-cut at the FIU School of Architecture. The cumulative effect is a brain that is imprinted into a solid vitrine as a negative.
The Valentine documents include an actual image of a brain, but perhaps more interestingly to the discussion of mapping, a cave diagram of an exploration he took to the Yucatan in the 1960s to a site called X-Kukican. Grodin explains that, "his freehand map of the cave shows pathways, quadrants, nodes, entries and exits. It looks like an equivalence of the brain itself." Valentine was a gentleman explorer, constantly jaunting off to a remote locale to search for a lost civilization. Grodin says she was drawn to the "idea that one processes through the networks of the brain," a version of the "constructed networks of an ancient civilization." She goes on to admire the Curious Vault itself, saying that "the collection overall is an extension of this human desire to explore and network."
Dr. Laird was inspired by the collaboration stating, "similar to artists, scientists must be creative in how they approach the problem-solving process, how they respond to challenges that inevitably arise during their work…There's a remarkable degree of similarity in how we approach our respective work, even though the outcomes are quite different."
That similarity is what the Curious Vault Collaborations is all about. Putting a scientist in a room with an artist and seeing what two skilled experts can create from the discourse. The Curious Vault team firmly believes in the benefits of this project for the community. And Grodin gave us an even more inspiring thought to takeaway from this process, claiming this kind of project is the way of the future and that "collaborative work—especially work that situates itself in technological and scientific developments, institutions, and infrastructures—is much more expansive in its reach. In a way the internet does that, but one can do it in the physical world too in the company of people, places and things."