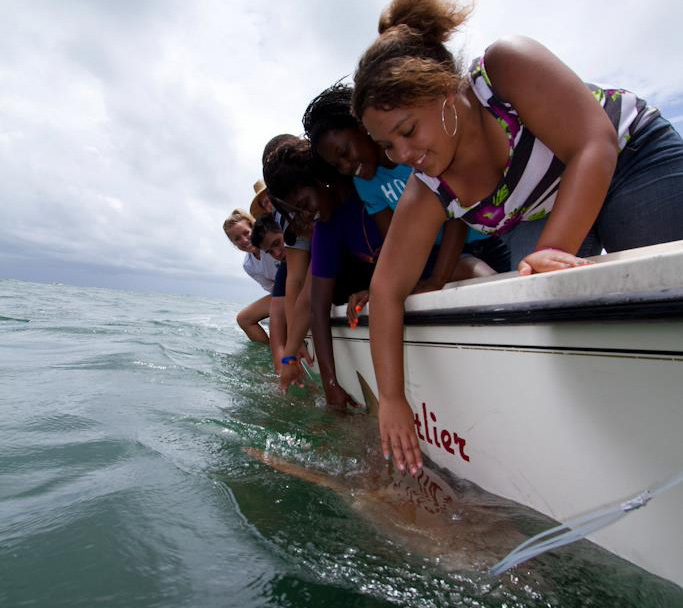 My first shark tagging trip with UM RSMAS and my classmates from UB, it was awesome! Summer, 2012.
When Leandra Gonzalez was an eighth grader at Brownsville Middle School in 2011, she knew she had an interest in science, but never dreamed she would one day do science for a living. "My science teacher, Mr. Palacios, noticed my interest in science and recommended me for Upward Bound. I was so excited to finally have a chance to be part of a summer camp that catered to my interests in marine science."  Gonzalez's science journey has since led to a STEM degree from Florida International University and internships with Everglades National Park and the National Science Foundation. Now Gonzalez is coming back to Frost Science to help the next generation of Upward Bound students in her new role as IMPACT Program Coordinator for the museum's Upward Bound for Math and Science (UBMS) program.
Upward Bound is a national program that prepares students from local Title 1 schools to be the first in their families to enroll in college and pursue careers in STEM. While there are Upward Bound sites all over the country, Frost Science is the only museum that hosts this unique program. For over 20 years, the 15-20 students selected for our site each year start a four-year long commitment to attend classes and science experiences after school, on the weekends, and through a summer camp that helps them get hands-on experience in both the field and the lab to learn what the life of a scientist can be.
Gonzalez credits much of her collegiate success to her own participation in the program. "It gave me a solidified path to something I was dreaming about for my entire life. My parents always urged me to go to college, but neither my immigrant father nor my young mother graduated high school, so the road map never seemed clear. At Upward Bound, I was able to understand my STEM interests, select the right school and develop the skills for college success."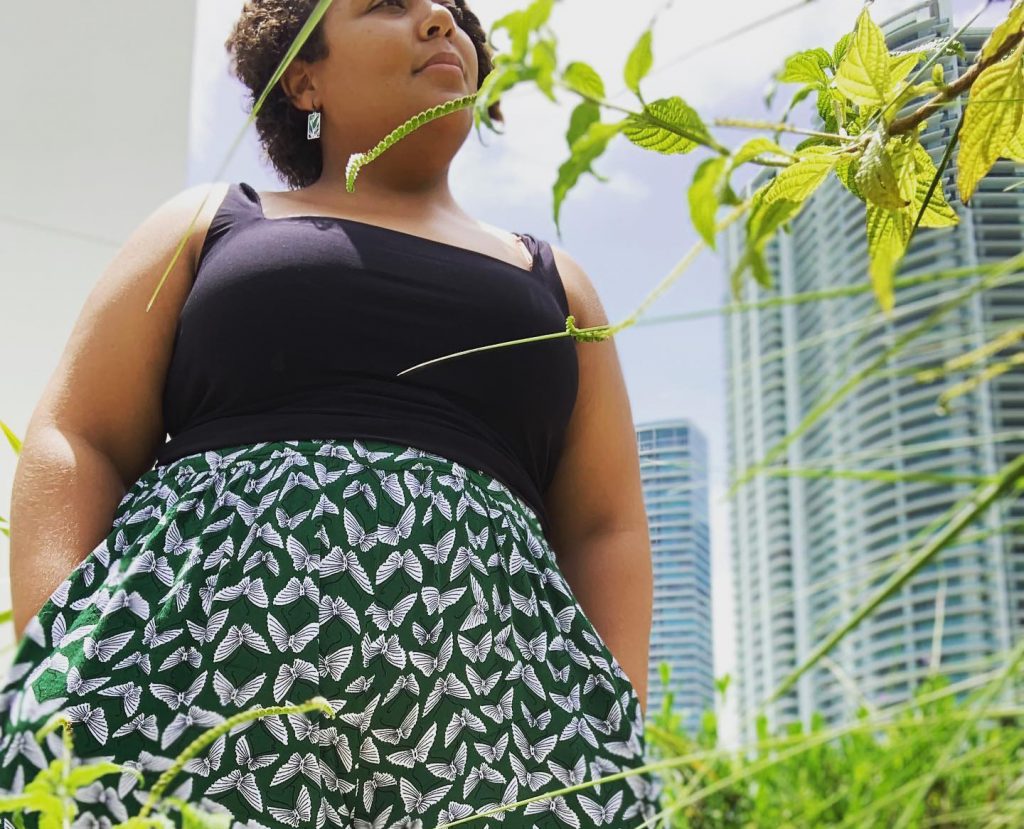 My first week at Frost Science as the UBMS Program Coordinator, 2021.
Upward Bound aims to not just expose students to science content but to help them see the real lives of scientists through hands-on experiences and field trips. One of Gonzalez's favorite memories comes from such a trip to Kennedy Space Center her freshmen year. "We had facility tours, panels with astronauts, dinners with scientists, and got to sleep under the rocket ships. It's hard to top a weekend like that."
The key to the success of Upward Bound are the mentors that assist students with exploring STEM careers and preparing for college. Mentors are science professionals that come from all manner of academic and non-academic backgrounds, including graduate students and professors from the University of Miami Rosenstiel School of Marine and Atmospheric sciences. In April 2020, wanting to make sure that current Upward Bound students would not miss out on science learning, Gonzalez herself became a mentor. Gonzalez, who had just finished a STEM internship, calls the opportunity impeccable timing. "Finally, a job that I could enjoy for a long time with people and subjects that I'm passionate about!"
Mauricia Vasquez, the Project Director of Upward Bound, thinks that this network of mentors and alumni is one of the most crucial aspects of the program. "We think of our students as a family and those connections don't end when you graduate high school. Once students join the program, they are part of a network of alumni and mentors that work to ensure that they are always supported through high school and into post-secondary education." Vasquez believes in helping students always see themselves as members of a STEM community.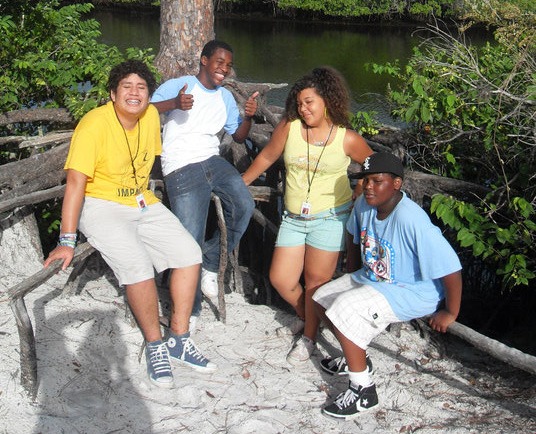 My freshman year overnight trip, the sun was crazy that day, 2011.
Vasquez's community approach means Gonzalez is far from the program's only success story. More than 98% of participants in Upward Bound graduate from high school, over 90% enroll in college, and of those enrolled in college around 70% of them go on to major in a STEM field. In 2020, despite having a modified experience because of the COVID-19 pandemic, four Upward Bound students partnered together to start an environmental project called Small Changes Big Impacts and won a microgrant from the Smithsonian. Through this grant, the students can expand their reach in their communities and help organize volunteer clean-ups to make their communities healthier and more sustainable.
Gonzalez, who worked as a mentor until June 2021 when she was promoted to Program Coordinator, has big dreams about the future of Upward Bound at Frost Science. "The relationship between Upward Bound and Frost Science is imperative for these students. I would love to see them use the museum to have a home base in the scientific community, as they gain experience through internships, work study and community outreach. Fighting classism in Miami-Dade County through opportunities for growth and diversifying the science world. What we have here is special and priceless and I want to see it transform even more, for the better."
Upward Bound is accepting applicants for the 2021-2022 school year. If you know a young scientist, please contact mvasquez@frostscience.org or lgonzalez@frostscience.org for more information.