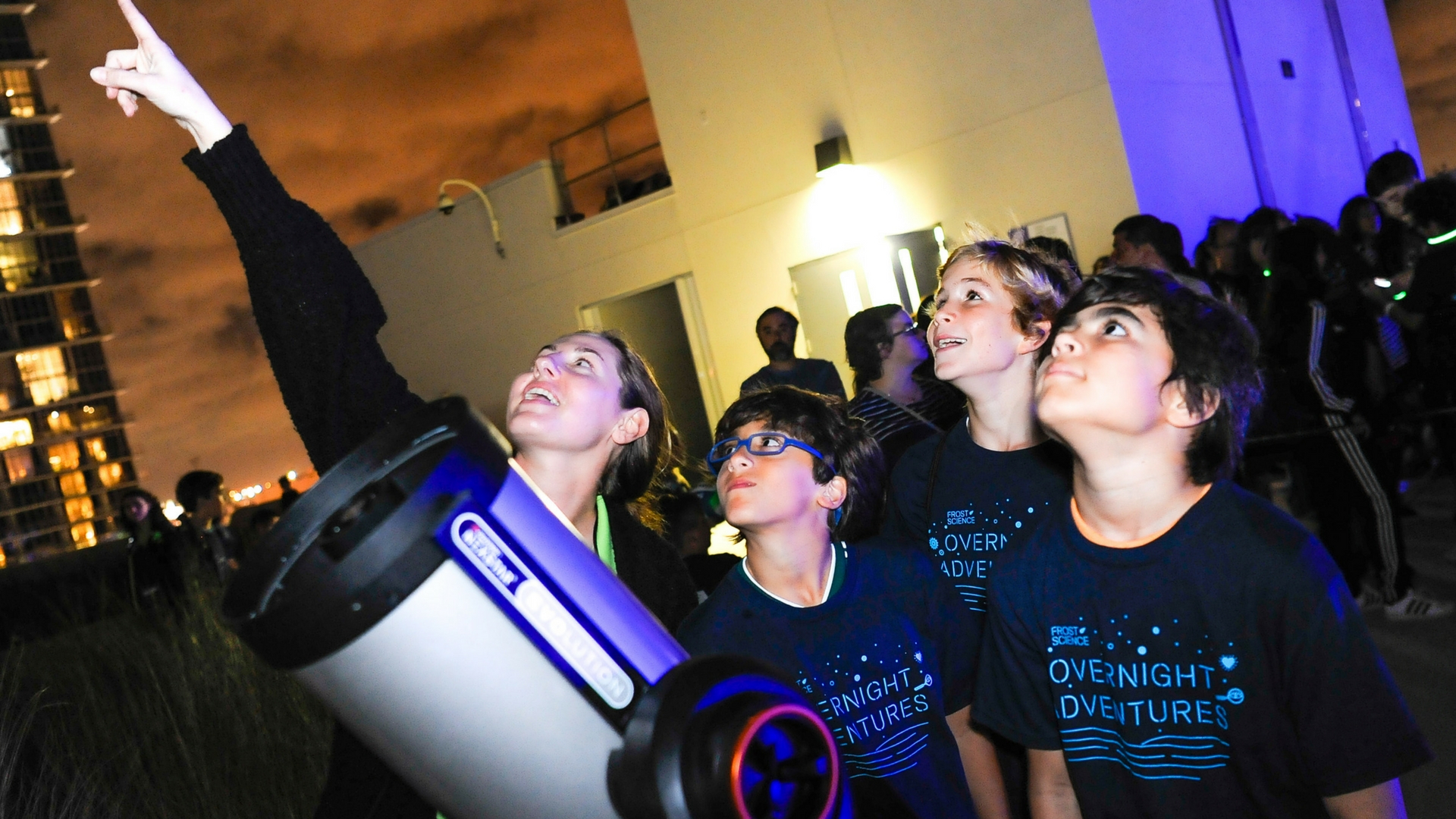 Last month, love was in the balmy Miami air, and at Frost Science, we took the sentiment to heart—literally. Along with special heart-healthy programming throughout the month, the museum was bathed in a swath of red light in celebration of American Heart Month. We also launched several new programs that invited guests to enjoy our exhibitions early in the morning and… overnight. Here's the scoop:
Overnight Adventures
It's official: science-themed sleepovers are in! On Friday, February 9, over 150 people packed up their sleeping bags and joined us for our very first Overnight Adventure at the museum. All of our sleepover guests had access to selected exhibitions throughout the night and were treated to a special star-gazing session on the rooftop Lunar Terrace using telescopes, a fire-and-ice science show using the power of liquid nitrogen and Tesla coils, hands-on STEM activities and a savory dinner and breakfast. We have upcoming dates available now so click here to learn more.
Just for Me Mornings
An important part of our mission is to share the power of science by providing accessibility and an open-arms environment to all visitors. That particular goal inspired one of our newest programs: Just for Me Mornings. On February 11, we invited families and friends with special needs to enjoy the museum in a quiet, comfortable and accepting environment that included sensory-modified settings, limited admission and sound/lighting adjustments. Visitors enjoyed MeLaβ, Brain: The Inside Story and a special screening of "Dynamic Earth" in the Frost Planetarium. We have upcoming dates available now so click here to learn more.
Member Morning: Heart Smart
Last month, we invited members to help us celebrate American Heart Month with a special edition of Member Morning. From 8:30 a.m. to 9:30 a.m., they explored the museum without the crowds and enjoyed a special preview of "To Space and Back" in the Frost Planetarium along with a heart-healthy demonstration in the MeLaβ and a discussion on the multiple hearts of cephalopods. Members were also treated to early bird shopping hours at the Science Store featuring 20% off their entire purchase after warming up with a complimentary cup of drip coffee in the Main Atrium. For more information on Member Hours and upcoming dates, click here.
I Heart Frost Science Day
Following our Member Morning, we pumped up the action with our "I Heart Frost Science" day. We invited guests to explore the circulatory system with some heart-racing action, including a MeLaβ dance-off, a CPR demonstration by Baptist Health South Florida and a special animal encounter that highlighted the differences between a human heart and an animal's.
Badia Spices' Fun and Fit as a Family featuring Goya Foods Kidz Kitchen
It was family-friendly foodie heaven on February 24 and 25 as the Food Network & Cooking Channel South Beach Wine & Food Festival took over Frost Science. Keeping with the heart-healthy theme, celebrity chefs and personalities like Alton Brown, Robert Irvine and Duff Goldman shared their best health-cooking tips with a hungry crowd. Cooking demos, healthy food samplings, fitness activities and meet-and-greets with the chefs rounded out the mouth-watering weekend.
There's plenty more happening at Frost Science next month, too. Be sure to visit our calendar of events for more details on our schedule.