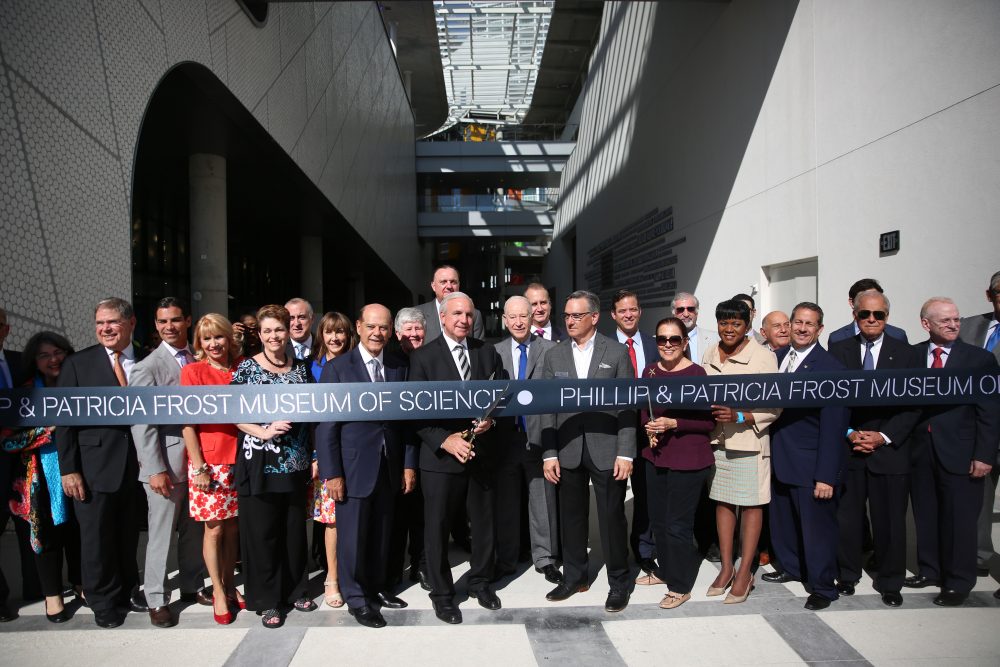 As if on cue, Friday's soggy skies parted just in time to usher in Frost Science's preview weekend and official opening day. With picture-perfect weather on deck, we kicked off an exciting three days of festivities that included a fundraiser, Member Preview and Monday's official opening ceremony.
Over 700 people streamed through our Science Plaza on Saturday night for "A Celebration of Science"—the first fundraiser ever held on our campus. Decked out in their creative cocktail best, guests mingled with drinks in hand throughout the Aquarium while the Frost School of Music put the crowd in a celebratory state of mind. After greeting a few of our new notable residents—including a hammerhead shark and alligators—guests made their way to the Baptist Health South Florida Gallery for welcome remarks from our president, Frank Steslow, Dr. Phillip and Patricia Frost, our Board Chairman Cesar L. Alvarez and Smithsonian Institution Acting Provost & Under Secretary for Museums and Research, Dr. Richard Kurin. And the dinner that followed pulled out all the stops—both the Hsiao Family Special Exhibition Gallery and the Frost Planetarium were transformed into whimsical spaces that enthralled guests. Centerpieces fashioned after comets floated across the tables while an overhead installation showered guests with bubbles. Afterwards, party-goers left it all the dance floor with a little help from DJ Mau and the Gypsy Lane Band.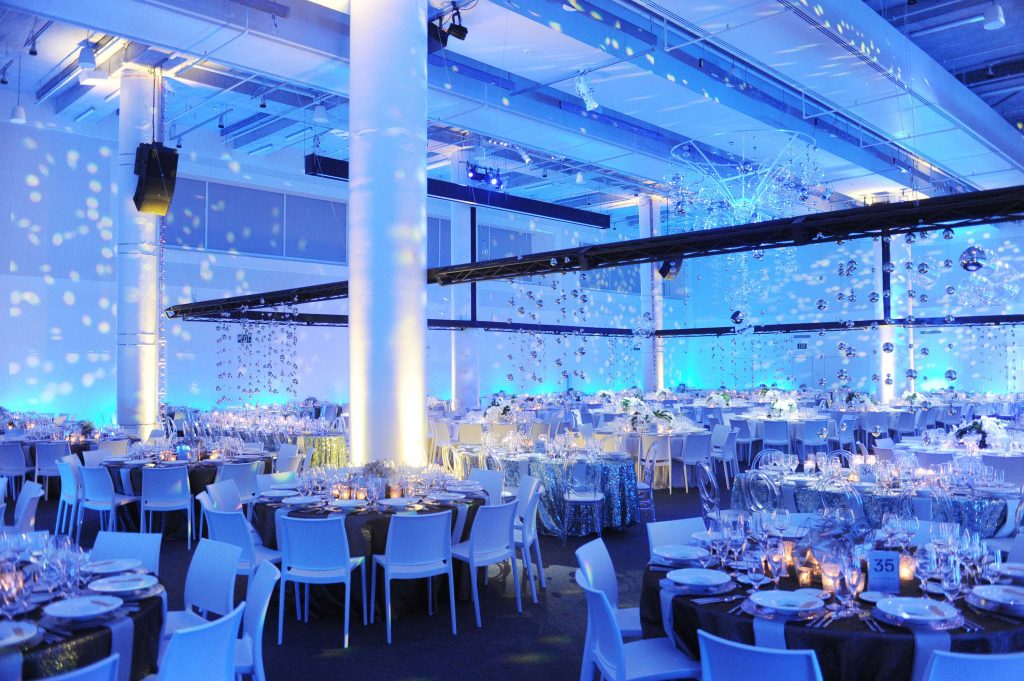 On Sunday, members had their day in the sun (did we mention the weather was picture-perfect?). Visitors began lining up hours before we opened our doors at 3 p.m. for our Member Preview event. In addition to our members, Target also invited several families to experience the new museum and gave away special totes filled with goodies for the day ahead. The company is also funding school fieldtrips to the museum for Title 1, Head Start and SPED students across Miami as part of their grant recipient program.
In total, approximately 3,500 people moved from exhibition to exhibition, while taking in the dazzling visual odyssey of Asteroid: Mission Extreme in the Frost Planetarium. Kids and grown-ups alike had the chance to pet a sting ray and get up-close-and-personal with our jellies. At Feathers to the Stars, members launched rockets while in the MeLaβ, guests crowded the dance floor to see how many calories they'd need to keep up their dance party. The day came to end with members carrying home a snappy new Frost Science tote.
May 8 was officially proclaimed Phillip and Patricia Frost Museum of Science Day by Miami-Dade County, as well as Frost Science Day by the City of Miami. Both proclamations were presented during Monday's ribbon cutting ceremony on Science Plaza along with remarks from Dr. Phillip and Patricia Frost, our president Frank Steslow, Miami-Dade County Mayor Carlos Gimenez, our Board of Trustees Chairman Cesar L. Alvarez, Lieutenant Governor of Florida Carlos Lopez-Cantera, Knight Foundation President and CEO Alberto Ibargüen, Smithsonian Institution Acting Provost & Under Secretary for Museums and Research Dr. Richard Kurin, State of Florida Congressman Mario Diaz-Balart, Miami-Dade County Commissioner Audrey Edmonson, City of Miami Commissioner Ken Russell and Miami-Dade County Public Schools Superintendent Alberto M. Carvalho. Phillip and Patricia Frost were also presented with the Key to the City by City of Miami Commissioner Ken Russell.
Ticketholders anxiously awaited the 11 a.m. opening, with a line wrapping around Knight Plaza. Despite its size, the line quickly moved visitors into the museum to enjoy our first day open to the public. The only question is: have you bought your tickets yet? After all, #ItsScienceMiami!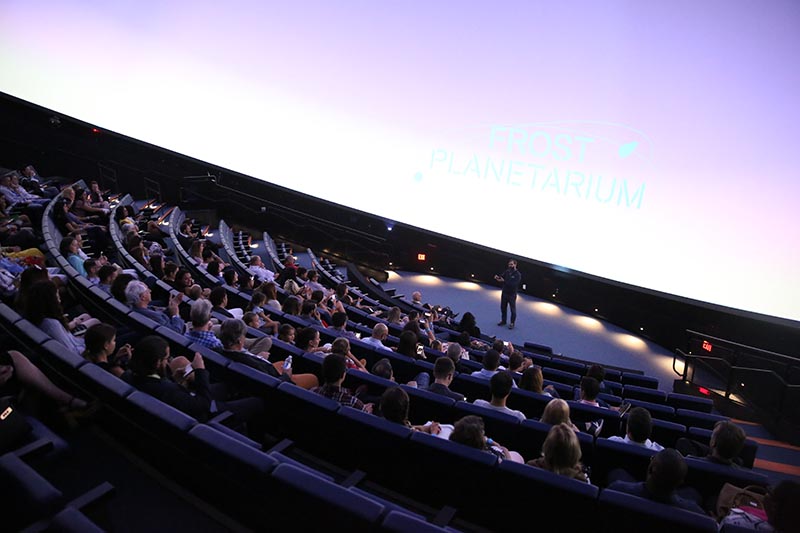 A Celebration of Science was made possible by the following donors and supporters: Castle Brands, Cesar L. Alvarez-Greenburg Traurig LLP; George and Lydia Weiss; MBF Healthcare Partners; Adrianne and Jerry L. Cohen; Akerman LLP; Barry and Renee Honig Charitable Foundation, Inc; Cogint; Deutsche Bank; Dr. and Mrs. Phillip George; HEICO Corporation and The Mendelson Family; Hill International, Inc; J.P. Morgan Private Bank; Joseph L. Falk, Ladenburg Thalmann Financial Services, Inc; MEDNAX Health Solutions Partner; MBAF; Morvillo Abramowitz Grand Iason & Anello PC; Northern Trust; OPKO Health, Inc; Paul and Swanee DiMare; Skanska; Vector Group, Ltd; Watsco, Inc; AvMed; Bank of America; BankUnited; Baptist Health South Florida; Berkowitz Pollack Brant Advisors and Accountants; Betty Madigan Brandt; Deloitte; Douglas Elliman Real Estate; Dr. Stephen and Machi Liu Family Foundation; EY; Florida Atlantic Securities; Florida Blue; Fred Hassan; Grimshaw Archtiects LLP; Grove Bank & Trust; The Halpryn Family Foundation; Holland & Knight; Jeff & Yolanda Berkowitz; John & Tarra Stetson Charitable Foundation, Inc; John S. and James L. Knight Foundation; The Kadre Family; Kaufman Rossin; Matthew Gorson – Greenburg Traurig LLP; MDW Insurance Group; Medina Family Foundation; Mount Sinai Medical Center; University of Miami.
In-kind sponsors include: Apple Events, Aroma Espresso, Castle Brands, Event Factor, Event Network, Fiji Water, Frost School of Music, Goslings Rum, Justin Vineyards, Landmark Wines, Liaisons Corporation, Moet Hennessy, Miami Herald Media Company, Ocean Drive magazine, Panache, Park One, SAVOR, Stella Artois, STR, Tito's Vodka, UDS Photography, VOGA Prosecco
Photos courtesy of World Red Eye, Rodrigo Varela, and Patty Nash Photography.