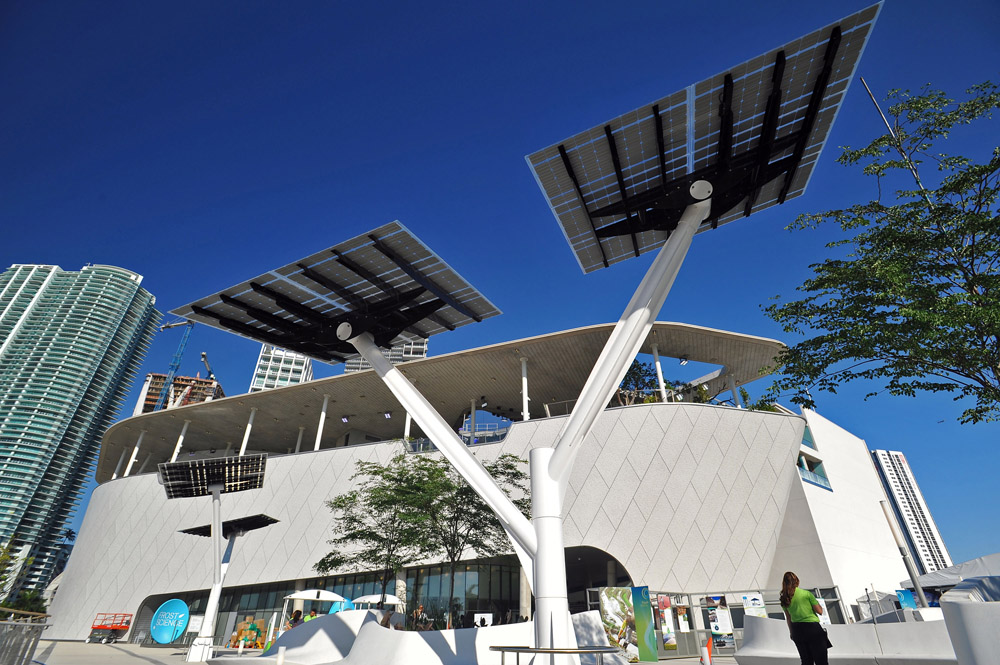 Have you ever seen a solar array—or, a group of solar modules or panels—up close and wondered how it generates solar energy? It's an opportunity that doesn't come along very often because most solar panels are located out of our line of sight—usually on rooftops or at large, remotely located universal solar energy centers.
But here at Frost Science, you get a front row seat to the science of solar energy. Florida Power & Light Company (FPL) has two innovative solar installations at the museum that make it easy for you to examine the power of the sun—one on the FPL Solar Terrace, and the other on our plaza.
On the rooftop terrace there are 240 photovoltaic solar panels silently generating 66 kilowatts of zero-emissions energy—enough to power 66 South Florida classrooms. On the Plaza level, FPL has installed two unique solar trees that generate zero-emissions energy when the sun is shining, just like the millions of solar panels located at FPL solar energy centers throughout the Sunshine State. These solar trees are part of the FPL SolarNow program, which supports the development of community-based solar projects.
FPL built Florida's first-ever solar energy center in DeSoto County in 2009. At the time, it was the largest of its kind in the nation. Since then, solar has come a long way!  The solar energy centers FPL is building today are three times as large and cost even less to construct.
By early 2018, FPL plans to have eight new universal solar energy centers cost-effectively generating zero-emissions energy for customers.  More than 2.5 million photovoltaic (PV) solar panels will generate enough energy to power approximately 120,000 homes annually.
The new solar centers will prevent more than 500,000 tons of carbon emissions annually – equivalent to taking more than 100,000 cars off the road each year.
You can dive deeper into the basics of solar energy while at the museum by downloading the new Frost Science app. Just fire it up, and go on an energy scavenger hunt or take a 'Behind the Build' tour.
Learn more about FPL's commitment to solar energy by visiting www.fpl.com/solar.