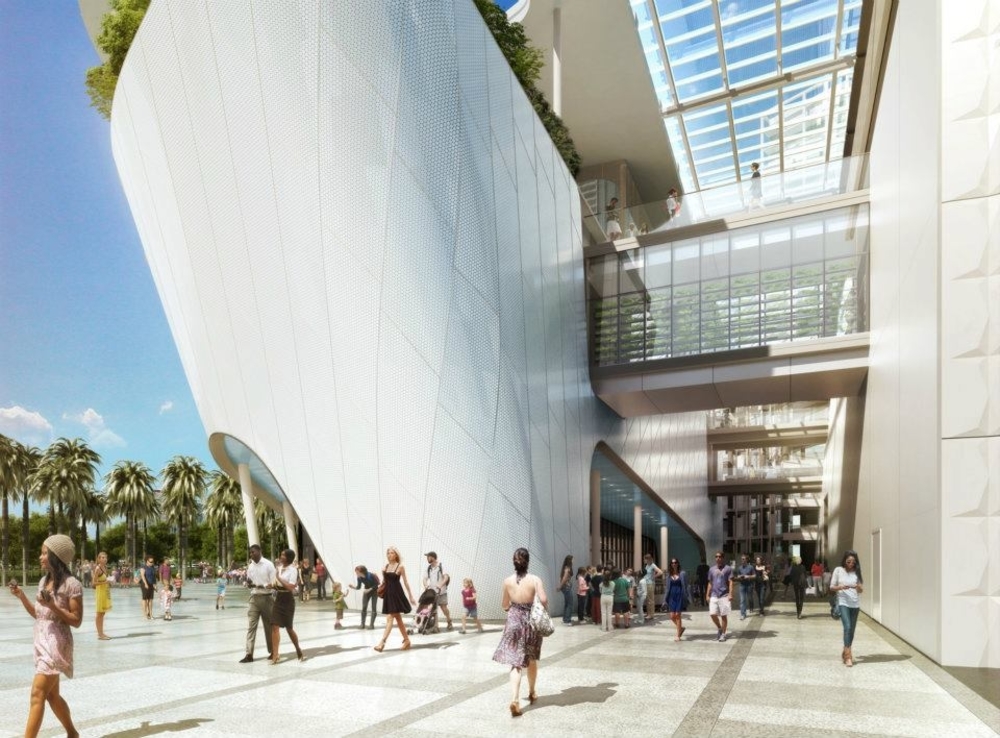 Today, Gillian Thomas, president & CEO of the Phillip and Patricia Frost Museum of Science, announced she would be retiring this Friday, July 1 after leading the organization for over 13 years. She will continue with Frost Science as an advisor through the year to ensure a smooth and successful transition. We are indebted to her vision and commitment to bringing a new and unique science museum to Miami-Dade County. Her invaluable dedication will ensure that countless generations of visitors will be inspired by science, technology and innovation.
On behalf of the Frost Science Board of Trustees, we are pleased to welcome Frank Steslow, the chief operating officer of the museum for the past eight years, as president of Frost Science. With over 30 years of experience as a scientist and executive manager in science-based non-profit organizations, Steslow has overseen all operations for Frost Science, currently leading the overall project management of the new museum along with the Batchelor Environmental Center at Florida International University's Biscayne Bay Campus in North Miami.
Thank you for your continued support of Frost Science as we near opening and remain steadfast in our commitment to bringing a remarkable resource in science and education for all the community and a signature addition to South Florida's educational, cultural, business and civic landscape.
A note from Gillian Thomas:

I have spent an exhilarating and outstanding period of time in Miami; more than a decade to get the new museum project off the ground and now, nearing completion. From the beginning, I was excited by the unbeatable site, the opportunity to make an impact in creating a new cultural quarter in the city center and leading a museum with a renowned commitment to the community and education excellence. Miami has always been open to new ideas and creates a wonderful environment to build on the strengths of the museum and re-imagine it for future generations.

Getting the building and exhibitions designed and completed is a big job – but it's just the start. Now is the moment to begin to focus on the programs for opening and beyond, along with the new projects that will come to fruition later. I am delighted to hand over the museum to Frank at this stage as he has the skills and expertise to lead Frost Science to success. The project already has a great team onboard and I look forward to seeing the results.

I am very grateful to so many people who have contributed to make this happen. Frost Science is an important public-private partnership and a great example of how we can all work together to benefit all the community. I would like to express my particular thanks to our donors and the many people within Miami-Dade County and the City of Miami who have contributed to make this possible. Everyone in Miami-Dade County is supporting Frost Science through the General Obligation Bond: this is everyone's museum. Our aim is to make South Florida a beacon for science and technology and the science museum is a key component of the educational infrastructure that will inspire so many in the years to come.

A big thank you to everyone, including the museum team and countless supporters, for all that you have done for Frost Science and for welcoming me here so warmly.
A note from Frank Steslow:
I am excited and thankful for the opportunity to lead Frost Science during this crucial phase as we near completion and opening. Under Gillian's leadership, the museum made important strides and she has laid a strong foundation for ensured success, with a solid team and a dedication to excellence. On a personal note, her announcement is very bittersweet for me. I have been nothing but impressed with her professionalism, compassion and commitment. I hope you will join me in thanking Gillian for all she has done for this community and wishing the very best in this next stage of her life. We will continue to celebrate her many accomplishments as the museum moves forward. This is an exciting time for Frost Science and it's an honor to be a part of an organization that is serving as a resource for all in our community and making a positive, meaningful impact in Miami-Dade County. I thank you for your continued confidence and look forward to leading Frost Science toward opening and beyond. If you have any questions, please don't hesitate to contact me directly at fsteslow@frostscience.org.