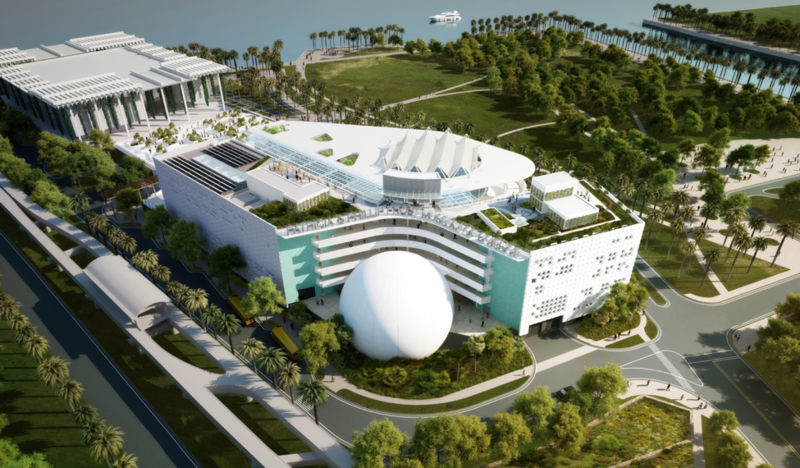 The Phillip and Patricia Frost Museum of Science today announced that a new Board of Trustees has been appointed to replace the existing Board. The change in the Board's composition was requested by its primary pledged donors, Phillip and Patricia Frost, in connection with their agreeing to provide the Museum a bridge loan to continue the construction and operation of the new science museum project in Museum Park until the funding of a presently contemplated Miami-Dade County grant and a private bank loan secured by the capital pledges received by the Museum to date. Also, the Board elected Trish and Dan Bell, Co-Chairs of the Board for the past eleven and a half years, as permanentChairs Emeriti, honorary positions reflecting their extraordinary efforts, leadership and financial commitments in helping to bring this marvelous new museum to reality.
The Frosts explained that they recognize and are most appreciative of the outgoing Board's passion, dedication and leadership to date, but desire a change in the Board of Trustees to enable them to appoint members with professional skills and expertise highly aligned with their vision for the future of the Museum. The replacement Board of Trustees will consist initially of Cesar L. Alvarez, Senior Chairman of Greenberg Traurig LLP, Dr. and Mrs. Frost, and Richard Pfenniger. The Frosts also indicated that they intend to expand the new Board of Trustees and for the new Board to create two advisory boards: a Scientific Advisory Board and a Community Leadership Board, which they will invite many of the outgoing Trustees to join.
The development and construction of the $305 million project is ongoing, with completion of construction scheduled to occur in late 2016. Because of the efforts of the management team and the outgoing Board, the construction of the project is expected to be completed at an aggregate cost within its original budget, including contingencies, despite significant design, engineering and construction challenges arising from the development of the world-class facility – including a change in its project administrator and its construction manager during the last 18 months. The outgoing Board was also responsible for securing $104 million in pledges (more than the level of capital initially expected to be required of private donors), but was not successful in either financing its existing pledges to cash or securing the additional pledges necessary to otherwise yield sufficient cash to meet its scheduled and ongoing construction costs. To date, the pledges secured by the Museum have yielded approximately $49 million in cash contributed to the project, with the balance of $55 million in pledges received to date either in bequests or scheduled for payment in installments over the coming decade.
Speaking on behalf of the outgoing Board, the Bells stated, "All of us at the Museum, staff and Board alike are thrilled that this magnificent project in which we have invested so much time, energy, passion and financial support will continue uninterrupted to a wonderfully successful completion, and we all wish nothing but the best for the Museum as it enters this new phase."