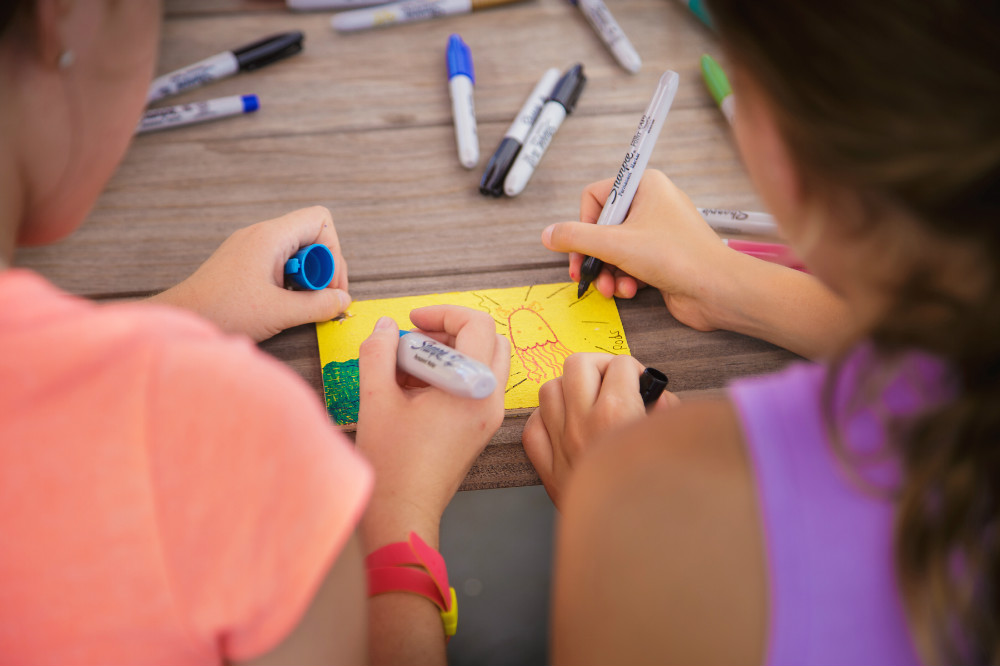 On Monday, September 12, students from MAST Academy, one of Miami-Dade County's leading magnet schools, intentionally tossed debris into Biscayne Bay and watched it drift away. But this wasn't just any debris. The objects the students set adrift were brightly colored wood cards that would float on wind and tidal currents and end up dispersed around Miami. Meanwhile, students and researchers in spots such as the Miami River, Little River, South Beach and downtown Miami simultaneously "littered" as well. The exercise was a collaborative community science project called the Biscayne Bay Drift Card Study, which hopes to help us better understand how wind and ocean currents transport trash, sewage, oil, and harmful algae blooms through South Florida waters.
Each of the drift cards was coded, indicating its deployment locations. Additionally, the drift cards were labeled, explaining the project to whomever finds them, and how to report where it was found. By tracking where the cards were released and found, the study will reveal how the currents distribute debris and other materials in Biscayne Bay, which affects not only the beauty of the shoreline, but also the health of the ecosystem.
Some of the drift cards were painted at the Frost Science Trash Detectives program during Downtown Art Days, which took place on the Miami Science Barge, docked at Museum Park. People were able to write messages and paint pictures about ocean health on the back—when the cards are discovered, students who painted them will be able to check an Instagram hashtag to see where their card eventually ended up.
The University of Miami's CARTHE (Consortium for Advanced Research on Transport of Hydrocarbon in the Environment) designed and oversees the ongoing project, which will last until spring of 2017, and conduct quarterly card releases duing different tides and wind conditions. The study uses three methods of tracking: drifters with GPS trackers, which tend to ride ocean currents; painted bamboo plates that give instant visuals on dispersal; and the painted drift cards, which are susceptible to wind and current.
CARTHE will use the study to create better computer models for predicting the transport of pollutants in Biscayne Bay. This data will provide answers to some basic questions such as "where is the trash coming from that washes up on our beaches?" or "should I be concerned about the waste water that entered the Bay three miles north of my home?" The ultimate goal of the study is to advance our understanding of the area's flow patterns, and provide students and residents a hands-on STEAM (Science, Technology, Engineering, Math, Art) activity demonstrating how the ocean and bay currents transport various substances.
The study got its start when the Frost Science MUVE program, which cleans up areas of Virginia Key, grew concerned over the amount of trash washing ashore. Vizcaya Museum and Gardens was having similar problems. Frost Science brought in CARTHE to design the study, which runs from September 2016 to June 2017.
Drift cards might be found anywhere along Miami-Dade County coastline and beyond. If you find one, please report the date, time, and location, along with a photo, via Instagram with #BayDrift or email to BayDriftMiami@gmail.com. From these findings, CARTHE will develop a model to help the Miami community better understand how debris moves, which will help us develop solutions to trash and debris in Biscayne Bay.