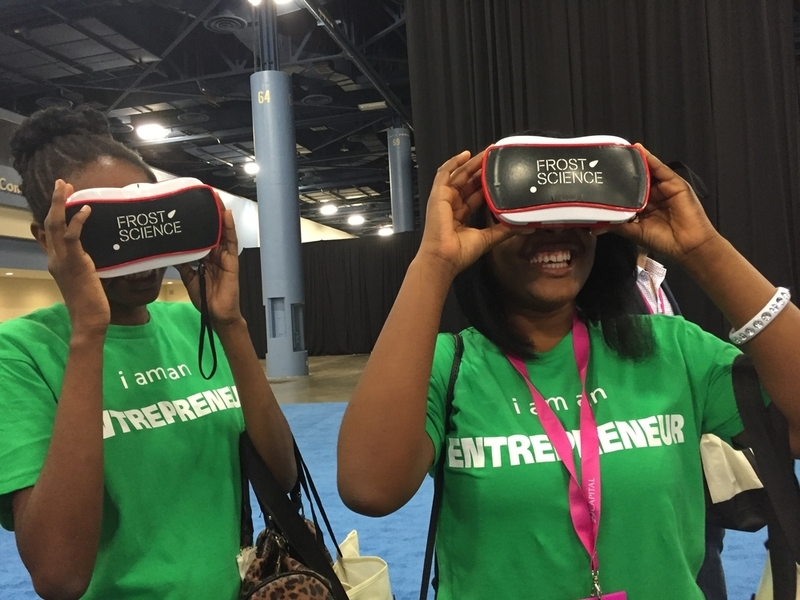 By Dr. Jorge Perez-Gallego, Curator of Astronomy and Exhibition Developer
What better place to share our love of science and innovation than at eMerge Americas, an annual conference that aims to serve as the catalyst for establishing Miami as the primary technology hub for the Americas, and thus propelling innovation and investment in South Florida and Latin America. For five days in April, the event captured the global technology scene, and deliver an inspiring overview of key industries driving growth and change.
Most of the eMerge Americas happenings took place at the Convention Center in Miami Beach, where Frost Science set up a booth that allowed attendees to get a sneak peek at our new facility via an updated fly-through video, and a series of virtual reality headset experiences highlighting four of the most iconic spaces of the museum. We also featured some of the outstanding work we already do in education and innovation, including breakthroughs in corrosion technology, and our NASA-funded Virtual Missions and Exoplanets (vMAX) project.
One ongoing project we shared at eMerge is a collaboration between Frost Science, the Carnegie Science Museum, and the Department of Defense. It looks at how materials break down in temperate climates, such as Pittsburgh's, versus subtropical climate of Miami. The research illustrates how NASA has approached corrosion in space, and remotely prototyped solutions between astronauts and earthbound engineers to identify and solve problems. Once open, Frost Science will allow the public to interact with scientists as they research materials that perform better and last longer, as well as explore the underlying chemistry, physics and biology through university partnerships.
Another project on display was vMAX, a3D virtual world environment and quest that puts middle school students and educators in NASA-related mission simulations to planets outside our solar system (exoplanets). The 3D world is an immersive environment where the students can take on the role of a scientist exploring which solar systems have conditions for life. First, they might use real-world tools, such as light spectrum tubes, to see how gases emit different colors, then use that knowledge to determine gases present on an explanet. They then use the technology to make their own decision as to which exoplanet to explore.
At eMerge, we presented the virtual world, allowing participants to become avatars, investigate real exoplanets, missions and data, and immerse themselves in 3D simulations of planetary systems and detection methods—all while interacting with other avatars at partner locations nationwide. vMAX will be incorporated into Feathers to the Stars, an upcoming Frost Science exhibition about the past, present, and future of flight, from the evolution of flight in animals and the development of human flight, to the future of space exploration.
Lots of attendees were drawn to the big black dome in the booth. Though it might be confused for a bounce house, the dome was actually our fantastic new blow-up portable planetarium. The shape is ideal for watching our immersive science content, and allows us to bring views of outer space to schools and libraries across the county. Besides discussing Jupiter's location and the impact of light pollution, we used the immersive potential of the dome to take attendees on a virtual tour of the new museum's construction site by projecting recent 360-degree images through our fisheye lens projector.
Though out new site is not yet open, it was wonderful to show off some of our innovations and partnerships with the tech-minded attendees at eMerge Americas. Onward!