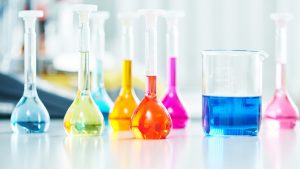 Enrich your school curriculum through our four-week long afterschool science sessions. During each session, students ages 5-9 will come together to explore a science topic in depth through hands-on lessons designed to spark their curiosity and ignite an interest in STEM.
Our informal science education environment encourages students to ask questions, gain experience using scientific tools and make connections, both intellectual and social, through engaging experiments and activities.
For more information on afterschool click here.
November 2 – December 2: Chemistry
No afterschool session on November 11 and November 25
Do you like making messes in the name of science? Then you'll be in your element exploring chemical reactions and matter transformations through our chemistry afterschool programming where you'll convert shaving cream into slime and create plastic from milk.
You'll also investigate explosive volcanos then apply that knowledge to make pop rocket art that you can take home. Along the way you'll learn about atoms and molecules, states of matter, and of course the importance of proper lab safety equipment to keep your messiest experiments safe.
Online registration closes on Monday, November 1 at 12:00 p.m.