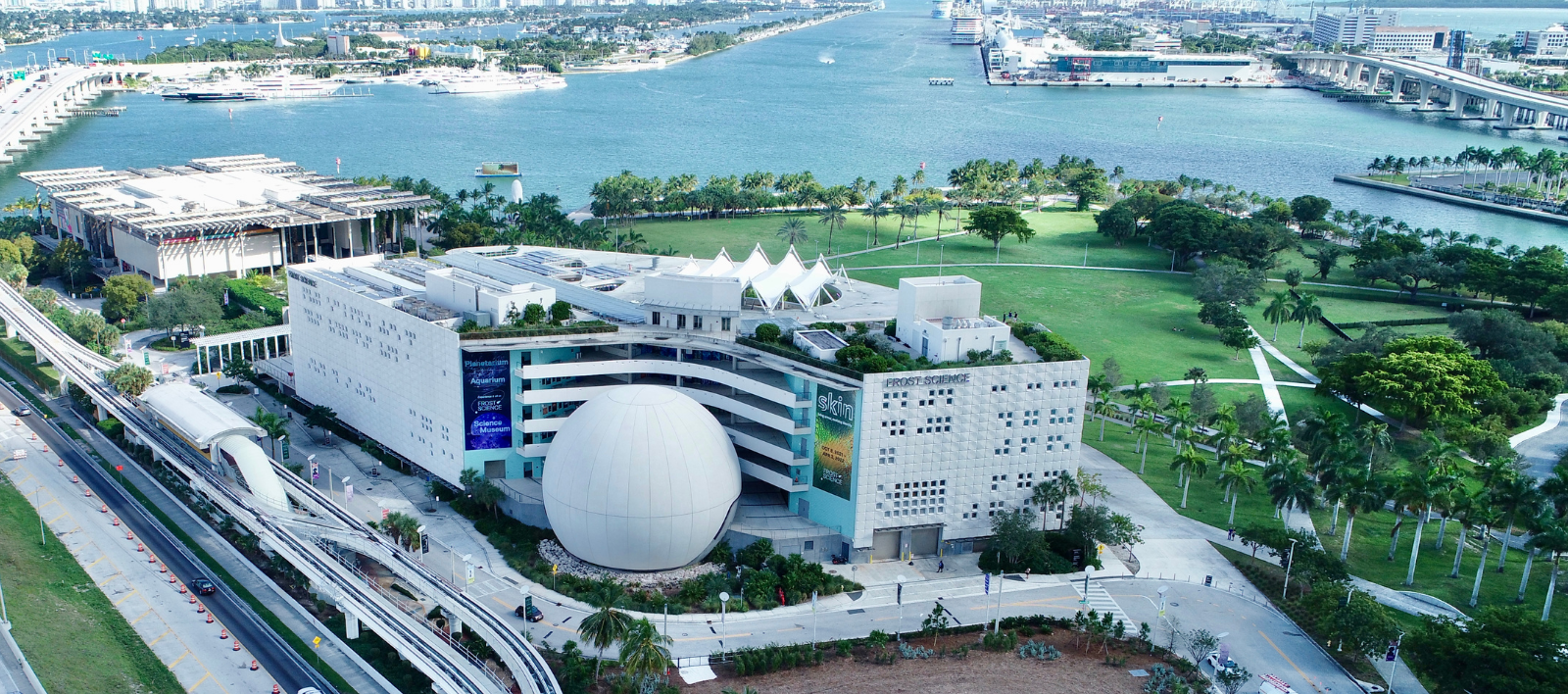 It has been an amazing five years of the Phillip and Patricia Frost Museum of Science in Downtown Miami. To celebrate our fifth birthday, we asked five staff members who've been with us since our opening day for their five favorite Frost Science memories.




Mark Bennett




Started at Frost Science: June 1988
Role: Planetarium Manager



First Light in the Frost Planetarium – It was the first time that the system was turned on and actually produced images on the dome. After a few alignment grids, we did a flyover of the International Space Station. Everyone watching the test leaned back, reached up and tried to catch a ride – it looked so real. All that work and it finally worked!


Meeting Senator Bill Nelson – Bill Nelson was a former astronaut and US Senator, and currently serves as the administrator of the National Aeronautics and Space Administration (NASA). It was exciting to have him at Frost Science, given his long commitment to space exploration.


NASDAQ Opening Bell (May 22, 2017) – They rang the opening bell right under the Aquarium Oculus. After the official event ended, myself and other members of staff ran up to the podium and took fun photos of each other.


Solar Eclipse (August 21, 2017) – This was the best attended day in the history of the museum. Most of the day is a blur. We had over 8,500 people and had telescopes on the roof and out on the Science Plaza. I think I used the elevators between the two floors over 100 times fixing telescopes. The public was really excited to celebrate science with us.


FilmGate Miami (December 2021) – The event was an amazing mix of Frost Planetarium visuals, virtual reality and even a cellphone symphony. It wasn't just watching a movie on a bigger screen; it was really showing off what our Frost Planetarium could do: audio, video and everything in between.






Shaleen Godfrey




Started at Frost Science: March 2017
Role: Senior Director of Guest Experience




Ray Touch Swim – I got a call for a medical emergency, but when I arrived it wasn't a medical emergency. A child had reached too far into the ray touch pool and had taken a swim. To be clear, we don't suggest this.


The Great Jumping Attempt – A group of college kids tried to take a swim in the Gulf Stream Aquarium exhibit while filming the whole thing. They were thankfully stopped by staff before they could enter the exhibit. It would have been easier to get away with it if they didn't decide to disrobe first!


Mystery Package – We received a mystery package that was full of thank-you cards from Somerset Academy. It was over a hundred, hand-drawn cards with pictures from our exhibitions from kids who had visited Frost Science on a field trip. This was completely unexpected but so rewarding.


First Frost Planetarium Proposal – The groom visited ahead of time and came up with a story about being college friends with someone from the Frost Planetarium staff. When the couple visited together, the "old college friend" invited them to stay after to see more about the planetarium. While they were waiting, a video and the couple's song start playing. She totally believed it – and she said yes. It all went perfectly.


Meeting Miko – I had never seen a sea turtle up close. The fact that Frost Science is doing great conservation work by helping this loggerhead sea turtle makes it all the better.






Yolanda Monteza




Started at Frost Science: November 2005
Role: Graphic Designer



Opening Day (May 8, 2017) – I remember the day was hot and sunny, but there were so many people out supporting our new museum. It took a lot of work to open the museum and it was nice to celebrate our accomplishment with the community.


Solar Eclipse (August 21, 2017) – We had to shut down the visitor entrance because it was so crowded. There was a line of cars all down Biscayne Blvd. It felt amazing how everyone connected us with this unique event.


Hurricane Irma Preparations – We were a brand-new museum and threatened by a Category 4 hurricane. I had to photograph all the outdoor spaces to document what it looked like for insurance purposes and prepare all of the spaces. It was a great example of how well we work as a team in tough circumstances.


Overnight Adventures – We did an adult overnight all about "The Science of Sex." We got a lot of media coverage and had a great time talking about the science of such a normally taboo subject. Much ado was made in the press, but it ended up being a fun and educational event.


Field Trips – One time I ran into a group of 5th graders that were so excited to be at the museum. They were entering the Aquarium with their teacher and when I went to take a photo, they all waved and cheered. It is one of the best photos we've ever taken of museum guests.






Hidekel Olivo




Started at Frost Science: April 2017
Role: Public Programs Manager



Opening Day (May 8, 2017) – Seeing how everything we worked and trained for becoming a reality felt so surreal. I was in the Guest Experience department when we opened, so I was working the water tables. It was so much fun teaching about water flow and the Everglades ecosystem. I left feeling exhilarated but also completely soaked.


Hidden Wonders – This was a live presentation we used to do in the Frost Planetarium. One time, Mark showed us this one particular nebula and it was so beautiful, I cried.


New World Symphony – We were invited to do an outreach event with our portable planetarium. It was great to see how adults interacted with our outreach activities and to talk to them about science. You are never too old to learn!


Creating a Lesson – In my past role as an educator, I created and implemented lessons, ranging from forensic science to outer space. Not only is it satisfying to dive deep into so many different topics, but it is rewarding to see my hard work pay off when I teach kids.


Hurricane Irma – After the hurricane ended, we ended up having to clean everything before we could re-open. I helped clean Feathers to the Stars, which involved climbing on the dinosaur models and removing the paper planes. Being able to see the exhibition from a new angle while spending fun time with colleagues made everything worth it.






Brooks Weisblat




Started at Frost Science: June 1997
Role: Vice President of Information Technology



Installing the Oculus – It was a huge day. They had to bring it down Biscayne Blvd. on a giant truck, then drop it in via crane. The whole team watched this key milestone together.


Bringing the Frost Planetarium Online – The planetarium was such an icon of our former museum location, we wanted to make sure that the new Frost Planetarium was a worthy successor. Once we turned everything on and saw what the new machinery could do, we were all convinced.


Celebration of Science (May 6, 2017) – In our former location, we had always gone elsewhere to celebrate our major annual fundraiser. It was incredibly rewarding to see our new location as a venue worth hosting our opening fundraiser, as well as the benefits and galas of so many other South Florida organizations over the years.


Bringing the Main Network Online – We were able to consolidate 30 servers in our former building to a few servers that ran around the whole building. It was more efficient and a testament to the advanced technology of our new home.


Installing the Mahi-Mahi Exhibit – I've always loved watching aquariums, but these felt unique. They are both very colorful and very fast swimmers, which made it hypnotizing to watch.