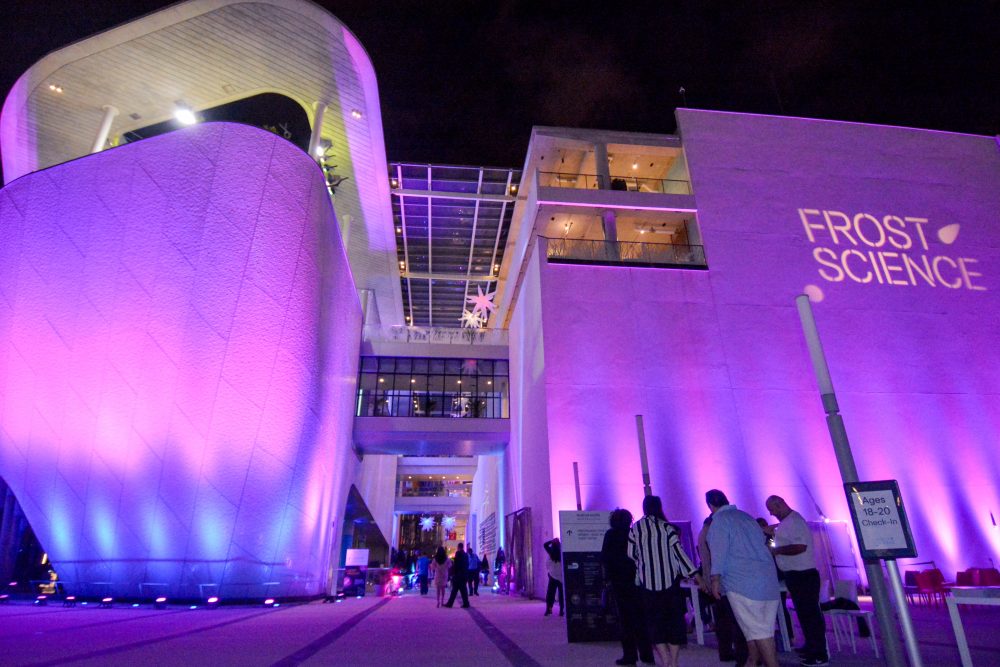 On Saturday, January 20, the Phillip and Patricia Frost Museum of Science hosted nearly 900 guests during one of our most popular fundraisers of the year—The Big Bang: Sonic Odyssey. Hosted by our Young Patrons, the event invited guests to move freely throughout the museum, exploring the wonders of sound through several thrilling activations and performances on each floor of the campus.
As guests checked in, a "Tron"-inspired drummer from Light Up the Night set the vibe for the evening with an acoustic flurry of sound. Once inside, attendees were treated to an out-of-this-world photo booth opp by artist @Haiiileen, which immersed them in multidimensional layers filled with different elements of our atmosphere. In the Dive level of the Aquarium, a well-heeled crowd participated in a Silent Disco before heading up to the rooftop beer garden for refreshments. Loft VR, Moonlighter Makerspace and NanoLeaf added some visual thrills to the night's program, while on the auditory side, the Lucky Records Vinyl Listening Lounge featuring DJ Le Spam, The Love Below and Frost School of Music provided the evening's soundtrack.
Cocktails flowed throughout the night thanks to Atlantico Rum, Tito's Vodka, Hendrick's Gin, Voga, Kombrewcha, Bousa Brewery, Lincoln's Beard Brewing Co., Peroni and Veza Sur Brewery, while guests savored a delectable assortment of light bites from local restaurants such as Ms. Cheezious, Beaker & Gray, Boulud Sud, Bulla Gastrobar, Fooq's, La Centrale, Area 31, Yaku Lounge and Shake Shack.
After exploring all activations on each floor, party-goers were invited to freshen up their look with the help of GlamSquad, I Wear For All and a fragrance bar by Bloomingdale's.
The night reached a fevered pitch at 11 p.m., when 10-foot tall illuminated "robots" helped party-goers light up the dynamic dance floor of the MeLaβ with a hot performance by locally-renowned DJ, IRiE.
The Big Bang: Sonic Odyssey was made possible by the following sponsors and partners
Event Sponsors
FPL Solar Now, Baptist Health South Florida, WeWork, Lyft
Entertainment Partners
IRiE, Frost School of Music, Light Up the Night, Loft VR, The Love Below, Lucky Records
Event Partners
Boulud Sud, Ms. Cheezious, Fooq's, La Centrale, Pincho Factory, Segafredo Bayside, Area 31, Lilt Lounge, The Social Club at Surfcomber, Shake Shack, Kombrewcha, Giardino Gourmet Salads, Lima, Gianni's at The Villa, Bulla, Pisco y Nazca, Beaker & Gray, Yaku Lounge, Fleming's Steakhouse, Elia, Viv's Little Waffle Shoppe, Lincoln's Beard Brewing Co., Bousa Brewery, Glamsquad, APPi, Serendipity, Popchips, Veza Sur Brewing Co., Wall's Ice Cream, Freebee, Tropical Fluff, The Frank Booth Co., Bloomingdale's, Moonlighter Makerspace, DML, I Wear For All, Nanoleaf, SGWS, Atlantico Rum, Tito's Vodka, Hendrick's Gin, Jim Beam, Castle Brands, Hornitos, Kenwood Vineyards, VOGA, Snoqualmie Vineyards, 1865 Vineyard, Trinity Oaks, Pepsi, Peroni, Whole Foods, Bloomingdales
Media Partners
Time Out Miami, Modern Luxury, Beyond South Beach, The Brickell Scoop, Outfront Media
View the full album on Facebook