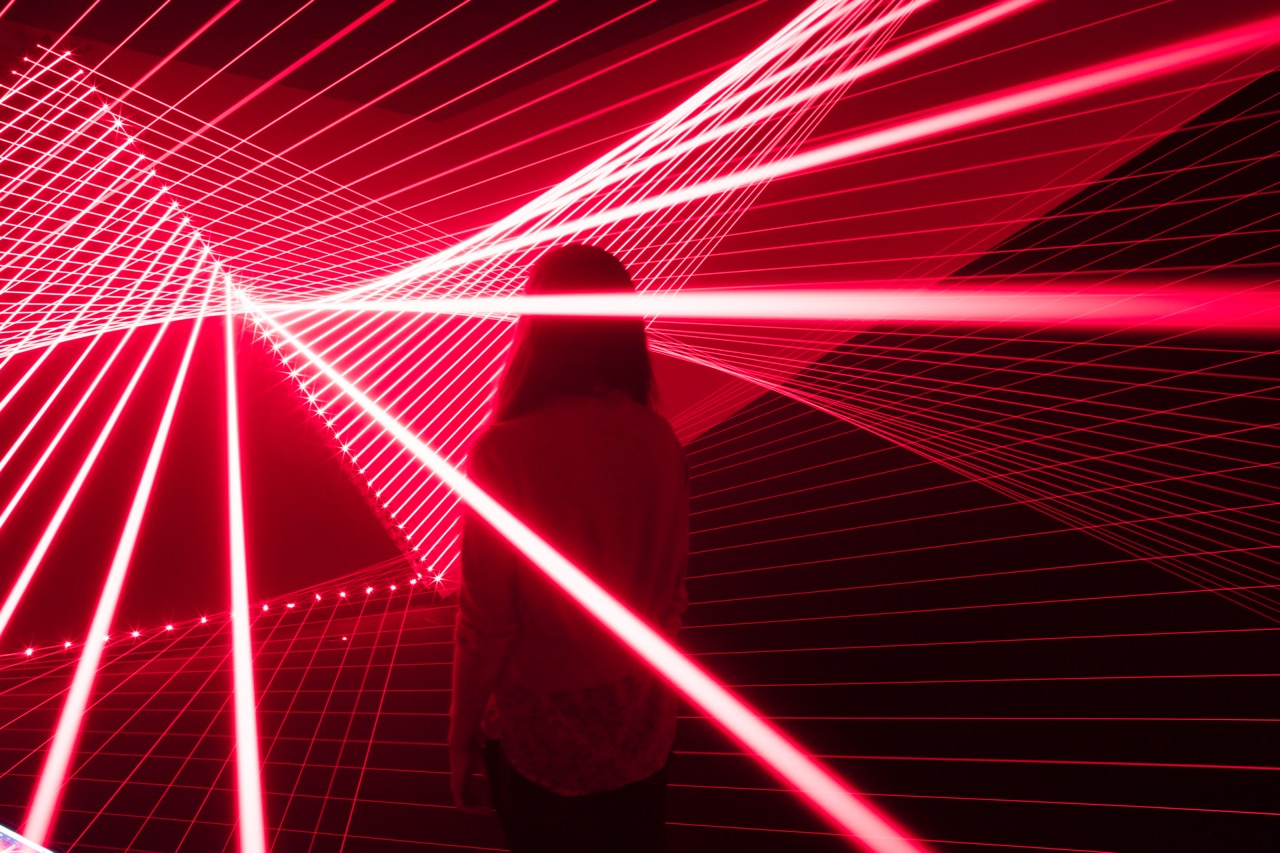 The brilliance of lasers stirs the imagination—not only is their light stunning, but they evoke images of science fiction adventures and can be used to vividly teach people about the physics of light. Here at Frost Science, lasers find their home inside Frost Planetarium, where every first Friday of the month you can catch spectacular laser light shows. But you'll also find them in our grand 10,000-square-foot Hsiao Family Special Exhibition Gallery that houses LASERsHOW: Light, Color and Geometry, an innovative exhibition designed by artist Matthew Schreiber that takes you through an immersive experience of the wonders of lasers and light itself.
Recognized as one of the top ten technological achievements of the 20th century, lasers played a pivotal role in the advancement of science. But they also generated a great deal of interest and excitement amongst artists who began experimenting with them in the 1960s. Holograms, X-Y scanning, laser light shows and laser sculptures harnessed this incredible technology for both scientific and artistic purposes. In fact, it's quite possible that the last concert you attended used these vibrant beams to visually rock out the show!
Schreiber, who also designed the final laser sculpture and soundscape exhibition in our former location, still remembers the first time he was inspired by lasers. It was at the Ontario Science Centre many moons ago—a visit he fondly credits for his genuine interest in lasers as a creative medium for his current international art practice. "LASERsHOW is, somehow, a way for me to come full circle at Frost Science, a similar setting to where everything started. A way for me to celebrate the praxis of art and science in an environment designed to inspire the next generations of scientists and artists."
Inside the vast dark space, four stations located around a sculptural center stage offer an eye-opening exploration into the physics of light and lasers. At each station, you will see laser demonstrations and learn about the science behind this fascinating medium. You'll watch a prism split white light into all the colors of the visible spectrum and discover how light can be reflected, refracted and recombined in fantastic ways. Look up, and you'll see a peaceful kaleidoscopic laser light figure come to life mere feet above your head.
The geometry-inspired center stage and the overhead laser system have already been installed in our traveling gallery and the team is now working tirelessly on programming the space so light, sound and script play in beautiful unison.
Once open, the exhibition will celebrate the essence behind a traditional laser show like the ones being shown inside of our planetarium. It's an experience quite unlike anything you've ever seen.