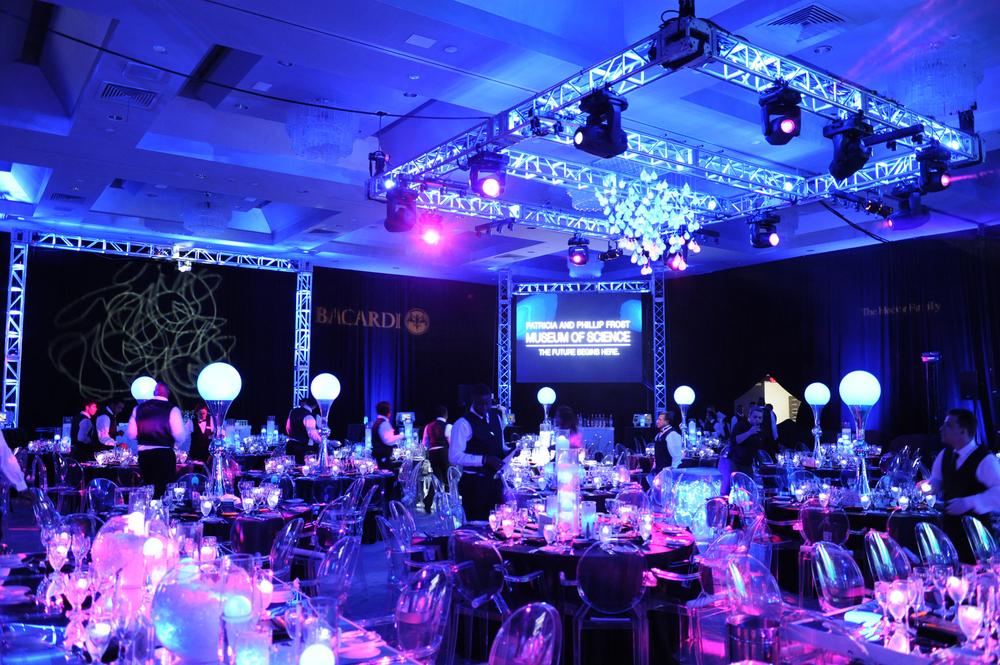 Over 1,200 of South Florida's 'brightest stars' gathered at the Hilton Miami Downtown on the evening of Saturday, April 18 to raise over $1 million at the Phillip and Patricia Frost Museum of Science's stellar 13th Annual Galaxy Gala, themed "Aqua Lumière." Since its inception, the Galaxy Gala has helped raise funds for the development of the new Phillip and Patricia Frost Museum of Science, a state-of-the-art facility under construction in downtown Miami's Museum Park, slated to open in summer 2016. The new Museum will serve as the venue for future Galaxy Gala and Big Bang events.
Hosted by Chief Meteorologist John Morales of NBC 6 South Florida, the dynamic evening celebrated the playful and scientific interaction of light and water, and featured a water and light interactive graffiti experience by French artist Antonin Fourneau. Guests also enjoyed a performance by Latin GRAMMY®-nominated artist Debi Nova, along with entertainment from Drew T and DJ Blaze Carreras. Produced by WOW Factor, the evening's environment also included an interactive photobooth that allowed guests to envision themselves in the new Museum, and a massive video screen previewing video content that will be showcased inside the new Museum's Living Core Aquarium. An interactive water-stimulation dance floor entertained guests along with other technological production aspects including a live "text to donate" feed, where guests were encouraged to purchase a "fish." With each donation, the Museum's Living Core Aquarium on the video screen would become more populated with fish.
During the evening's program, the Museum honored a select number of individuals and organizations for their exceptional leadership and commitment to the development and building of the new Phillip and Patricia Frost Museum of Science. Nancy and Jon Batchelor of The Batchelor Foundation accepted the Visionary Award in memory of George E. Batchelor; the Vanguard Award was presented to Baptist Health South Florida by Alberto M. Carvalho, Superintendent of Miami-Dade County Public Schools; and the Phillip and Patricia Frost Museum of Science award was presented to Julia Rea Bianchi.
The second Upward Bound Merit Award was presented to Daniel Correa, a participant from the Museum's Upward Bound Program which helps first-generation college bound students be prepared for postsecondary study, and to graduate college with a bachelor's degree in science, math and technology fields. A special honor was bestowed upon Trish and Dan Bell, Co-Chairs of the Museum's Board of Trustees and Philanthropic Chairs of the Galaxy Gala, for their generous support of the Museum's efforts and for leading the gala's inception 13 years ago. The Bells recognized Phillip and Patricia Frost for their recent gift of $10 million to name the new Museum's state-of-the-art Planetarium.
The 2015 Galaxy Gala: "Aqua Lumière" was hosted by the Museum's Board of Trustees, under the leadership of a gala committee comprised of community activists and philanthropists. Gala co-chairs this year were Shelly & Marko Dimitrijevic and Jennifer & Gabriel Montoya. The Honorary Chair was the Hector Family; Philanthropic Chairs were Trish & Dan Bell; Host Chairs were Alicia Cervera Lamadrid & Alberto Lamadrid; and Presenting Chairs included Chanin & Adam Carlin, Jacqueline Simkin and Barbara & Michael Weintraub.
The gala was followed by the Big Bang 2015: H2Glow after-party, a nightlife-inspired celebration hosted by the Frost Science Young Patrons.
Big Bang Co-Chairs Ali Lamadrid, Cristina Mas and Lena Lowell, along with the Frost Science Young Patrons, welcomed Miami's emerging trendsetters, as well as community and business leaders to the Big Bang 2015: H2Glow after-party. The event began with a cocktail reception featuring glow-in-the-dark graffiti chalk boards, glow sticks and balloons, dancers and smoke machines from Kyrogenifex. At 11 p.m. the doors opened to the main event, where attendees joined gala guests and "crashed" the party.
Embracing the excitement of the new location's opening in 2016, the Museum also revealed to supporters the official new Phillip and Patricia Frost Museum of Science brand logo. Adding more glamour and star power to the energetic evening was the premiere of the Museum's new digital fly-thru video, which was narrated by Cuba-born and Miami-raised actor Andy Garcia, a supporter and visitor of the Museum.
https://youtu.be/3mZLgE9uqWM
Event sponsors and underwriters include the following organizations and individuals: JP Morgan Chase & Co., City National Bank, Saks Fifth Avenue, Irene Korge & Bronwyn Miller, Concord Advisory, Sacha & Abigail DuBearn, Crystal & Co., keynote video sponsored by Belgioisos Cheese, Smith Currie & Hancock LLP, Hill International, Azamara Club Cruises, Galaxy lounges were sponsored by Douglas Ellman Real Estate, welcoming vehicles by South Florida BMW Dealers, cocktails courtesy of Bacardi USA, red wine and the graffiti wall generously donated by Chateau Lafite Monteil, Christofle, LaserNet, Massage Envy Spa Brickell, Massage Envy Spa South Miami, white wine and champagne courtesy of Southern Wine & Spirits, Jennifer & Gabriel Montoya, Andres Moreno & Alex Daly, Asprey, Canvas, Metro 1 Properties & Filling Station Lifts, Shelly Dimitrijevic, MIAMI Modern Luxury, Selecta, WPBT2, Alexis LLC, Hitex Marketing, Mas Tec, Maria Lacayo, Perry Elllis and Kryogenifex.