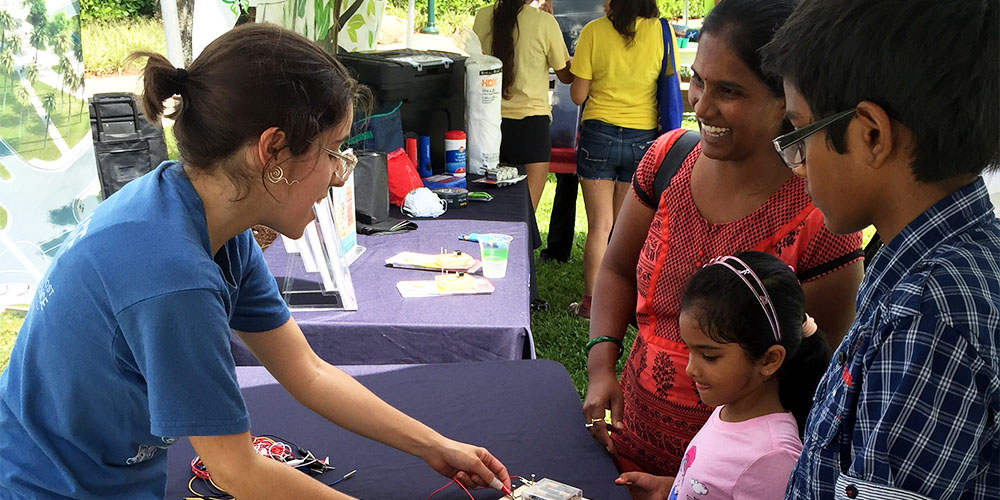 From delivering science demonstrations in our aquarium and other exhibit galleries to serving as host at one of our science-themed birthday parties, Frost Science offers lots of volunteer opportunities for teens age 16 and older. You can meet your community service requirements while gaining valuable training, workplace experience and meeting new friends.
Birthday Party Host
Make someone's special day truly memorable by helping to host their birthday party filled with fun science-themed activities.
Camp Assistant
Inspire young minds by assisting with Frost Science's award-winning camps—positions available during summer camp and teacher workdays during the school year.
Citizen Science Volunteer
Get your hands dirty and your feet wet as you work with real scientists and other volunteers to clean up local beaches while tracking and trying to eliminate marine debris.
Environmental Conservation Volunteer
Protect and rehabilitate Miami's unique coastal habitats by joining our team to remove invasive plants and replace them with indigenous species. To register for upcoming Museum Volunteers for the Environment (MUVE) Workdays, visit the Frost Science calendar.
Gardening Volunteer
Got a green thumb? Dig in, and help our staff plant, tend and grow a variety of plants in our various habitats and gardens.
Greeter
Become the smiling face of Frost Science, greeting guests as they go about their visit, and helping them with directions and general questions.
Group Tour Guide
Lead the way and enrich the Frost Science experience for educational groups visiting on field trips.
Planetarium Operations Volunteer
Help guests enjoy our cutting-edge Frost Planetarium by aiding with seating, the distribution and care of 3D glasses, and answering questions about the shows.
Science Interpreter
Present hands-on activities and demonstrations to engage guests in fun and surprising science learning experiences.
Special Events Volunteer
Limited on time but still want to make a big impact? Become one of our special events volunteers and help with a variety of activities during Frost Science's biggest event days. All ages welcome!
To learn more about a position and apply, please click on the volunteer position you are interested in from the list below.