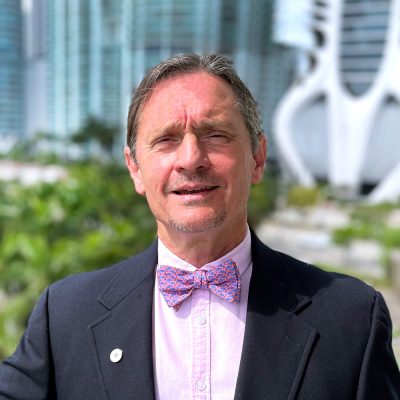 Steven Bailey, or simply "Bailey" as he is known to his friends, joined Frost Science after four decades at the New England Aquarium in Boston, where he and his curator wife, Barbara, were colleagues for 35 years.
His broad aquatics interests were honed by an aquarium animal husbandry volunteer role while he was a marine sciences graduate student at Northeastern University's Marine Science Institute. After 10 years as an aquarist, he transitioned to management, taking on the role of curator of fishes for the New England Aquarium, a position which he held for 27 years before he retired (the first time!).
During that tenure, numerous opportunities presented themselves, including nearly two dozen changing exhibits, multiple permanent gallery renovations, and field expeditions to places like the Phoenix Islands, Fiji, South Africa, the Bahamas, and Belize. Bailey's passions include building exhibits to showcase obscure aquatic habitats and contributing to the preservation of threatened aquatic environments.
Bailey grew up primarily in rural Pennsylvania, enjoying the outdoors with his father who embraced canoeing, fishing, diving, hiking, and a profound appreciation of the natural world.