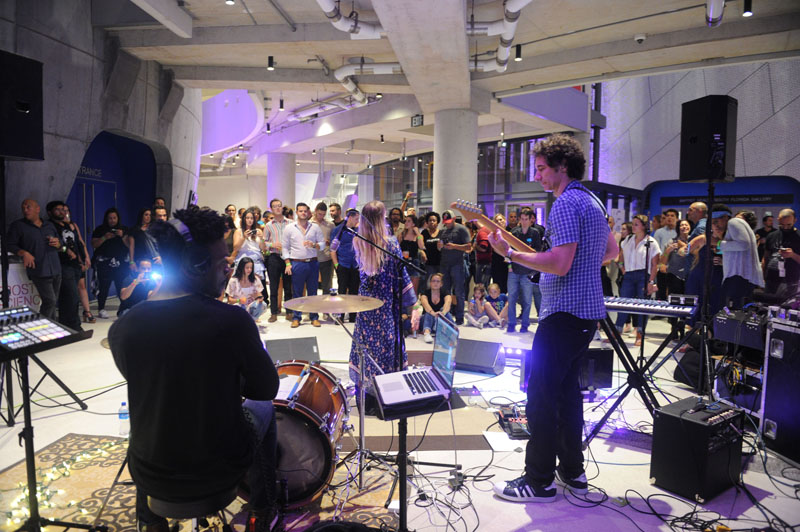 While summer in the tropics usually means a city-wide slow down, Frost Science hit the ground running with an action-packed roster of June science events and exhibitions. We kicked off the season with the thrilling launch of our new "Space: An Out-of-Gravity" exhibition and by welcoming South Florida students to their first day of our summer camp program. We also officially opened the doors to our rooftop terraces and observation deck—right in time for the warm and balmy weather.
Late@Frost Science
On June 14, we introduced LATE@Frost Science, a monthly after-hours series produced by Prism Creative Group that takes a deeper look at the scientific wonders within our special exhibitions. Nearly 400 guests packed our West Wing for June's topic: "SEEING 001 – The Human Eye." With cocktail glasses and Popchips in hand, a lively crowd took a closer look into our "SEEING: WHAT ARE YOU LOOKING AT?" exhibition through a fascinating exploration of the wonders of the human eye.
Dr. Norman Schatz, Associate Professor of Clinical Ophthalmology at Bascom Palmer Eye Institute, Alia Pialtos, Artist of "Seen/Unseen" at SEEING, and Alexandra Kuechenberg, Frost Science Creative Director, delivered creative talks in the Frost Planetarium, while guests tested the limits of human sight through 3D printed zoetropes by Moonlighter Makerspace and a special VR experience called "Hacking Nature" presented by Blank Canvas. John.k and Brika kept the evening flowing with live musical performances throughout the event.
LIVE@Frost Science
Frost Science went live with science communicator Cara Santa Maria of "Talk Nerdy" and "The Skeptics' Guide to the Universe" as she presented "Hollywood Science & the Wonder Women of Miami." The June 21 program peeled back the curtain on Hollywood filming and how science makes its way to the silver screen.
Cara also tapped into a slice of current pop culture as she revealed what makes Wonder Woman such an icon of feminine strength and smarts. A video presentation from "Nerdist" correspondent Kyle Hill demystified the science behind the Sword of Athena, while exclusive audio content from famed comic book artist Cat Staggs and television and comic book writer Amanda Diebert shed light on Wonder Woman's story.
The evening wound down with a panel discussion featuring leading local female scientists Lisa Beal, Ph.D. (Associate Dean of Research and Professor of Ocean Sciences at the University of Miami's Rosenstiel School of Marine & Atmospheric Science), Elizabeth Reynolds Losin, Ph.D. (Director, Social and Cultural Neuroscience Laboratory and Assistant Professor, Department of Psychology at University of Miami) and Kilan Ashad-Bishop (Ph.D. Candidate, University of Miami and Member, City of Miami Sea Level Rise Committee).