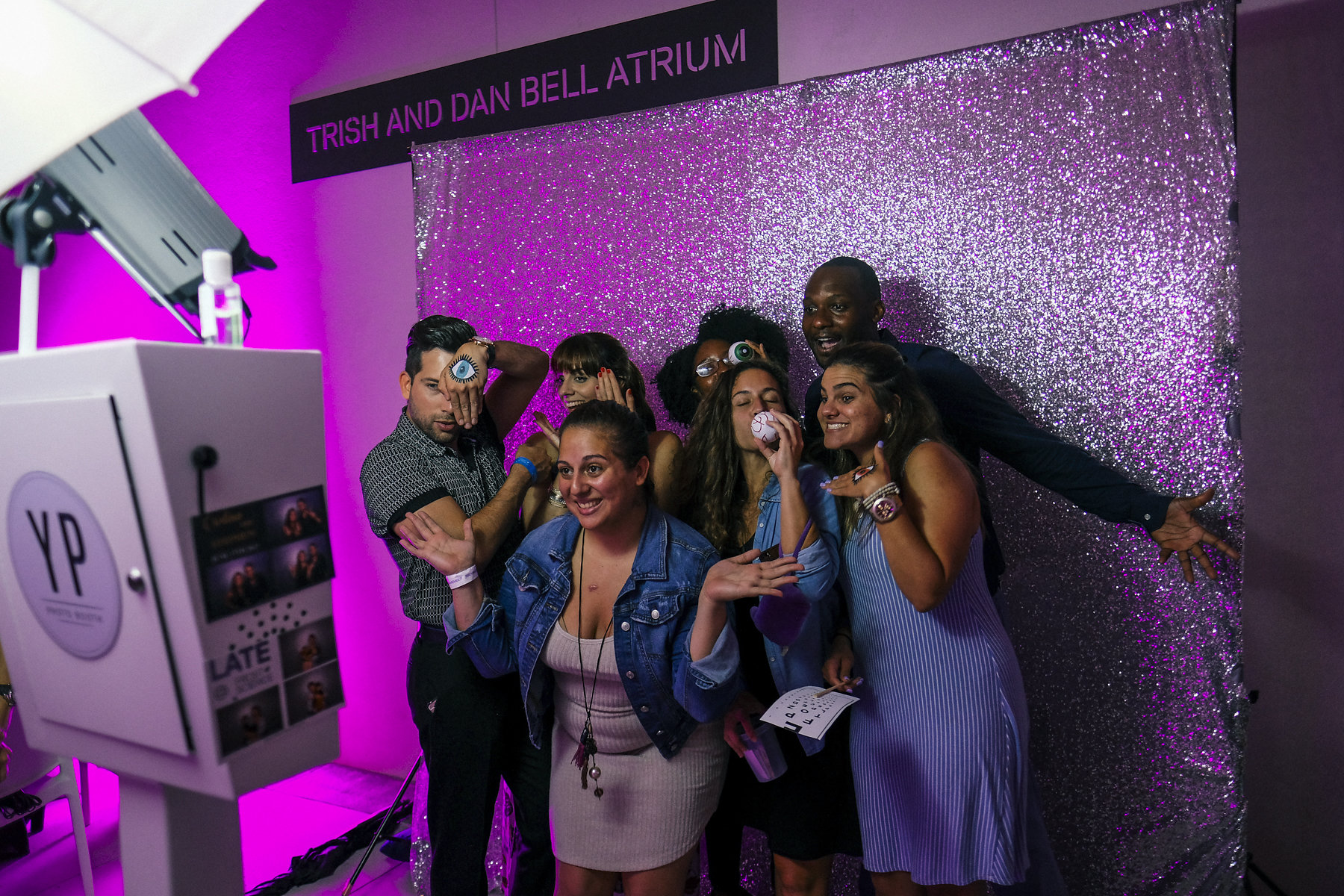 July started off with a bang— literally. From our first fireworks-filled Independence Day party to a sold-out live science show with YouTube star Nick Uhas, here's a rundown of what you might've missed last month at Frost Science. (Make sure to take a peek at our calendar for can't-miss August events!)
Preview of "Space: An Out-of-Gravity Experience"
Over 150 members of Frost Science's Board of Trustees, Giving Circles, Young Patrons and supporters gathered in the Hsiao Family Special Exhibition Gallery for the launch of our newest special exhibition, "Space: An Out-of-Gravity Experience." Along with getting a sneak peek at some of the extraordinary objects and multimedia exhibits that highlight the challenges of space travel (think: Neil Armstrong's glove from Apollo 11 and water rockets), visitors noshed on tacos and noodles by Frost Science Executive Chef Tony Tehro of SAVOR and ended the evening on a sweet note with liquid nitrogen ice cream from Frost 321. Attendees also got an exclusive viewing of the thrilling "To Space & Back" with James May inside the Frost Planetarium.
Independence Day Celebration
The grills were working overtime as Frost Science played host to a packed house on Fourth of July! Burgers, hot dogs and frosty adult beverages were on hand to cool visitors off as they explored the museum and took a seat in the Frost Planetarium for some retro laser light shows. At 9 p.m., visitors gathered on the fourth and fifth floors to take in the spectacular firework displays all around the city.
LATE@Frost Science: SEEING 001 – Synesthesia
During last month's LATE@Frost Science, we continued our deep dive into the "SEEING: WHAT ARE YOU LOOKING AT?" exhibition. An impressive crowd packed our West Wing for July's topic: "Synesthesia" as they explored how one can discern colors from sound and "see" what that sound looks like.
The evening featured creative talks inside the Frost Planetarium by Dr. Ninel Z. Gregori, Associate Professor of Clinical Ophthalmology at Bascom Palmer Eye Institute and Chief of Ophthalmology Section at Miami Veterans Affairs Medical Center, Dr. Berit Brogaard, Professor and Director of the Brogaard Lab for Multisensory Research at the University of Miami College of Arts & Sciences, and Rylie VanOrsdol, Synesthete and Artist.
Guests watched synesthete Abel Euler paint music and followed it up with a few memory-making snaps inside the YP Photo Booth. Local musicians Brendan O'Hara and Yoli Mayor lent their powerful and mesmerizing vocals to the evening's events.
LIVE@Frost Science: Nickipedia Live!
On July 19, we went live with "Nickipedia," a popular YouTube series dedicated to science, learning and explaining the world around us. The sold-out event featured former "America's Got Talent" and "Today" show guest Nick Uhas hosting an action-packed 6o-minute show that included making a vapor cloud appear inside of the Baptist Health South Florida Gallery and smashing everyday objects to pieces using only liquid nitrogen. LIVE@Frost Science: Nickipedia Live was presented by Baptist Health South Florida. This program was also made possible by our event partners JetBlue, Miami.com and Cogent Entertainment.