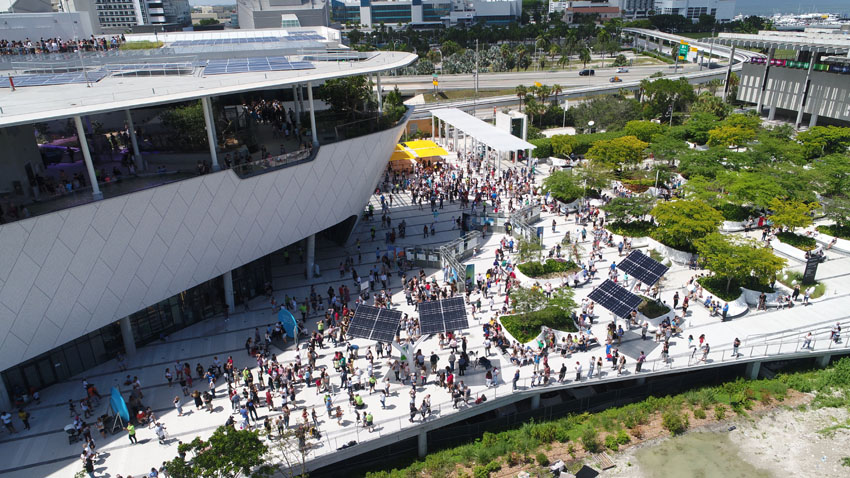 Astronomically speaking, the month of August was a tough one to beat. Solar eclipse madness overtook the city, with people of all ages gathering on our Science Plaza to gaze at the sky together and admire the rare view. Wondering what else happened at Frost Science last month? Here's the scoop:
LATE@Frost Science: SEEING 003 – Waves
Over 400 guests came to explore "Waves," the latest installation of our LATE after-hours series exploring the SEEING: WHAT ARE YOU LOOKING AT? exhibition. On August 9, sound waves and echolocation were the topic of the night as guests mingled with PopChips and complimentary cocktails from Atlantico Rums in hand.
Dr. Kelley Winship, research associate and marine mammal trainer at Dolphins Plus Oceanside, and Frank Ridgley, director of conservation and research at Zoo Miami, delivered creative talks underneath the Gulf Stream Exhibit Oculus, while guests experienced several activations, including "Visualizing Sound" by Moonlighter Makerspace, live bat monitoring with the Miami Bat Squad and the VR Echo Earth Experience and Sea Sounds with RSMAS.
DJ Lolo of Sweat Records was on hand to keep the evening moving and guests took home photographic souvenirs of the event thanks to the YP Photo Booth and Bridges Aderhold's "For Your Eyes" ocular snapshots.
SEEING: WHAT ARE YOU LOOKING AT? has been made possible with generous support by Bascom Palmer Eye Institute, part of the University of Miami Health System.
LIVE@Frost Science: Blue Mind Life
How does water impact our emotional and psychological well-being? It's one of the questions we explored on August 16 during "Blue Mind Life: The Seven Ages of Water," part of the LIVE@Frost Science series. Dr. Wallace J. Nichols, New York Times bestselling author of "Blue Mind," was joined by a panel of guests including Dr. Debra Lieberman, an evolutionary psychologist and assistant professor with the Department of Psychology at the University of Miami; Jim Ritterhoff, co-founder and executive director of FORCE BLUE; Fernando Bretos, curator of ecology and director of MUVE (Museum Volunteers for the Environment) at Frost Science; and Hannes Bend, a pioneer in the use of ocean virtual reality and biofeedback.
Afterwards, guests took part in the Blue Marbles Project, a global slow-motion art project that encourages people to celebrate random acts of kindness. They also had the opportunity to experience SEAing Breath, a virtual reality (VR) experience created by Hannes Bend, Maria Mishurenko and Gordey Chernyy using breath biofeedback—part of the SEA LEVEL RISE Program by Miami-Dade County and the University of Miami.
Event support was provided by 1 Hotel South Beach.
Solar Eclipse Viewing
On August 21, the path of the total solar eclipse crossed 14 states, from Oregon to South Carolina, traveling from coast to coast for the first time in 99 years. While Miami fell just outside of the path of totality, the Magic City witnessed a partial solar eclipse. We welcomed over 8,500 people to the museum for this amazing celestial event, where an impressive 80% of the sun was shadowed by the moon. With their special edition Frost Science solar eclipse glasses in hand, the community came together to look up at the sky and witness this awe-inspiring event. District Marketing Manager for the United States Postal Service, Juan Nadal, dedicated the first-of-its-kind Total Eclipse of the Sun Forever stamp to the museum which was available for purchase at the Science Store.  
The next total solar eclipse over North America will visit Mexico, the United States and Canada on April 8, 2024. However, we'll have to wait until August 12, 2045 for another one to cross the continental United States. Frost Science will then take the pilot seat, as South Florida will be under the path of totality. Keep looking up!
Science Art Cinema
We wound up the month with "Science Art Cinema Series 1, Episode 4: Science Art Cinema Film Festival" in the Frost Planetarium on August 31. Guests enjoyed entertainment from Buffalo Brown, along with activations by the Miami Film Festival, FilmGate Miami and the Lynn and Louis Wolfson II Florida Moving Image Archives at Miami Dade College. The program began with an introduction by fellow judges Dr. Jorge Perez-Gallego and Kevin Arrow of Frost Science, followed by remarks from Andrew Sherry, Vice President of Communications at the John S. and James L. Knight Foundation. The evening also featured a surprise video message from Christian Slater, who was on the set of the television series "Mr. Robot." After a screening of all the film finalists, the winners were announced. First place was awarded to "Metamorphosis of Plants" by Urszula Zajaczkowska; second place was awarded to "Space James" by Michael Ruiz-Unger; and third place was awarded to "Diviner Intervention" by Emily Cussins.