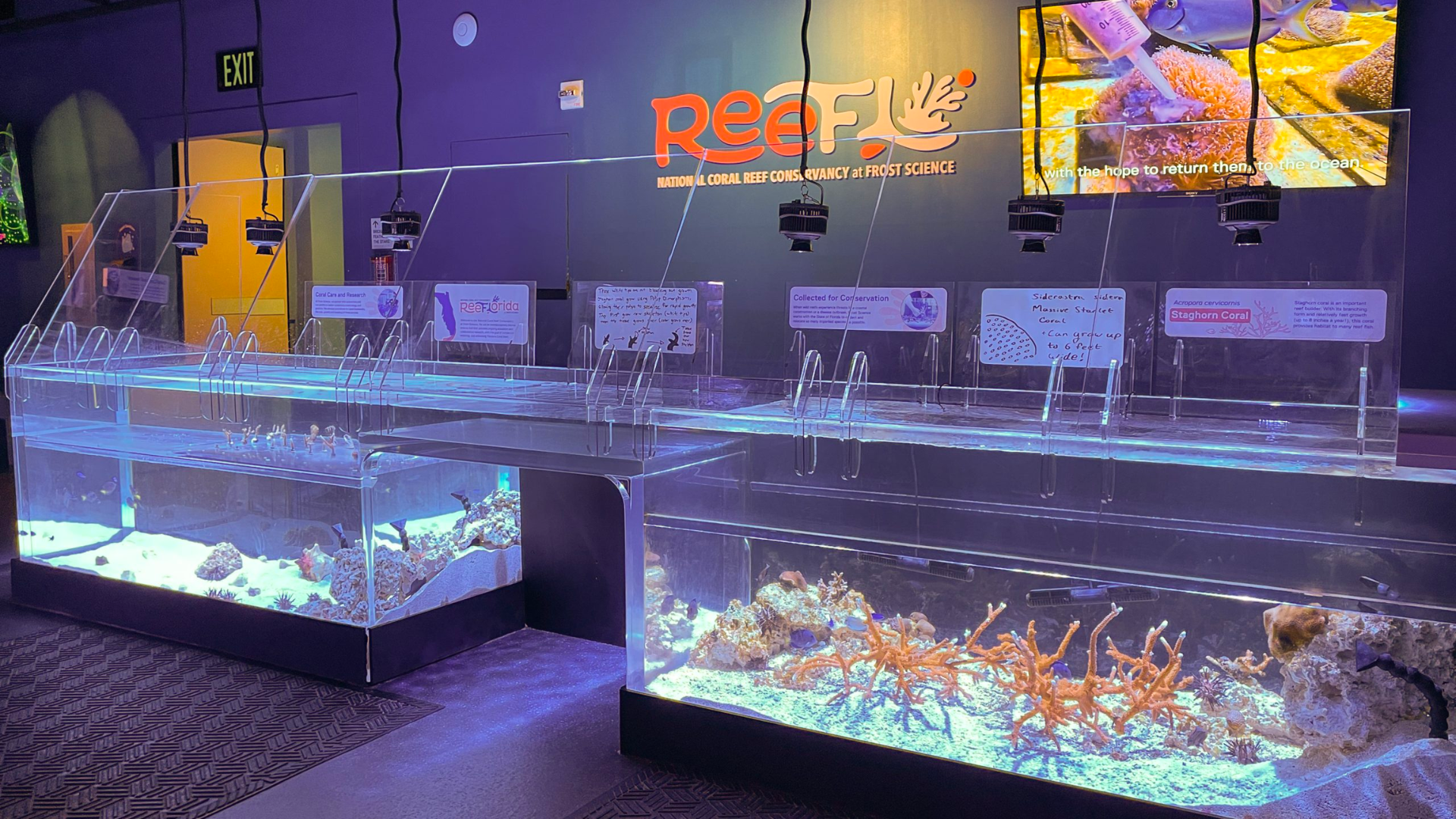 In August, we announced the establishment of the National Coral Reef Conservancy at Frost Science, also known as ReeFLorida. Guests and members who have visited recently may have noticed something new in The Dive level of the Aquarium: a spotlight on ReeFL has arrived. The new exhibit features information on Frost Science's coral husbandry research and the conservation of Florida's Coral Reef.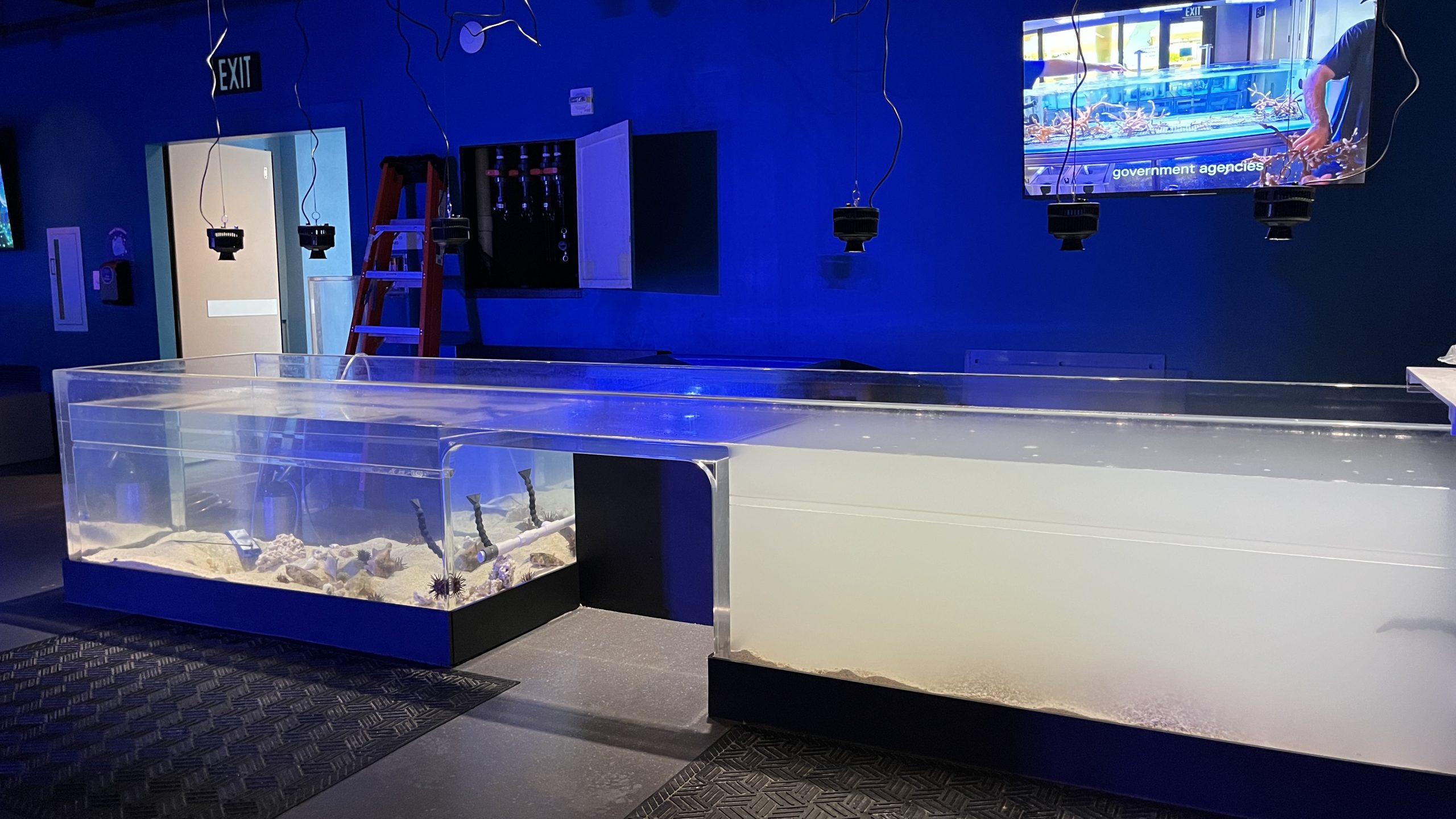 Above Image: The former Dive Bar during its transition to the new ReeFL exhibit.
The new ReeFL exhibit replaces the Dive Bar. This area previously held a small two-sided aquarium with sea urchins, sea stars, and other marine invertebrates used for hands-on marine science exploration and education. Now, the left side of the tank contains a flat board with holes in it where coral fragments, or plugs, can be slotted in. The small corals will grow in our care and may eventually be used for reef restoration. These corals are delicate, so we can no longer allow guests to touch the animals as you could at the Dive Bar, but don't worry – you'll still be able to interact directly with marine life at our Florida Bay Touch Experience stingray exhibit on level four of the Aquarium, known as The Vista!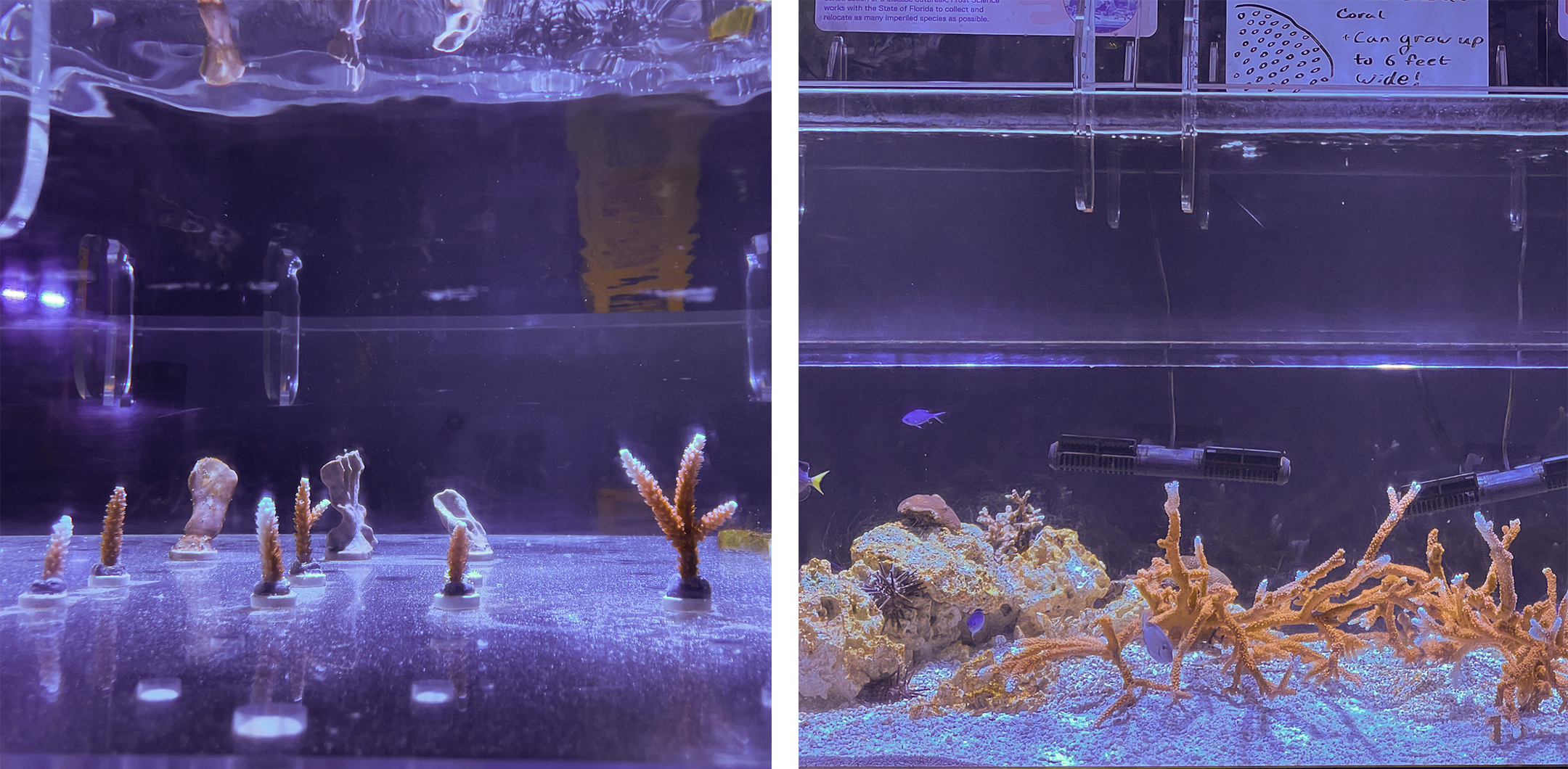 Image left: Coral fragments, or coral plugs, in the left side of the new ReeFL exhibit.
Image right: Heathy corals found on the right side of the new ReeFL exhibit.
The right side of the aquarium has also gotten an overhaul. It is now home to a small section of healthy, thriving corals as an example of some of the amazing biodiversity that can be found right under the waves here in and around Miami. Florida's Coral Reef stretches nearly 350 miles from the St. Lucie Inlet in the north, through Miami and the Florida Keys, and to the Dry Tortugas on the southwestern end.
This ReeFL exhibit mirrors the ongoing coral husbandry and conservation research in Frost Science's Marine Conservation WetLab on level five of the museum. The National Coral Reef Conservancy at Frost Science will officially begin activities early in 2023. As part of the conservancy, the museum will work with and host marine scientists from around Florida, including the University of Miami, SECORE International, Inc., and the National Oceanic and Atmospheric Administration. We will also continue to partner with FORCE BLUE on coral reef restoration work.
Don't forget to follow us on social media for updates as we launch the National Coral Reef Conservancy.