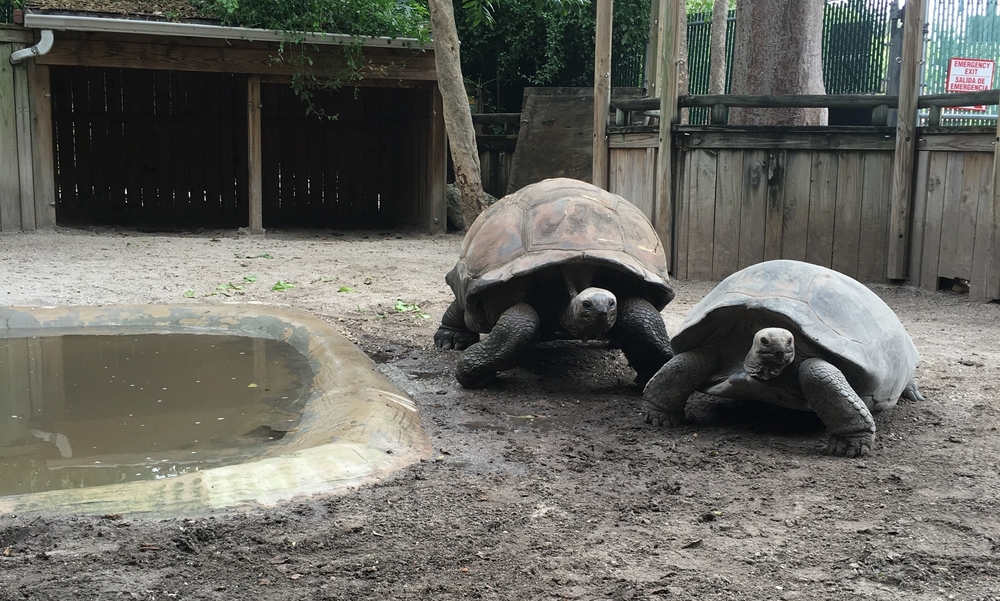 As we move to downtown Miami's Museum Park, we found a new, nearby home for our beloved Charles and Sophia.
Aldabra tortoises Charles and Sophia have been residents at the Phillip and Patricia Frost Museum of Science since the early 1980s, charming guests with their mellow, sun-worshipping way of life. Often called "giant" tortoises, this grand species, which lives on Aldabra Island near Madagascar, is known for its longevity, with some specimens said to have lived up to 225 years. Charles, our very large male, is 105 years old and Sophia a young 65.
These two gentle giants enjoy the hot Florida weather and do their best to find they sunniest parts of their habitat. They enjoy various types of fruits and vegetables and usually take less than 30 minutes to completely devour their massive meals of romaine lettuce, zucchini, squash, grapes, tomatoes, carrots, watermelon and bananas.
Once listed as "endangered" by the International Union for Conservation of Nature (IUCN), Aldabras are now listed as red (vulnerable) thanks to the conservation and restoration efforts of facilities such as ours, as well as other zoos and museums.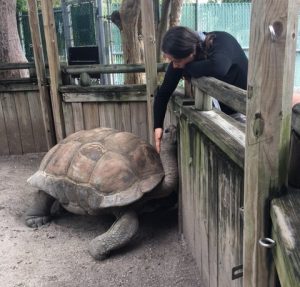 As we move to our new location, Frost Science will be focused on native Florida animal species. We thus decided to find these magnificent creatures a home where they can be pieces of a great story, and to assist in bringing back their population so that future generations can enjoy them. The husbandry staff here determined that the most logical location for South Florida residents to continue enjoying Charles and Sophia was at Zoo Miami, an AZA-accredited facility with a large population of these tortoises to keep Charles and Sophia company. The nearby location will give those who know the tortoises a chance to say hello again, and give new South Florida residents an opportunity to meet them as well.