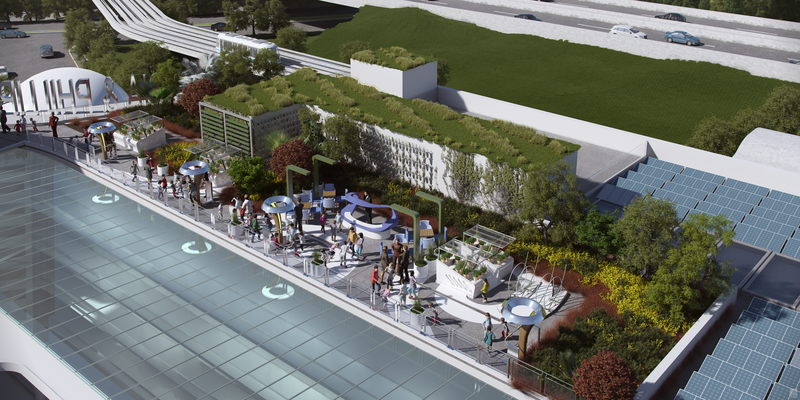 Florida Power & Light Company (FPL) and its philanthropic organization NextEra Energy Foundation has donated $1 million to The Phillip and Patricia Frost Museum of Science to support the Innovation Center, which is currently under construction as part of the new museum facility at Museum Park. In addition, FPL is also giving the Museum an in-kind donation of photovoltaic solar panels, valued at $80,000. The panels will be located on the roof's solar farm, a valuable addition to the Museum's Sky Garden rooftop, and will generate power for the LEED certified facility.
"As the first utility to make the smart grid and large scale solar realities in Florida, we are excited to partner with the Phillip and Patricia Frost Museum of Science as a founding member of the Innovation Center," said Eric Silagy, President and CEO of FPL. "This is a great opportunity to support a pillar in our community and promote energy education. We share the Museum's commitment to inspire hundreds of thousands of visitors each year to think innovatively."
The Innovation Center, which is the first wing seen by visitors upon entering Museum Park, provides an opportunity to explore the future city, with project-based classes, encounters, new exhibitions and programs celebrating innovation and entrepreneurship while displaying the latest global developments. Opportunities for careers, volunteering, and in-depth learning will abound within the five-story wing.
"FPL has a long history of leading innovation in Florida and is touted as one of the most innovative companies in the U.S.," said Gillian Thomas, President and CEO of the Phillip and Patricia Frost Museum of Science. "We are honored to partner with FPL to bring the Innovation Center to life, and their generous gift will work toward enhancing science and education for people of all ages."
FPL is committed to being a responsible corporate citizen and a good neighbor. FPL's investments, community partnerships and employee giving help to improve the quality of life in the communities it serves. The company's history of embracing innovation is reflected in its support of programs directly related to its business objectives, including energy-related projects or curriculum, preserving wildlife and natural resources and providing environmental education, supporting health and human services and improving the quality of life.