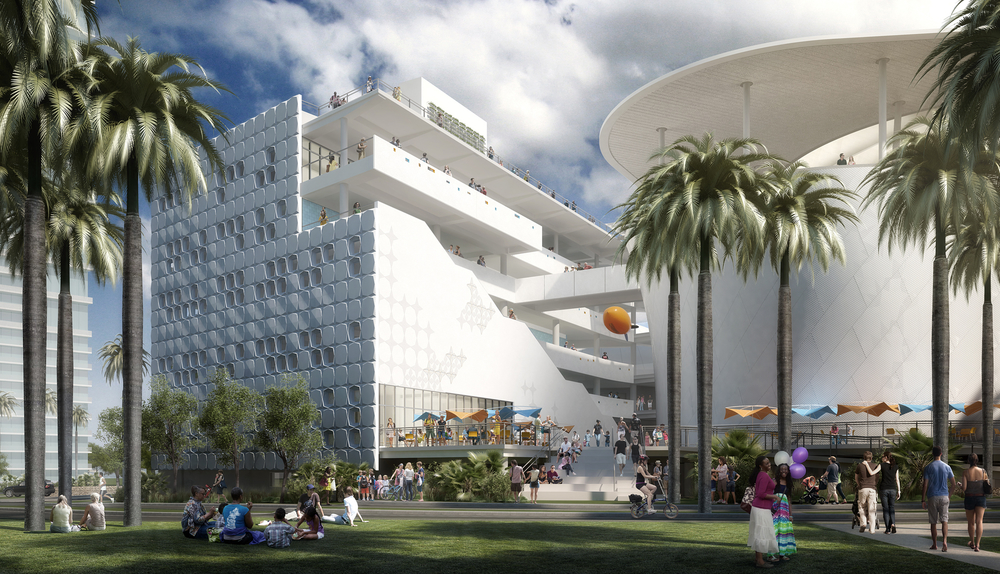 The Phillip and Patricia Frost Museum of Science has been gifted $1 million from Dr. Ted Caplow, CEO of Caplow Applied Science (CappSci), to support the Innovation Center, currently under construction as part of the new museum facility at Museum Park. Dr. Caplow's gift serves as the first for the Museum's Innovation Center, the five-floor north building, designed to serve as a destination and inventors' space for bold ideas and new products. Dr. Caplow, an engineer and entrepreneur who serves on the Museum's Board of Trustees, also designed the Vertically Integrated Greenhouse (VIG) hydroponics system currently on display in the current Museum's Sea Lab.
"We are honored to continue our partnership with Dr. Ted Caplow to help bring the Innovation Center to life," said Gillian Thomas, President and CEO of the Phillip and Patricia Frost Museum of Science. "This generous gift will work toward enhancing science education for people of all ages who are current and future innovators."
The five-floor Innovation Center will provide an opportunity to collaboratively explore the future city, with project-based classes, maker's activities, public demonstrations and workshops celebrating innovation and entrepreneurship while displaying the latest global developments. Opportunities for careers, volunteering, and in-depth learning will abound at the Center, which will include an Innovation Café, focused on innovation in garden and kitchen, waste management, and the role of food in healthy lifestyles. The top floor will host a conference center, offering a wonderful space for partners and staff members to meet overlooking Greater Miami and Biscayne Bay.
"The Innovation Center is a place for learning and a place for doing" said Dr. Ted Caplow. "I am thrilled to help make possible a Center dedicated to changing the world together by drawing on the diverse talents of our community."
A pioneer in the field of building-integrated agriculture, Dr. Caplow founded New York Sun Works in 2004, created the Science Barge sustainable urban farm in 2006, and founded urban farming enterprise BrightFarms in 2008 to pursue a range of opportunities in urban agriculture. He also founded Fish Navy Films in 2009 to produce intelligent, unbiased documentary features and shorts on environmental sustainability and human health. In 2013 he also created the $1 million Children's Prize to apply a quantitative approach to reducing child mortality worldwide, ranking among the world's largest humanitarian prizes. Dr. Caplow applied years of experience in the areas of sustainability and engineering to the development of CappSci. Founded by Dr. Caplow and Pascale van Kipnis Caplow, CappSci is focused on resolving a select set of major global challenges through crowdsourcing ideas, solutions, and support, choosing the intervention point carefully for each challenge, and measuring impact throughout the process.