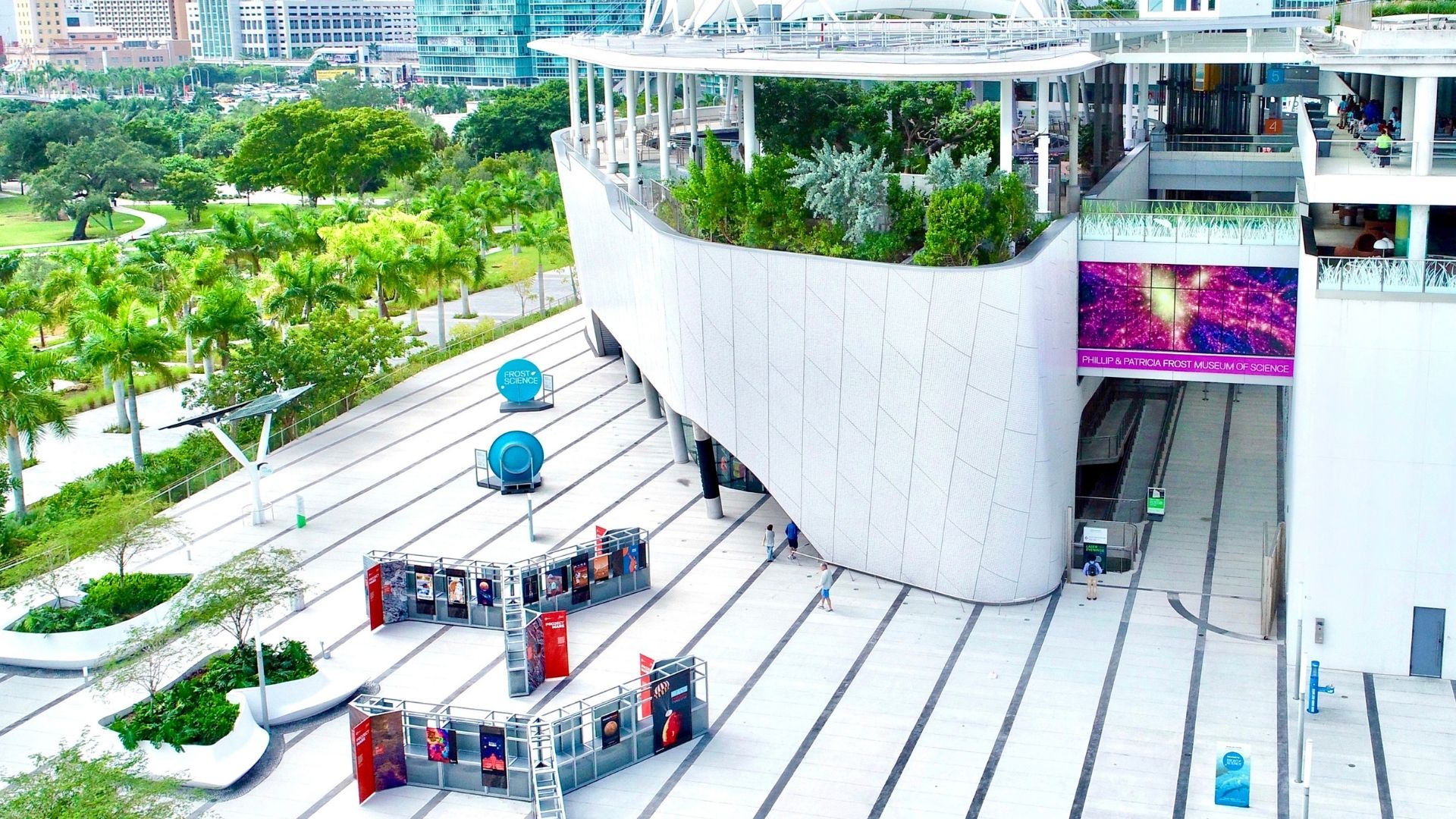 The Phillip and Patricia Frost Museum of Science is honored to have been asked to host early voting this year by the Miami-Dade County Elections Department. Early Voting for the November 3 General Election in Miami-Dade County will take place at Frost Science from Monday, October 19 – Sunday, November 1 from 7 a.m. – 7 p.m. daily.
The early voting location at Frost Science will be accessible via the museum's outdoor Science Plaza/Knight Plaza. A socially distanced line will be clearly marked for those looking to vote. An official secure Ballot Drop Box for completed vote-by-mail ballots will be available on Museum Drive in a bus slip near the entrance to the parking garage. See map below for location assistance.
A public restroom is available at the museum for early voters, accessible via Science Plaza near the early voting location exit. Due to COVID-19, water fountains are closed. A water bottle refill station is available near the early voting location and refreshments and food are available for purchase at the museum's onsite café (which is offering a 10% discount on all purchases accompanied by an "I Voted" sticker).
Face coverings are required for all guests, ages 2 and older, while on the museum's property, including while early voting. Guests must wear face coverings at all times both indoors and outdoors while on museum property, as outlined by the CDC.
For additional information about early voting in Miami-Dade County, along with other resources and contact information, please click here. For a list of all early voting sites around Miami-Dade County, please click here. To review early voting wait times at Frost Science and at all early voting sites around Miami-Dade County, please click here.
Getting here
Frost Science is located at 1101 Biscayne Blvd. in Downtown Miami's Maurice A. Ferré Park, next to the Pérez Art Museum Miami. Frost Science is directly adjacent to the Miami-Dade Metromover, Museum Park station. Take the Omni Loop train to Museum Park station to arrive steps from the museum entrance.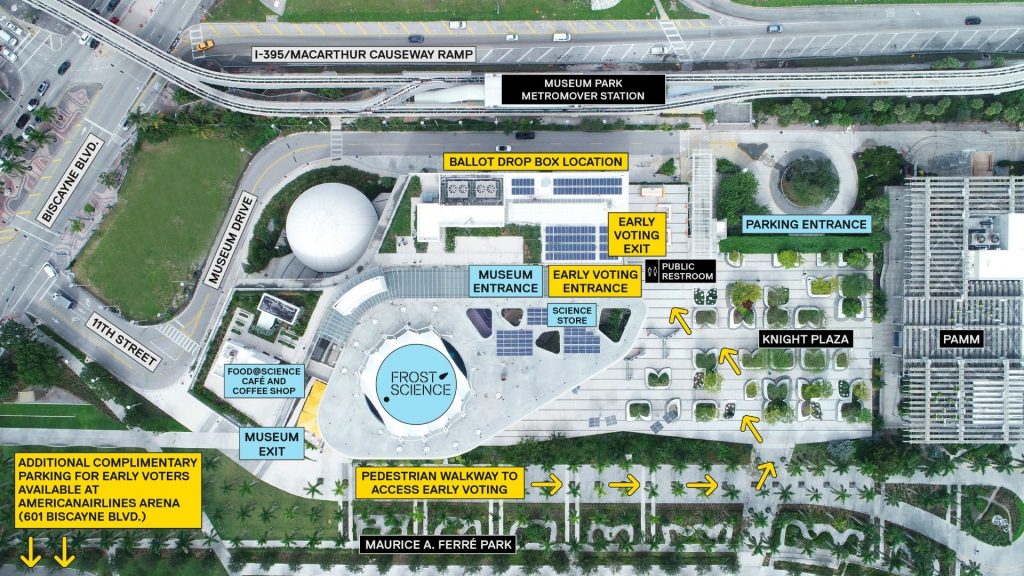 Parking
Self-parking is available in the museum garage. Free parking will be available for early voters in the garage (based on availability). A 'chaser ticket' parking validation will be provided to early voters at the museum voting site by a poll worker after voting. You must have both your chaser ticket along with the ticket you pulled upon entering the garage. Free parking is ONLY AVAILABLE to early voters at museum voting site; ticket must be used same day. No in and out on the same ticket. Parking is also available for museum guests and all non-voters for a flat rate of $15.
Additional complimentary parking is available at the AmericanAirlines Arena (601 Biscayne Blvd.), a short 6-minute walk from the museum, for all early voters. Early voters must show their "I Voted" sticker at the Arena garage to receive the complimentary parking. Museum voters may also utilize the Arena garage but will be subject to a $5 flat rate parking fee. To access the Arena garage, enter the north side of the arena via NE 8th St./Port Blvd. and follow the signs for the P2 Garage. Once parked, exit the NW or NE stairs to Biscayne Blvd. and go north towards Frost Science, crossing Maurice A. Ferré Park.
To explore additional transportation and parking options, please visit frostscience.org/parking.
Discounts for Early Voters at Frost Science
Frost Science is encouraging the community to vote early at the museum and enjoy these special perks!
Food@Science: Fuel up at Food@Science, the onsite museum café, offering refreshments, snacks, Starbucks coffee favorites & more. Show your "I Voted" sticker and receive 10% off. Open daily; hours vary.
Science Store: Shop and support at the museum's Science Store, offering an assortment of science toys, t-shirts, books, gifts & more. Show your "I Voted" sticker and receive 10% off! Open daily Until 6:00 p.m.
Cast your vote. Grab some HEAT: Save 10% at The Miami HEAT Store when you show your "I Voted" sticker, now through 11/8. Offer valid in-store only at Pembroke Lakes Mall, Dolphin Mall and The HEAT Store by the Bay at AmericanAirlines Arena. Discount is single-use and cannot be combined with other offers.
Plan Your Museum Visit: Science Happens Here
Vote early at Frost Science and extend your day with free parking* and a visit to Miami's only planetarium, aquarium and science museum. There's always something new to discover, including the museum's newest special exhibition, Nature's Superheroes: Life at the Limits. Get a fascinating glimpse of the breathtaking diversity of the natural world and the power of natural selection.
Frost Science has served the community in a myriad of ways – not only by inspiring people to enjoy science and understand its power to positively impact our world – but by being a champion for science learning and research, community access, environmental conversation, and animal care and rehabilitation.
The health of our guests and staff is our number one priority. Click here to visit our dedicated website page to learn about our commitment to safety and explore our new museum guidelines designed to create a safe and welcoming environment for our guests.
The museum is open daily for visitation from 9:30 a.m. – 6:00 p.m. To purchase tickets and plan a visit, please click here.
* Free parking will be available for early voters in the garage (based on availability). See details above.
Press and Media
If you are a member of the media and would like to receive more information, arrange interviews or receive images, please contact us via email at pr@frostscience.org.

Frost Science would like to acknowledge the gracious support of the Miami HEAT, The HEAT Group and the AmericanAirlines Arena, and the Miami Downtown Development Authority (DDA).