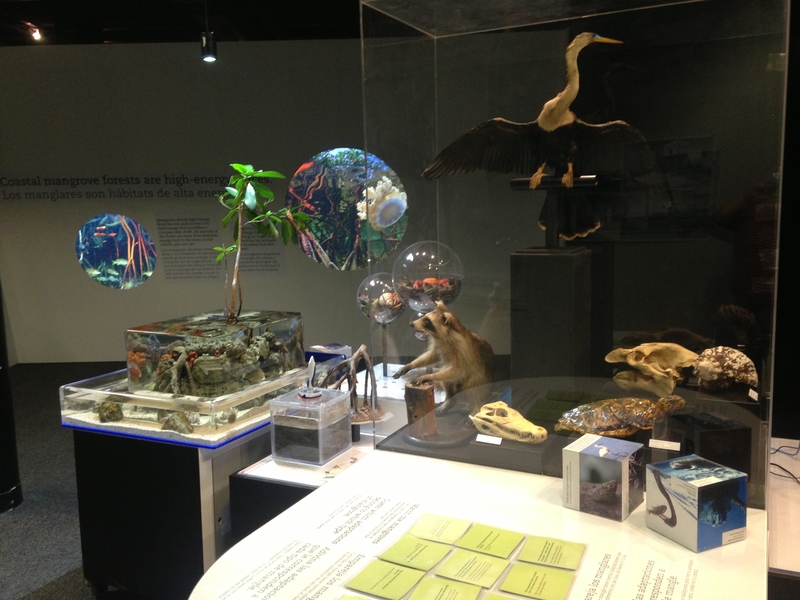 Recently, Museum members, Wells Fargo employees, their families, and other community members visited the Miami Science Museum to test out some of the prototype exhibits planned for the "Living Core" aquarium in our new Museum.
The 3-story "Living Core" aquarium will feature a 500,000-gallon 'Gulf Stream Tank' with sharks and rays, as well as other large, permanent tanks exploring the mangroves, the coral reefs, and the Everglades. The space around the permanent big tanks will feature changing displays of smaller 'focus' tanks, hands-on interactives, digital media, and objects from our collection that will go into more detail about particular species as well as the underlying science and research. Over the past year the Museum has been working with a firm called 8 Inc. out of San Francisco, creators of the Apple stores, to design a flexible exhibit system that we can use to create these changing, in-depth displays. Earlier this month we received the very first mock-ups of this furniture system, and we used this to develop some sample exhibits to test with our visitors this past weekend.
For this prototyping process, we developed some exhibits about mangrove communities: what makes them special, the animals that live there, and why they are so important to us. Some of features of the mock-up exhibit include small tanks with live fish, a tabletop interactive exploring how mangroves protect the coastline from erosion, which our Upward Bound students helped develop, and another interactive that lets visitors experience the stench of actual mangrove muck (without getting their hands or feet dirty!) The mock-up also explores how we can use our new aquarium to engage our visitors in action outside of the Museum, by featuring a video about our ongoing eco-restoration program, MUVE (Museum Volunteers for the Environment), along with a link to sign up, to help restore mangrove habitats.
While visitors explored the hands-on components, an evaluation team was on hand to observe and ask questions, obtaining feedback from about 150 visitors related to the exhibits' accessibility, as well as what was engaging and interesting to them, and what needs further work. The Museum will be continuing this prototyping for a few more weeks, and will then review all this information with the design team, to make sure that final version of the "Living Core" exhibit is as engaging and informative as possible.