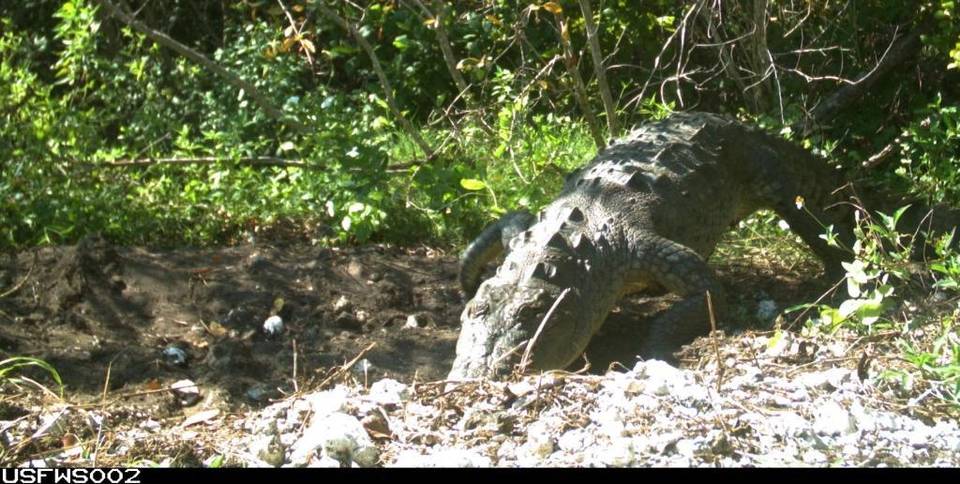 Last week, the Miami Herald reported that American crocodile nests at Crocodile Lake National Wildlife Refuge, a protected area near Key Largo, had hatched earlier than expected. At first researchers thought the nests might have been raided by raccoons or other predators, but then the spotted the newly hatched babies. It's a fascinating story of a species' ongoing recovery through sound policy and environmental conservation. Though once endangered, with a population of around 200 in the US, the species now numbers around 2,000 animals, all in South Florida.
We're lucky in Miami to have such fascinating wildlife close at hand. Not only are there American crocodiles in Keys, they're now thriving in the salt water mangrove fringe of Everglades National Park, and have begun to reestablish themselves in the Miami area as well, with sightings around Virginia Key, Key Biscayne, and the Vizcaya area west of Brickell.
In order to echo the biology of the world around us, and give you a closer look at its complexity and beauty, Frost Science will have an outstanding American crocodile exhibit on the open-air Vista level of the Living Core Aquarium. As we planned our croc space, we thought of a few tricks to make the exhibit more compelling for guests, while keeping it comfortable for the croc. One design feature we're really excited about is the acrylic window forming one of the walls of the enclosure. It's eight feet tall, allowing clear viewing of our croc both above and below water, and it arcs outward, to afford cool side views of the croc if it's in the water. Crocs also love warmth, so we're installing a heated mud bank to prompt the ancient reptile to bask in an area that gives guests great views of its unique features. And the American alligator enclosure is right next door, so you can compare the two animals and note their differences.
The croc space is part of the Mangrove Habitat, which explains how mangroves are crucial to oceans around the world. They act as both a nursery for thousands and thousands of small fish, many of which then spend their adult lives out in the ocean, and they hold land in place, creating a buffer for storm surge and hurricane damage. Our Mangrove habitat extends into an above ground area with an aviary where birds perch, and where live red and black mangrove trees create a home for small fish. If you walk downstairs to the Dive level, you'll see the underside of the mangrove roots, which form a shadowy realm for both juvenile fish, and larger predators, like snook and snapper. It's all part of the Living Core's matrix of aquariums depicting the interconnectedness of Florida's waters, and the importance of those waters to the world.