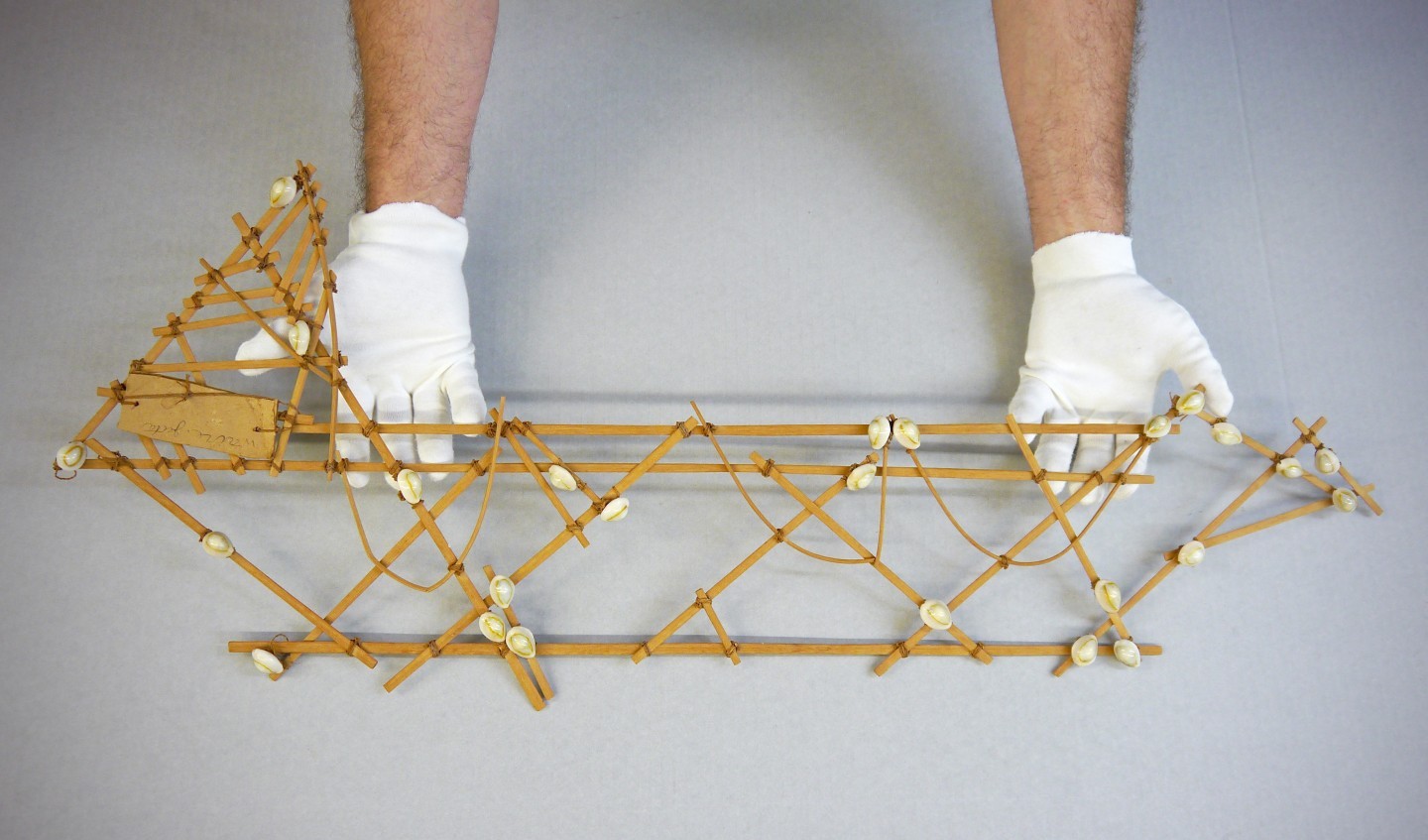 Last week, the New York Times Magazine ran a fascinating story, "The Secrets of the Wave Pilots," about the indigenous sailors of the Marshall Islands in the remote South Pacific, and how their mysterious method of navigating without instruments is a dying art form. The people of the Marshall Islands have traveled for centuries among the 70-square mile island area by way of recognizing minute wave patterns, and cross-referencing those with mental maps created with stick charts—a grid-like arrangement of sticks and shells woven together and arranged to symbolize the position of islands and atolls. Sometimes they were in search of trade, sometimes alliances, sometimes wives from islands other than their own.
In the story, a group of locals and western researchers are trying to preserve the art of the wave pilots, and stick charts are crucial to the learning process. It turns out we here at Frost Science actually have a real stick chart in our Curious Vault collection.
As you can see from the photos, the stick chart is light, portable, easy to replicate, and would have been a crucial tool to educating young sailors as to the whereabouts of surrounding islands, even in an area as vast as 70 square miles (the size of South Florida from Fort Lauderdale southward). 
One point of the New York Times story is that with the advent of digital technology, we, as a species, may be losing our ability to carefully perceive the the world around us, and find our way via physical detail. Having a physical object in our midst that was once used to navigate the often dangerous open seas between atolls in the South Pacific is a potent reminder of human ingenuity, and the human spirit of exploration.
To check out the New York Times story, click here.
To see photos and more artifacts from the Denison-Crockett Expedition in our Curious Vault, and learn more about the journey, click here.