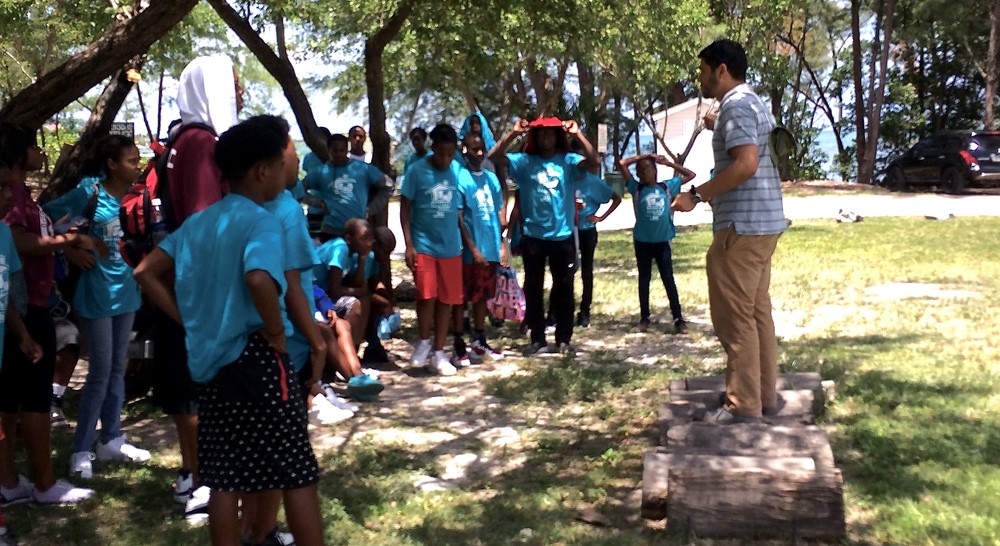 By Eric Laguardia, MUVE (Museum Volunteers for the Environment) Summer Intern
This summer I have been working at the Phillip and Patricia Frost Museum of Science alongside MUVE Coordinator Chelle King as the Citizen Science Education Intern. That means I've been facilitating the museum's budding outdoor classroom programming and assessing ways to make it better.
Over the course of a day I might lead our Trash Detectives Field Trips or Citizen Science Workdays—experiences designed to foster environmental sensitivity through beach clean-ups and nature walks. Whenever I'm not leading an event, I'm usually reflecting on the last one or preparing for the next one – tweaking my approach with each iteration.
Working with Frost Science as it transitions to a globally relevant museum at its new downtown location, and as it refines its already powerful community programming, has been a fantastic addition to my own learning experience. As I work to educate local youth, I also gain an education.
The son of a high-school biology teacher, I've been drawn to life sciences for as long as I can remember. As a kid, I spent much of my time exploring the outdoors and caring for an array of exotic pets. After high-school, I decided to stay in Miami to study business administration at Florida International University, adding a second degree in parks management after an internship at the FIU Nature Preserve.
From there I pursued a Master in Education at Harvard University. My time there reinforced my belief in the power of experiential education and the importance of informal learning institutions. While in the area, I also worked as an educator in the Living Collections Department at the Museum of Science in Boston. I knew I wanted to return to Miami upon finishing grad school, and I was drawn to the excitement surrounding Frost Science and the construction of its new facility. Once I heard there was an internship opportunity for an educator, I didn't hesitate to apply.
While facilitating field-trips over the course of this summer, I have been prototyping our curriculum on several student populations ranging in both age and socio-economic background. One of my major internship objectives is to create a comprehensive programs assessment and field trip guide that can be applied by current and future staff/interns. In addition to aligning our curriculum to state standards, I intend to highlight the most effective practices and identify those that can be made even better.
Frost Science's reclamation site on Virginia Key, a place where we restore degraded habitats by planting native vegetation, is crucial to our outdoor programming, and to my learning as a facilitator. Our programming there immerses participants in topics like marine biology and South Florida ecology by getting them up-close and hands-on. From marine debris scavenger hunts to on-the-field data collection projects where we record the growth of plants, our field trips get students outside and out of their daily routine in a variety of different ways. The sights, smells and sounds these places offer will spark conversations that help kids learn from the natural world, rather than a textbook.
At just over a month into my experience here, I must say that it is a fascinating and dynamic time to be at Frost Science. In addition to engaging with my own work, its fun to hear about the dozens of other projects going on around the museum.
To prospective interns, I want to emphasize that Frost Science is a great place to put your skills to the test. The nature of the organization's current chapter is one that requires interns to do work that is of consequence – not just filing paper or brewing coffee. Preparing for the museum's impending growth requires all hands on deck, and that's a compelling environment in which to develop professionally.