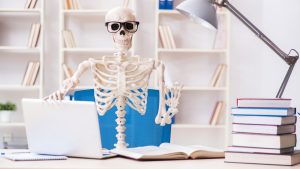 Winter Break from school is the perfect time to chill out with science! Join Frost Science for two four-day camps and start the new year with some amazing experiments, discoveries, and investigations, all while creating friendships. For more information on Winter Camp click here.
Week 2: Science of You
Are you a people person? In this camp, you'll dissect – literally – the mysteries of the human body, as you uncover secrets of the skeletal system, analyze brain chemistry, and perform experiments with DNA.
As you're more than the sum of your parts, you'll also explore the science of emotions and the evolution of human behavior. The experience culminates with a visit to our special exhibit, Skin, where you will use your knowledge to explore ideas about human anatomy that are more than skin deep.
No camp Friday, December 31, 2021
This week of Winter Camp is sold out. To be placed on a waitlist, please click here.