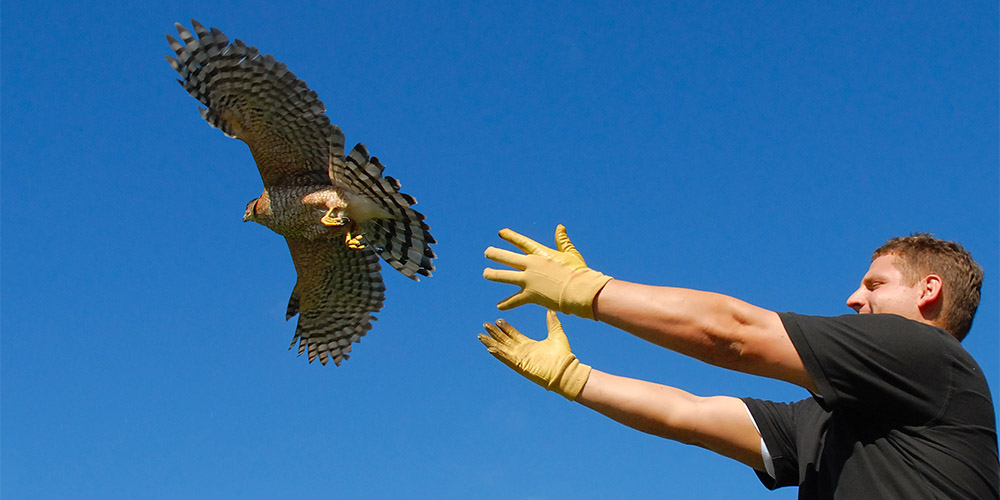 The Falcon Batchelor Bird of Prey Center is dedicated to the rehabilitation and release of injured birds, and specialize in raptors that are either resident in Florida and/or migrate through Florida.
Although the museum's previous home in Coconut Grove is closed to the public, the Falcon Batchelor Bird of Prey Center and Batchelor Wildlife Center remains open seven days a week and accepts injured wildlife from 8:30 a.m. to 4:30 p.m. daily. If you are unsure of what type of bird you have or what you should do, please call our hotline at 305-322-8887 before you bring the animal to the center. The only way to enter the property with an injured bird is from S. Miami Ave. directly across from Vizcaya.
Unfortunately, we can not accept mammals, domestic fowl, or pets, due to our wildlife rehabilitation licenses from both the Florida Fish and Wildlife Conservation Commission and the US Fish and Wildlife Services. There are, however, other local rehabilitation facilities and centers that will accept native and non-native wildlife:
Pelican Harbor Seabird Station accepts birds, but not mammals. They are located at 1279 NE 79th Street, Miami, 33138; 305-751-9840.
The South Florida Wildlife Center accepts all wildlife from Dade, Broward and Palm Beach counties. They are located at 3200 SW 4 Avenue, Fort Lauderdale, 33315; 954-524-4302.
Animal Tips
Generally, if you find a baby animal it is best to leave it alone. Often the animal is not actually orphaned, and the parent may be nearby looking for food or watching the baby. Never pick up baby animals and remove them from their natural environment! If you are calling after hours please see below for instructions on how to care for the animal until it can be brought to our facility or another rehabilitation facility.
For more information, please contact us at 305-434-9575 or email duricchio@frostscience.org.
What to do if you find a baby bird?
Young birds have it tough. They need to exercise in order to learn to fly, but often hop too far and end up on the ground, vulnerable to cats, dogs, raccoons and other predators. What's the best way to help them get through this difficult learning phase? Here are a few simple tips.
Don't panic! Look around–are the parents nearby? If they are, then you should leave the bird alone. Many baby birds fall to the ground during their first flight. Given time and care from their parents, they will soon be up and flapping.

No parents? No worries! If the bird is covered with short, developing feathers, then it's a fledgling or "brancher." These juvenile birds should be put onto a high branch in their nesting tree or another tree nearby, or put into bushes or other cover where they are less exposed to predators. Don't worry about "smelling like a human." Most birds have a very poor sense of smell and won't be able to tell that you helped their baby.

No feathers? Look for the nest. Sometimes baby birds are pushed out by siblings or by other birds, such as the cuckoo. Sometimes they just fall. If you find the nest, put the baby bird into it. Please remember that some birds, like the woodpecker, like to make their nests in holes in trees.

No nest? Make one! Use a small open container, such as a shoebox, with sides and small holes in the bottom for drainage to hold the baby. Put your makeshift nest into the tree and secure it with bread ties or twine. You may want to watch for about an hour to see if the parents show up, but you'll need to be quiet or risk scaring them away.

Still no luck? Call us for advice! The professional staff of the Batchelor Wildlife Center can tell you how to take care of that baby bird and help it return to the wild as soon as possible. Please call us at 305-434-9575; if we are helping another animal, please leave a message and be patient. We will return your call as soon as possible.

No worms! Please do not feed baby birds anything without guidance from a wildlife professional. The wrong diet can kill a baby bird, and liquids can easily choke them. If you must keep a baby bird overnight, please keep in a warm, dark place away from pets or children until you are able to transport it. A heating pad underneath half of the box on a low setting can provide warmth. Transport the bird to your local wildlife rehabilitator or call us as soon as possible for advice.
Thank you for your kindness!