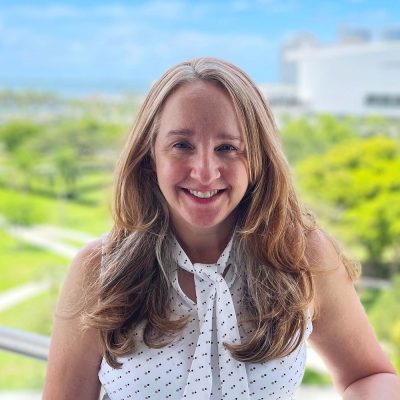 Dr. Kristen Dubé is a Miami native who has devoted her professional life to the care of aquatic, exotic, and wildlife species. In her current role as the veterinarian at Frost Science, Dr. Dubé oversees the medical and surgical management of the museum's diverse species of animals. She will also continue to lead the care of native Florida wildlife, especially birds of prey, admitted for rehabilitation to the new Falcon Batchelor Raptor Rehabilitation Center.
Prior to veterinary school, Dr. Dubé spent 10 years working at the New England Aquarium in Boston as a biologist and wildlife rehabilitator, and was instrumental in the opening of a veterinary medical center exhibit as its manager. While at the Aquarium, she specialized in the rehabilitation of cold-stunned sea turtles.
While attending veterinary school in Scotland, Dr. Dubé completed intensive rotations in wildlife medicine at several zoos and aquaria in the US and UK. After graduating with honors, Dr. Dubé worked as an associate vet for two years at a busy rural practice in New Zealand, and then returned to Florida to complete a competitive internship in conservation and wildlife medicine at the Clinic for the Rehabilitation of Wildlife (CROW) in Sanibel, Florida.
Dr. Dubé is a member of the American and Florida Veterinary Medical Associations, the American Association of Zoo Veterinarians, the Association of Avian Veterinarians, the Association of Reptile and Amphibian Veterinarians, and the International Association for Aquatic Animal Medicine. She has also published articles on wildlife and aquatic animal medicine in peer-reviewed journals and has co-authored a book chapter on wildlife rehabilitation.