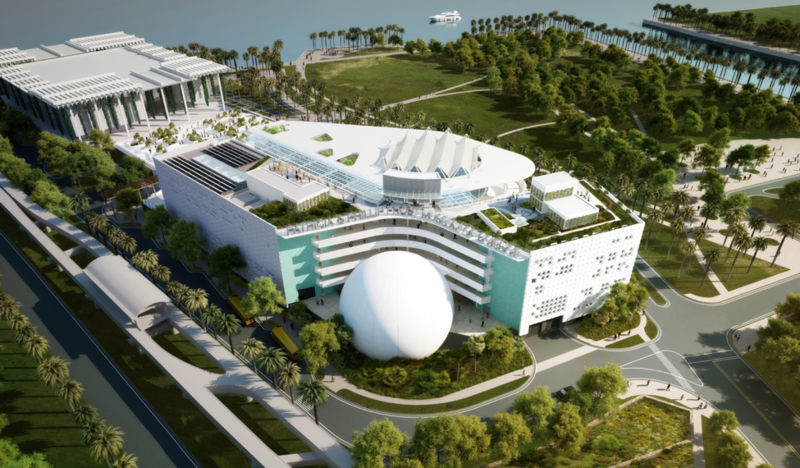 When building a science museum, you of course plan for what kind of science exhibits you will develop for the inside of the building. But it is important to remember that science affects the outside of the building too, in the form of rain, wind and even hurricanes. To help prepare for this, all the external surfaces of the Phillip and Patricia Frost Museum of Science are subjected to extreme wind and debris, inside a wind tunnel. The particular testing conducted is required by the Miami-Dade County Building Code Compliance Office, in order to receive a Notice of Acceptance (N.O.A.) that the Museum's exterior meets water and wind intrusion standards. To accomplish this goal, the Museum's VP of Engineering & Facilities joined our Museum architects Rodriguez and Quiroga at Architectural Testing Inc. Lab in West Palm Beach, for a second "missile test" (the first test having already been successful). Here is how the test was carried out.
Hypothesis: The walls of our Living Core building, which houses our Gulf Stream Tank and other aquarium features, can withstand high impact projectiles that might occur, for example, in an extreme weather event.
Experiment Prep: Build a mock-up of the wall of the Living Core building, the surface of which is covered in individual circular ceramic tiles, some concave, some flat, and some convex. Mark certain tiles with red paint, to serve as targets for the missile test.
The Experiment: Insert a 9-pound 2×4 piece of wood into a pressurized air cannon. Use a laser sight to aim the cannon at one of the target tiles. Ready… Aim… Fire the projectile at the target, at 50 feet per second!
https://youtu.be/pQqphARGg9k
Results: Individual tiles are damaged as expected, but the projectile cannot penetrate or impact the wall itself.
Conclusion: The wall passed the test, showing that only individual tiles would need to be repaired in the event of an extreme weather occurrence. More importantly, it showed that people who might be inside the real building at the time of a real storm or disaster would be safe!