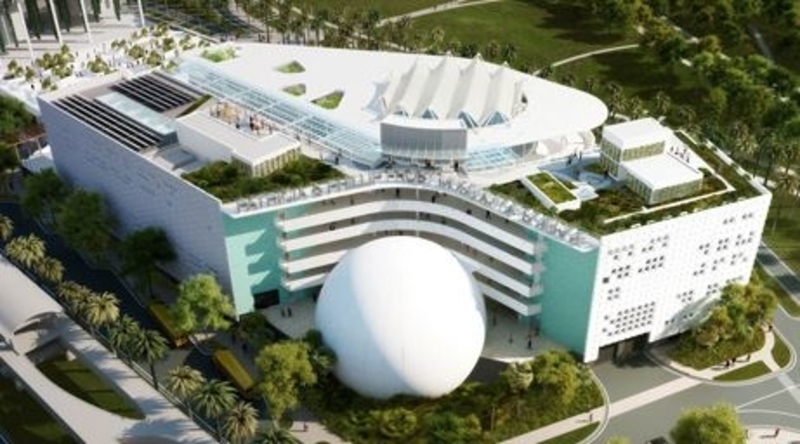 New Phillip and Patricia Frost Museum of Science will Engage the Community in Science and Strengthen Local Cultural Complex; Groundbreaking Set for February 24th
MIAMI, FLA. – January 4, 2012 – The John S. and James L. Knight Foundation has committed a challenge grant of $10 million to the Phillip and Patricia Frost Museum of Science (Miami Science Museum).  The support will foster science education and help strengthen Miami's rapidly emerging downtown cultural center.
Knight Foundation's grant must be matched with an additional $20 million in funding, a requirement meant to encourage additional community support.
"Our gift to the science museum, equal in size to an earlier gift to the art museum that will stand by its side, is a recognition of the importance of science education and of the museum's leadership," said Alberto Ibargüen, president and CEO of Knight Foundation. "Knight's challenge grant is intended to galvanize support and accelerate the exciting community transformation at Museum Park."
Knight's support will help engage the community in exploring science, technology and the environment by both supporting the new, high tech facility and ensuring that more South Floridians participate in programming. Over time, funds will allow hundreds of thousands of Greater Miami students to visit at least once during elementary and middle school. More visitors will also get to participate in on-site, science-based research activities.
Knight Foundation's contribution will be recognized through the naming of the Learning Center, a high-tech meeting space for students and community groups, and a key position within the new museum's management team, the Director for Education.
"This is wonderful recognition of the excellent education work that the museum has been accomplishing for more than five decades. We can no longer adequately serve the expanding population of South Florida at our present site and this gift for the Learning Center at the new museum serves to emphasize how education is at the heart of all we do," said Trish and Dan Bell, co-chairs of the Museum's Board of Trustees.
Knight Foundation's $10 million dollar commitment to the museum's new building puts the museum in its final stretch of private fundraising – with  $70 million raised out of its $100 million goal. The remaining funds that complete the estimated $275 million overall project cost are granted by Miami-Dade County's Building Better Communities Bond Program, overwhelmingly approved by voters in 2004, and other government sources.
Designed by internationally renowned Grimshaw Architects, the Phillip and Patricia Frost Museum of Science will bring the most spectacular high-design experience to Miami's already bustling cultural landscape. The 250,000 square-foot complex is intended to act as a demonstration of ecological and sustainability principles, harnessing energy from water, sun, wind and museum visitor energy to power exhibits and conserve resources.
The museum is structured around a lushly landscaped indoor and outdoor "living core" of terrestrial and aquatic spaces, featuring a 600,000 gallon aquarium facility, a full dome 3-D planetarium, hands-on exhibits, cutting edge technology and two additional wings of exhibition space, classrooms and cafes. With the support of the City of Miami, Miami-Dade County and others in the community, the new Phillip and Patricia Frost Museum of Science is on track to be a stand-out destination, inspiring visitors to learn, share and embrace science and technology. The new museum is slated to break ground on Feb. 24, 2012 and open in early 2015.
###
ABOUT THE JOHN S. AND JAMES L. KNIGHT FOUNDATION
Knight Foundation supports transformational ideas that promote quality journalism, advance media innovation, engage communities and foster the arts. We believe that democracy thrives when people and communities are informed and engaged. For more information, visit www.knightfoundation.org.
ABOUT MIAMI SCIENCE MUSEUM
Miami Science Museum aims to make a difference in people's lives by inspiring them to appreciate the impact that science and technology can have on every facet of our world. For over 60 years, Miami Science Museum's award-winning educational programs, family-focused exhibits, historic planetarium, and rehabilitative Wildlife Center and Clinic have enriched locals and tourists alike. In 2015, the legacy continues with the Phillip and Patricia Frost Museum of Science, a new world-class, state-of-the-art facility designed by Grimshaw Architects in the heart of downtown Miami. Miami Science Museum is accredited by the American Association of Museums and is an affiliate of the Smithsonian Institution. For more information about the current Museum or our future home, the Phillip and Patricia Frost Museum of Science, visit www.miamisci.org or call (305) 646-4200.
Miami Science Museum is located at 3280 South Miami Avenue, Miami, FL 33129. The Museum is open every day from 10 a.m. until 6 p.m. Admission is free for MiaSci members and children under 3; students (with valid ID), seniors (62+) and children 3 – 12, $10.95; adults are $14.95. Parking is free.
Miami Science Museum is funded with the support of the Miami-Dade County Department of Cultural Affairs and the Cultural Affairs Council, the Miami-Dade County Mayor and Board of County Commissioners.
Media Contacts:
Marc Fest, Vice President/Communications (interim),  John S. and James L. Knight Foundation, (305) 908-2677, fest@knightfoundation.org
Tony Lima, Vice President/Marketing and Communications, Phillip and Patricia Frost Museum of Science, (305) 646-4209; tlima@miamisci.org