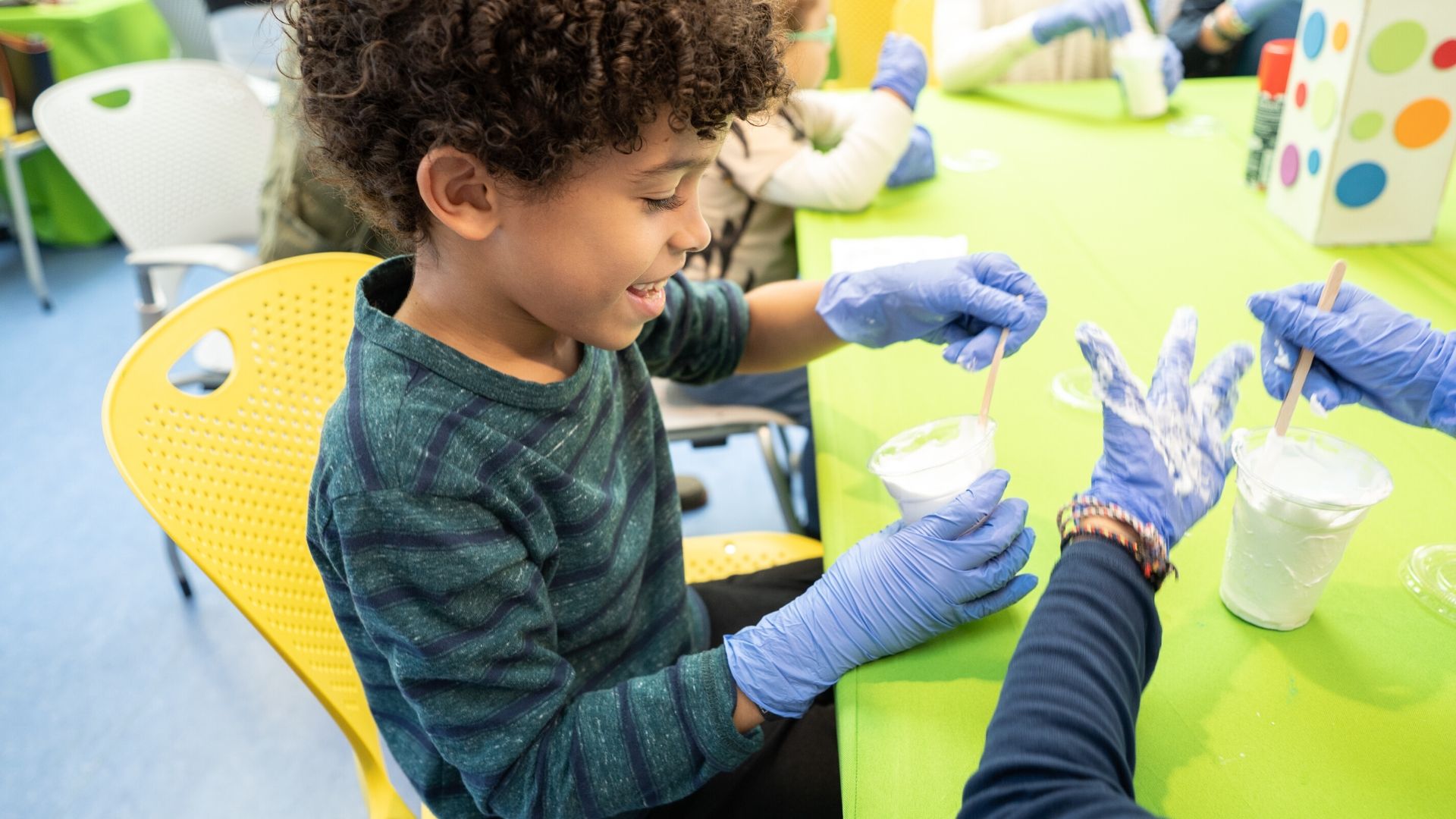 Keep the learning going and the kids engaged! As part of our Frost Science@Home digital learning platform, this page will be your go-to resource link for DIY science, at-home science activities, step-by-step videos and more that you can try with your family at home.
Activity Videos & Resources
Make Plastic Out of Milk
Experiment with chemistry concepts as you engineer your very own plastic polymer from casein, a protein found in milk, using common kitchen ingredients.
April 2020 Stargazing
Use this guide to practice astronomy basics, including a special focus on constellations, while searching for the stars and planet visible in the sky above you.
Building Bubbles
Explore the phenomenon of surface tension by creating bubbles. Experiment with different combinations of materials to build your own bubble mix!
Scientific Sorting
Collect your favorite natural objects from your own backyard and sort them by their physical characteristics to learn about the important scientific process of taxonomy while practicing fine motor skills. This is a great activity for children five and under.
Sundial Science
Discover how the sun and its shadow is used to tell time by creating a sundial – an instrument that tracks the position of the sun to indicate time of day.
Friction Fun
Discover the force of friction by creating ramps made of different materials and then seeing which one allows your racecar to go the fastest.
Soap Putty
Get hands-on and a little messy as you investigate polymers, including what it is, what it is made of, and how we interact with them every day by creating your own soap putty.
Additional At-Home Resources
Water Cycle
Investigate the three main processes of the water cycle through a hands-on experiment highlighting how sunlight and water temperature play important roles in these processes.
Clouds in the Sky
Head outside and observe the sky to identify different types of clouds. Then create your own 3D model of your favorite cloud with common materials. This is a great activity for children five and under.
Phases of the Moon
Launch into a lunar exploration of the special relationship between the Earth and the Moon by tracking how the phases of our Moon change in the night sky over time.
Dino Fossils
Explore how dinosaur tracks can still be discovered by scientists today, despite dinosaurs going extinct millions of years ago, by making your very own imprint fossil. This is a great activity for children five and under.
River Fractals
Discover the beauty and simplicity of naturally occurring branching fractals by creating your own paper watershed model.
Additional Resources
For questions on different ways to support Frost Science, please contact advancement@frostscience.org